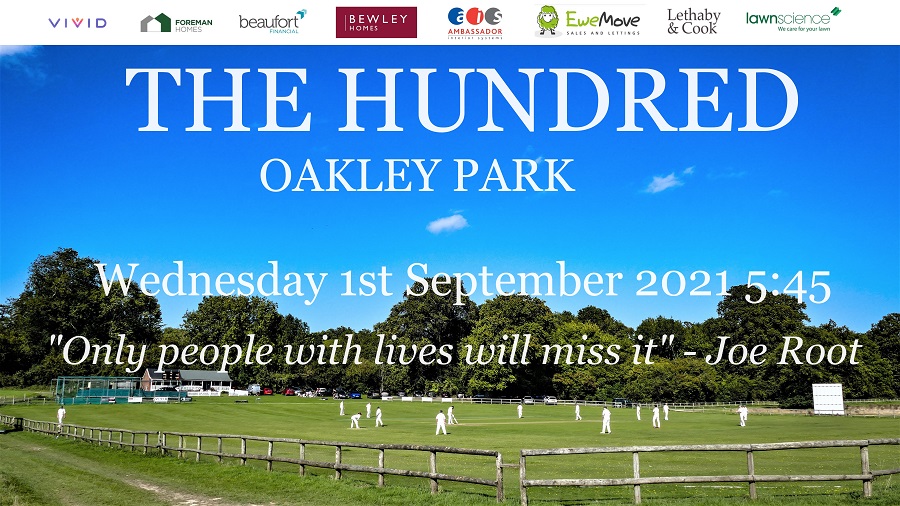 You know, sometimes in cricket, we need to make decisions that raise eyebrows. Leftfield decisions that we live or die by.
By purposely sacrificing our place in Hampshire League County 2 to ensure we get the players for a 100 ball, inter-club competition, on a dull Wednesday, on the first day of autumn, we did just that.
This is so much bigger than our status as an HCL club and will, in time, be regarded by other clubs, as a progressive move. Oakley will forever be the established village club pushing ever forward to compliment the demands of the changing face of cricket.
Some might see this as a desperate attempt by the club to claim some Oakley glory after a disappointing season, and they may well be right. Others might say it is a ludicrously grandiose act of clutching at straws, which, again, would be foolish to rule out.
However, a look at the teams on display and observers will see the reality in front of them. This game is going to be massive. A breakthrough moment in the village game regarded by many as maverick as, dare I say it, Manchester United and Sir Matt Busby challenging authority by entering the European Cup in the 1950's.
The interest this game has generated is unprecedented in local cricket. Between 11:27 and 18:06 on a tedious and bleak Bank Holiday Monday, Dave Bowers held a player auction that had literally ones of cricket fans gripped to their WhatsApp accounts.
Time moves fast in the modern world and before we knew it, we had 22 players contracted out to the respective teams, many of them who will earn anything up to absolutely nothing, to showcase their skills to a bumper crowd of jackdaws, pigeons, red kites and possibly a kestrel.
So, if you are in the area, and you want to be a part of Oakley Cricket Club history, you really should not miss this game, particularly if you have absolutely nothing better to do.
100 BALL CRICKET HAS ARRIVED AT OAKLEY CC!