Ollie spills blood (again) and another catch in season finale…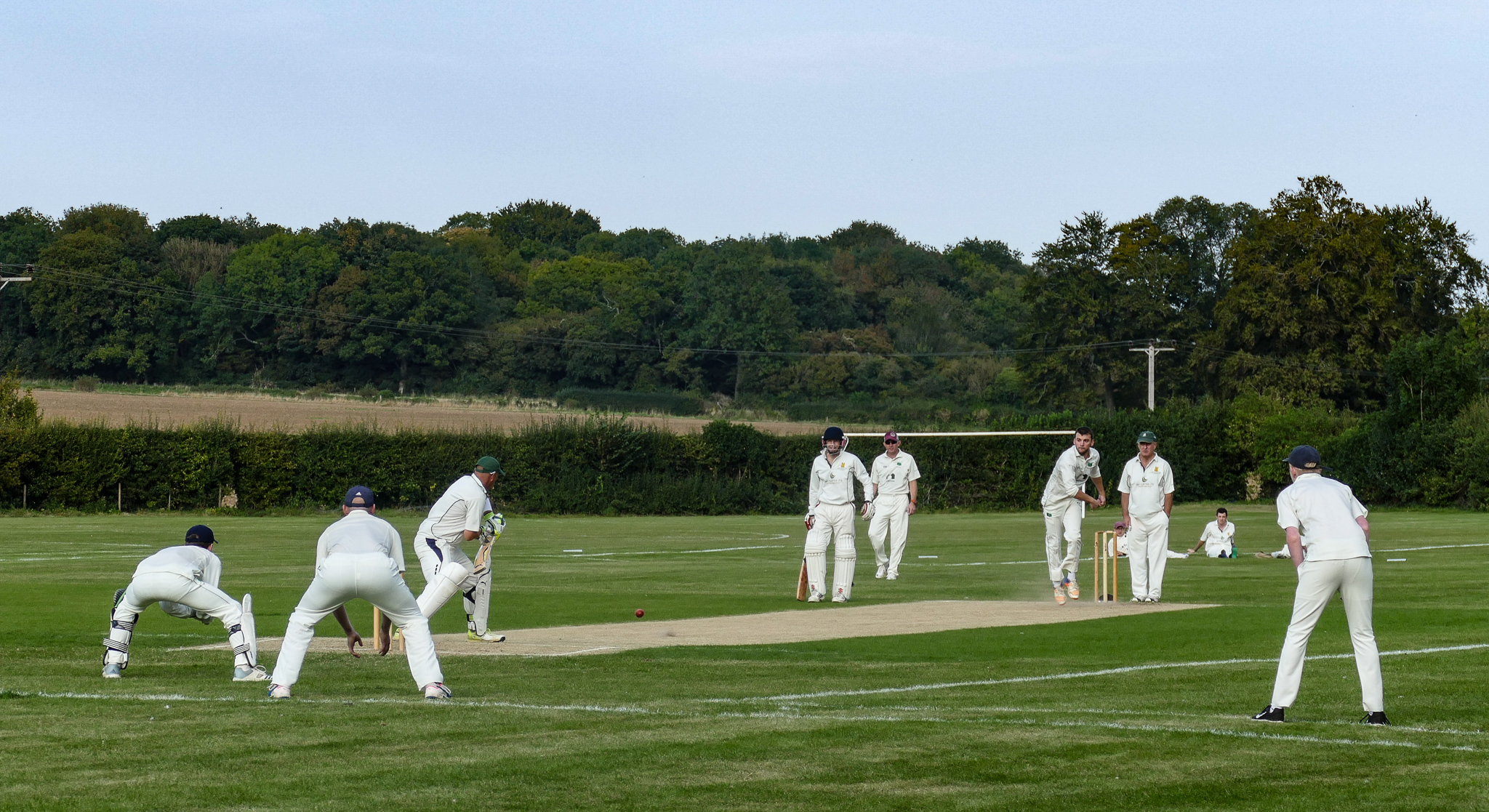 Report by Ollie Rabley
Village cricket is meant to be a gentle pastime, an opportunity to for some friendly competition in a sociable setting. It's not meant to be a danger to life and limb or to a modelling career. Unless of course you the sort of person with a penchant for stupid injuries. Like me….
I should have seen the signs when, having strided purposefully to the crease, I then proceeded via a series of mis-hits and edges to gather a few runs. That culminated in a top edge that didn't race towards the boundary but instead headed straight towards my nose. Cue the claret, some sympathy, much laughter and comparisons to the Elephant Man as an egg grew on my forehead. To add further to the indignity, when I'd cleaned myself up a bit and was ready to resume battle, I found that I'd been retired out. Incredibly frustrating to be left a mere 43 runs short of a match-winning 50.
All that came after Oaks had built what could have ended up in a competitive total against Donnington. Inspirational skipper Bowny raced to a commanding single before holing out. Tall Jeff did some Tall Jeff stuff before he got caught as well. Will Montgomery thoroughly enjoyed his time at the crease, relishing the opportunity to bat on the road that is the Newfound pitch. I have rarely seen a batsmen look so happy at the crease (not!).
Last week's almost hero George (Baby Bob) Lethaby decided that the best way to build an innings against a leg spinner was to consistently smash him to the leg side boundary. He was again (boring!) looking good, before finding a way to edge a catch to slip.
In came Kris. He's 6' 6" you know so surely should be known as Tall Kris, Big Kris or maybe Little Kris if we're feeling ironic. (Herbie pointed out that Kris is a foot taller than Hamilton Senior.). Kris looked untroubled until he forgot that playing back at Newfound is fraught with danger and ended up LBW to a worm burner.
Will Rabley joined the queue of Oaks who wanted to offer Dons a bit of catching practice. Not sure what happened to Ravi, Harry Tucknott and Herbie as I was busy cleaning up my blood.
Defending 129 could have been possible on the potholed road. George and Dave were unable to make any inroads into the Dons top order, and it was left to Tall Jeff to break the opening partnership. Somewhere along the way I took the chance to drop Dons' opener again. That's now four times in two games, at a cost of around 120 runs. I think he owes me a beer or two!!
The game looked like it was drifting towards a comfortable win for Dons, so Bowny figured he might as well give young Herbie and even younger Harry a bit of a bowl. He didn't take into account the fact that these young Oaks know how to bowl straight with a decent amount of pace. The two of them combined took 3 wickets in a 12 over spell that only cost 28 runs. If that's the future, it's looking bright. That led to a brief glimmer of hope of a remarkable victory, but unfortunately Dons had enough about them to get over the line.
All that remained was for Herbie to suggest that the umpire may be lacking the capability offered by 20/20 vision, using language that is more often heard on a football pitch rather than the gentile surroundings of a village cricket ground. I'm guessing he won't do that again!!
So that's it folks. Season done; some fun had by all; some blood lost by one.