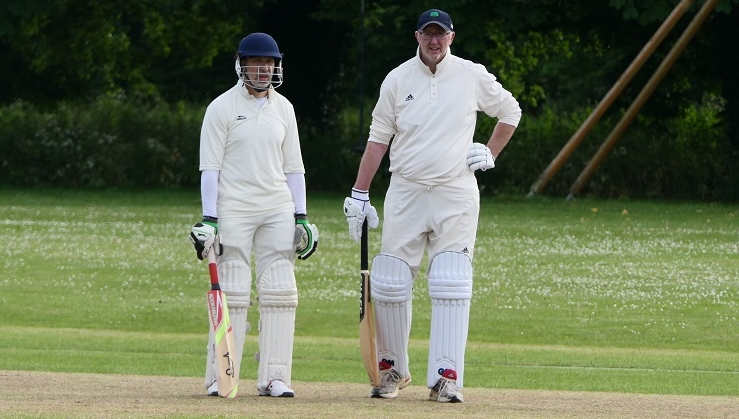 The Third XI travelled to Long Sutton yesterday to take part in a thrilling encounter with Odiham IV's that occasionally resembled a game of cricket.
Odiham chose to bat first, and the openers set about anything loose with some gusto. There was an early caught and bowled chance for Mad Alan, but he spilled what in a normal game of cricket, would be regarded as a dolly. However, this was no ordinary game of cricket. You know what happens next.
That's right, the reprieved batsman, like a man who had just avoided getting hit by a double-decker bus, decided to enjoy life, pumping the ball to all parts of the ground. At the other end, Oak's opener Lee Noble, like a reasonably good Lidl's Stilton, got better with time but without reward, in his 8 over spell.
The Oaks stuck with it though and the change bowlers, Ollie Rabley and Rav Kancharla picked up wickets to make inroads into The O's batting, removing both openers who were now really pushing on, putting the ball to areas where the snake fearing Oakley chairman didn't want to visit.
Time For OlliebBobs
After Rav finished a productive spell, Bob Lethaby joined Ollie in the attack. When these two veterans bowl together, things happen. As a writer of pun filled headlines, it is regrettable that Bob is not called Stan. In tandem Bob and Ollie are striking fear into this league with 12 wickets in 2 games that have featured yorkers, googlies, flippers and more wronguns than a Prince Andrew house party.
Ollie picked up 2 wickets, one featuring an extraordinary over the shoulder catch from Chippy Carpenter that the wildest optimist wouldn't have put money on. Bob finished with 3-27 off seven overs in a spell that will be talked about for not very long, if at all. Mike De Vos wrecked Bob's five-fer hopes when he selfishly mopped up the tail with 4 wickets, but Odiham still had a good looking total of 193.
The Oaks lost Ryan Parry early, but the obdurate and occasionally flamboyant Phil Carpenter stayed in place. He was joined by our 'just go for it' number 3. Mike De Vos, who hit a few lusty blows before departing for a useful 25. At 49-2, it is slightly harsh but also true, that one nervous glance at the rest of our batting line-up would make Ice Man from Top Gun shit his pants. Realistically, Kris Tucknott was our last batsman.
Time For Skip & Chips
So, it needed a big partnership from Kris and Phil. Could they deliver? Damn right they could. An outstanding partnership ensued, taking The Oaks to within 30 runs of victory with seven wickets in hand. When Kris went for a marvellous 70, Ollie was next in, whilst the number 6, Bob Lethaby, tried to remain in control of his irritable sphincter. He needn't have worried, as Ollie kept his cool and along with Chippy, eased the Oaks home for just 3 down.
What can we say about Odiham without descending into overtly gushing compliments akin to a vomit inducing American movie? I'll try to stay British and stoical. They were outstanding opponents, with a strikingly similar eclectic mix of players to us. With the irrepressible Steve 'Spready' Spreadborough as their court jester, they played the part of hosts with some aplomb. There were laughs, appreciation of the occasional bit of good cricket, and a beautiful tea provided. Their skipper, Drew Birch, is a top chap.
A thoroughly enjoyable day.