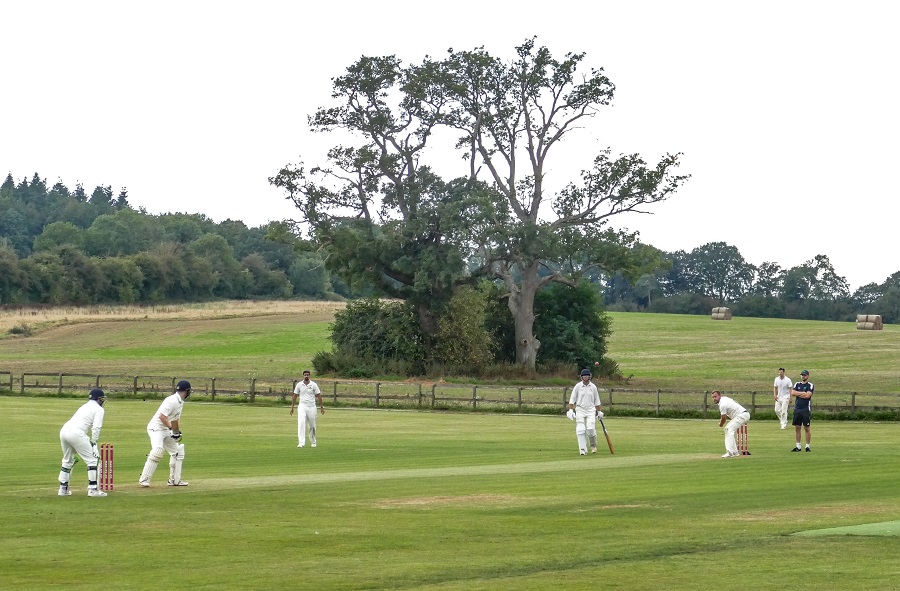 An eclectic team of Oaks old and young gathered yesterday to complete the 2021 season. It turned out to be an absolute festival of runs in a game dominated by the bat in front of a bumper crowd on a warm but overcast afternoon.
Oaks Bat First
The Oaks batted first, knowing they needed to put on a good score after overhearing that opponents Elmhurst, had a crack batting line up. Nick Green and Jeff Triner led the way with a 50 partnership before Jeff went for a useful 19.
Nick was reprieved by the Elmhurst fielders when the umpire (erm…me) mistook the sound of pad with the sound of willow. It was an honourable thing to do and a reflection of how a good spirited but competitive game played out. Nick went onto make a surprisingly high quality 63.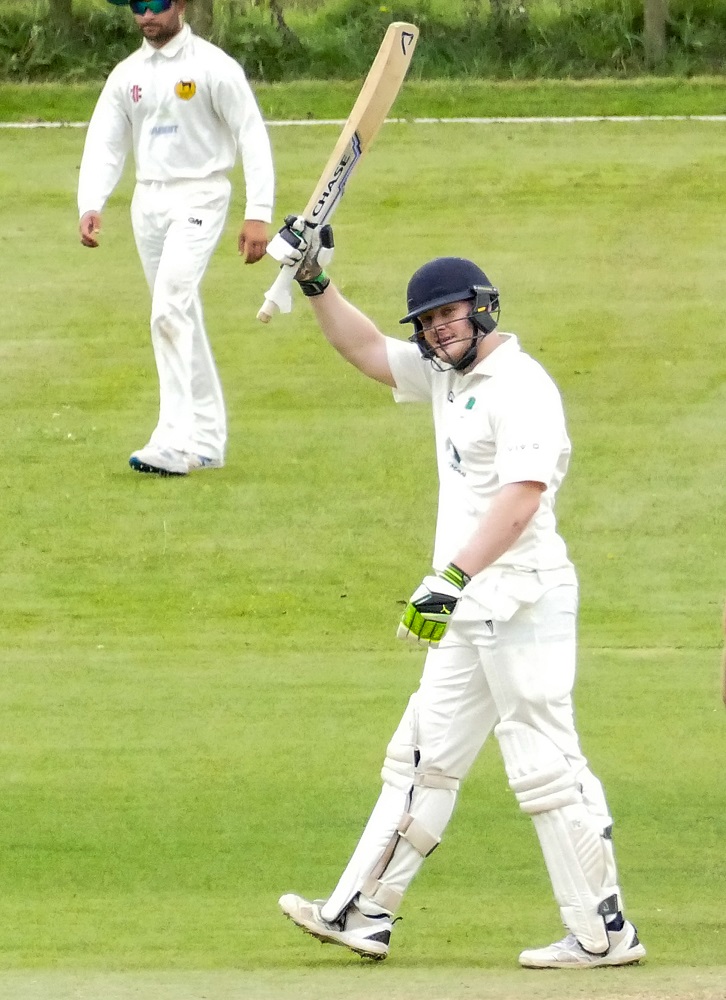 Green Machine: Nick top scored with 63.
This was backed up by a graceful 55 from ballerina, James Bayliss, a more patient 24 from Dan Beckell and aggressive late innings flurries from George Lethaby (21) and Steve Savage (19). Nigel Bishop clumped a couple of 4's to round the innings off for a formidable looking 263.
Elmhurst Reply
The Oaks hadn't reckoned on an Elmhurst top order that would walk straight into our first team and Harry Goddard and Adam Triner did well to not get a good pasting. Harry returned great figures of just 15 runs conceded off 5 overs. If Adam hadn't bowled a loose sixth over, his spell would have been similar, but he did grab a wicket.
Thereafter it was often a chastening experience, but we did create a few chances, particularly through George and Rav Kancharla. However, they were tough chances that needed quicker and more experienced fielders to gobble them up.  George did pick up one wicket and Jeff Triner took 2 in a decent spell.
Wily old skipper, Bob Lethaby, then brought on James Bayliss to stem the run flow. The only flaw in this masterplan was that it didn't work. On his final over Bayliss looked like he might go for six sixes. Thankfully, Tahir, a batsman of some talent, stopped after the third successive one.
This led to a different plan from wily old skipper, Bob Lethaby, who brought himself on to bowl high into the setting sun. The only flaw in this plan is that he got twatted for a plethora of sixes as well. However, we did take the game to the 38th Over, which is credit to the boys for sticking with it. Congratulations to Townson (104) and Tahir (91 not out) who effectively won the contest between them (Tahir with a split finger repaired by our resident paramedic, Michaela). Two fine knocks.
That's All Folks!
So, the final game of the season saw 530 runs in a good spirited and competitive game against friendly opponents featuring some top batsmen. Not to be outdone, the chairman's dog retrieved a tennis ball 942 times in a mammoth 8-hour spell, before collapsing in heap when back home. His best performance of 2021 and a great way to end his season.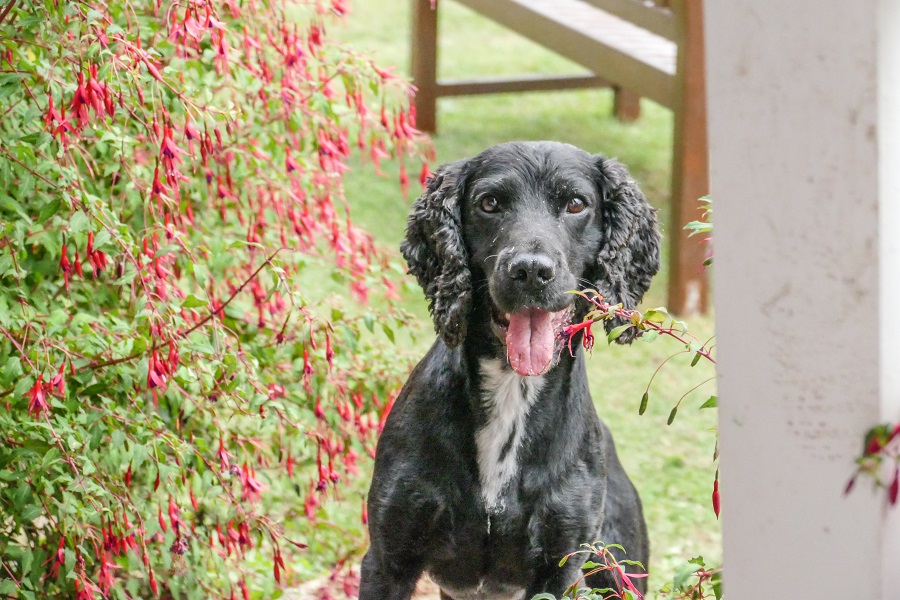 Marley: 942 Pick Ups
The curtain is now drawn on what is not only the end of the season but the end of the clubhouse as we know it. Normally, we would now be locking everything up ready for the mice to move back into their winter residence but this year, it is all action. The builders move into Oakley Park next Monday (20th September) and by the time we come back in the spring, we will have a double extension.
Although I am excited, I do worry about where the mice will go.
Up the Oaks!