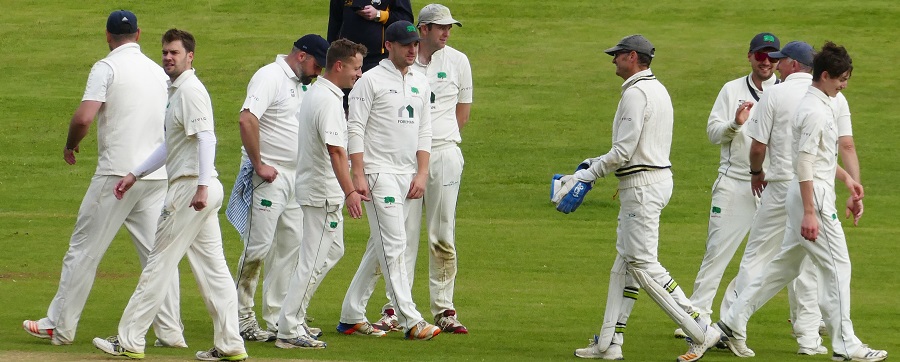 There have been times this season when it has seemed the odds are stacked against the First XI. Stoical attempts at getting games played despite the awful weather, have not paid dividends. When we have had a full-strength side, games have been cancelled and when we could have done with an abandoned game, the rain skirted around us.
When I saw Ian and Dave working tirelessly on the pitch yesterday morning, I couldn't help wondering whether their efforts were in vain. We had already had a couple of morning deluges and the skies were blacker than a coal miner's pocket.
A Change of Luck?
However, there is an old saying that over a season, luck will even itself out and as the rain held off, OTT & Romsey turned up slightly depleted and semi-motivated. A fine run of 5 wins had propelled them to County 2 safety and a guaranteed mid table finish.
The Oaks on the other hand, knew they were drinking in the last chance saloon, with the fat lady in the dressing room, clearing her throat, ready to sing. A defeat and a reduction in points average would have left them needing snookers to avoid the drop. It was as simple as that.
So, with a strong team, a great warm-up and high motivation, it was time for The Oaks to deliver. Batting first, The Oaks opened with the experienced Gerry Dique and the more flamboyant and increasingly impressive, Will Cheyney. It was vital that these two delivered under pressure and boy oh boy did they deliver.
It was a dogged grind to start with. The conditions were awful, with a keen wind blowing the clouds through. Along with it, there was an increasing threat of rain from the southwest that the chairman didn't like to talk about. The boys dug in and gradually moved through the gears and when they both passed 50, it was to raucous applause from their teammates.
A tremendous opening stand of 132, set up the middle order to pile on the runs and they did just that. Fine knocks from James Bayliss (25) and Neil Robinson (34 no) aided by Clive Welsman (11) and Michael Wood (10 no) culminated in a formidable total of 243.
Defending the Total
Defending a rain delayed revised total of 196 off 28 Overs, The Oaks were dominant from the off, with Stef Kaltner and Neil Robinson all over the OTT openers. At 17-4, it looked like an early finish was on the cards, along with maximum points. However, fair play to the OTT middle order who galvanised themselves and made a game of it.
The result was never in doubt though, and a fine performance in the field, backed up a dominant batting performance. The wickets went to Stef Kaltner (3) Neil Robinson (2) Josh Carpenter and Dave Bowers, with Clive Welsman also bowling well without reward. Notably, there were five good catches from Stef Kaltner, George Lethaby, James Bayliss (2) and a screamer from Woody. It was one that Gordy would describe as Woody 'leaping like a salmon on a hot tin roof'.
A Great Day
So, overall, a wonderful day in bleak conditions. By the time we finished, the sun was shining across Oakley Park, providing a stunning setting to a near perfect day. From the determination to get the game played, to the team spirit and desire from all the players, it almost felt like the sun was shining on the righteous.
A special mention for Ian Bennett, who, despite the disappointment of not playing, was down at the ground at 10:00 AM making sure we had a pitch to play on. Keeping the First XI in County Two will be a massive achievement, so it was heart-warming to see Bownie, DJ and Big Mike, not only cheering the boys on, but also rushing to aid with putting the covers on and off as the weather threatened to curtail us. A mention too for Gordy for umpiring on the bleakest of days, and OTT's for being good, sporting opponents who stayed around for a drink and a chat afterwards.
We are still drinking in the last chance saloon, but there is one hell of a chance the fat lady won't get her gig.
Up the Oaks!