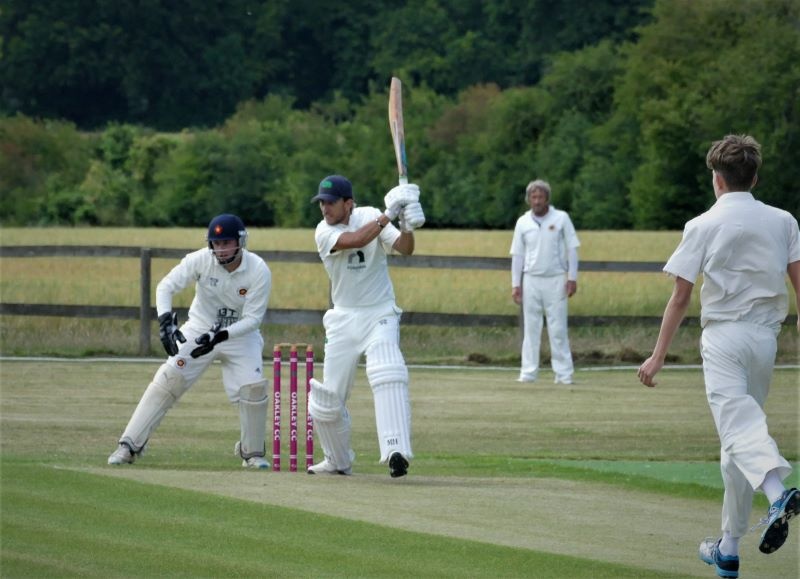 An unbeaten 75 from Ian Bennett paved the way for what often looked like an unlikely victory against Hook 3's. Batting first, The Oaks lost Dan Sumner to a vomit inducer and he was soon followed by Clive Welsman and Alex Brundle. Only Elliot Hennesey and George Lethaby made double figures as The Oaks struggled to 30-5.
The Chairman, still at home, deliberated visiting what appeared to be an impending massacre as Oakley went six down for not much. However, as a man of intense loyalty and a willingness to find hope when everyone else in entrenched in despair, the Chair of most club's dreams, headed up the A303. He knew that only his presence could inspire his flailing servants.
And how they responded. True grit from the man they call 'The Man of Grit', James 'The Man of Grit' Bayliss, was ideal second fiddle to Ian Bennett, who was soon clumping leather to all parts of the ground. A fifty partnership evolved and the scoreboard started ticking along at a rate where it looked like a cricket score.
When James 'The Man of Grit' Bayliss eventually departed, Dan Jones, the man they call 'DJ' because of his initials, aided Ian, who was now seeing it like a football, nicely. The Oaks reached a tally of 166 which could have been more if Will Cheyney hadn't, somewhat inexplicably, played a defensive shot at the last ball of the innings. If it was to protect his average, he is a sick man.
Chasing the total, Hook looked strong and the scoreboard rattled along towards 50 without loss. However, The Oaks got in a huddle and captain Dan Sumner (the one who got a golden), pointed towards the watching Chairman and said, "We need to win it for him…he's our hero". With belief emanating from the Chairman down to the pitch, the fightback was nothing short of a spiritual experience.
Wickets for Hennesey (1) Brundle (2) Cheyney (1) Welsman (3) and Sumner (3) turned the game on its head as Hook wilted under the pressure. As the game drew to a climax akin to Netflix thriller, The Oaks stayed cool, taking catches and finally, with 10 needed for a Hook victory, a composed run out to complete the victory.
At the end of the game, everyone agreed that the arrival of the Chairman changed everything, although he disagreed.
"Okay, so my appearance changed the game, but lets not take anything away from the lads, they deserve credit too", he said, humbly.