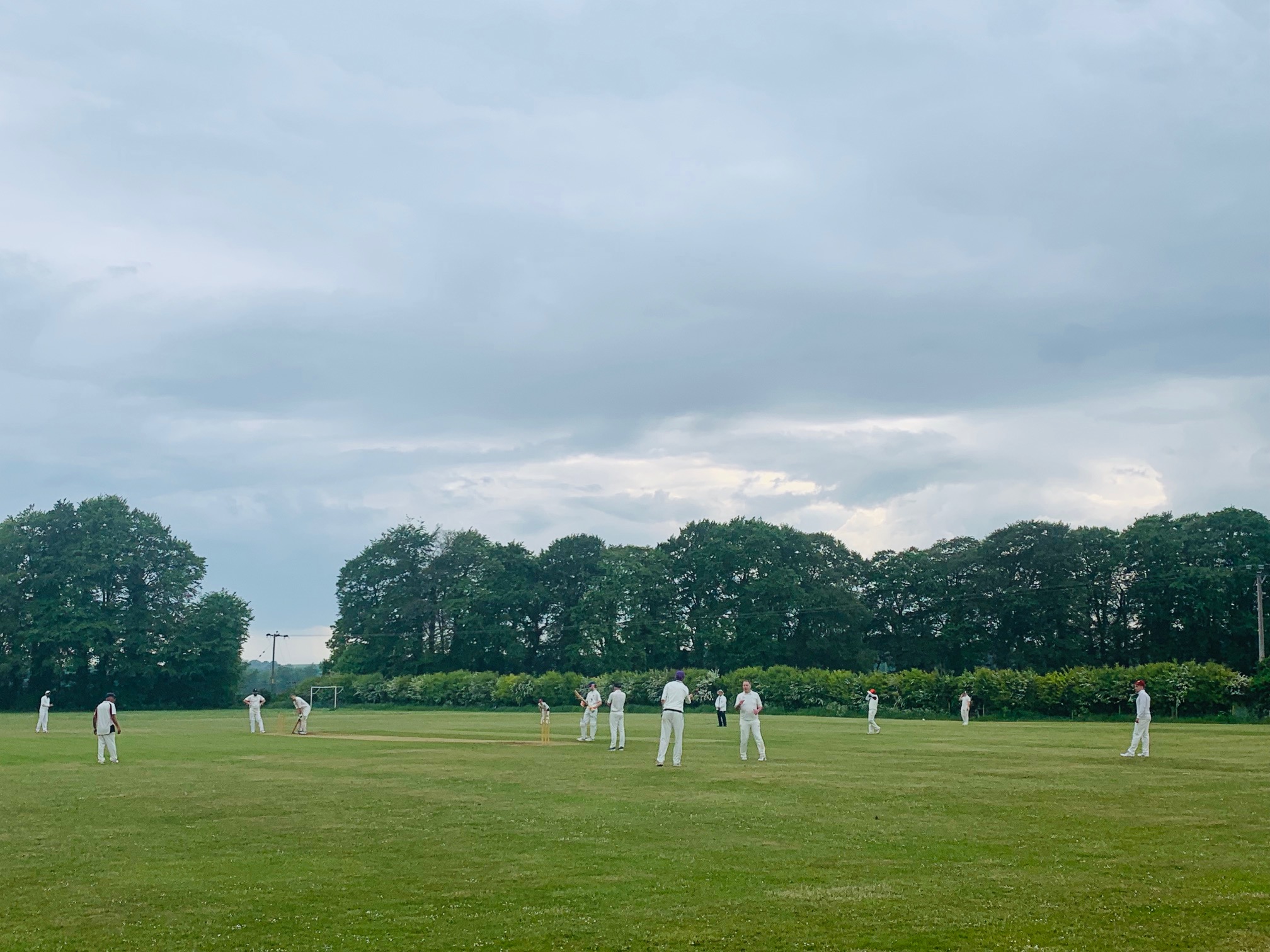 The Third XI made it a hat-trick of wins for The Oaks on Saturday with a stirring victory against an equally eclectic and good spirited St Cross V team.
Bowling first under skies that were damp, the irrepressible Dave Bowers and George Fox bowled some tight stuff. However, the St Cross batsmen were apparently immovable, with one opener using a unique defensive shot that involved leaping in the air and killing the ball as if though it was a rat running around his kitchen.
As is often the case with opening bowlers, they conceded barely any runs without the reward of wickets. This set up the other bowlers nicely and Josh Carpenter bowled excellently to pick up two wickets. Noah Beckell bowled well too and was unlucky when he took a bit of stick in his final over to ruin otherwise decent figures. Taking 'a bit of tap' is all part of learning to bowl and Noah will be better for it.
Oaks new boy, Mike De Vos, then stole the show as increased cloud cover had the ball swinging like a suburban dinner party. Mike took full advantage with 5 wickets whilst at the other end, the excellent Bob Lethaby got no reward for some raw and hostile stuff.
Tall Jeff (he is tall and his name is Jeff)  joined the party with an excellent three wicket spell, including one that was a moment of amateur cricket gold. St Cross's captain, a big lad, came into bat and it was obvious what his intention was. To go big. He heaved at one that came out of the middle of the bat and arrowed towards Bob Lethaby. With eyesight just outside the boundaries of getting a free Labrador and knees a brittle as a tea dunked chocolate digestive, the odds were in the favour of the batsman.
However, like a true ruddy marvel, Bob took the catch by skillfully utilising his baby finger to cushion the blow. It was one of the special occasions where women (Natalie and Alison) instinctively become carers and men laugh their socks off. There is nothing quite like the caveman instinct that comes with the hilarity of another man's pain. Except of course, you are the one fighting back the tears.
St Cross finished on 156, a good total considering a lengthy tail that featured George Fox who had to leave early and Bob Lethaby without a hand and about as much use as Stephen Hawking in an arse kicking competition. A good start by Dan Beckell and Tall Jeff (his name is Jeff and he is tall you see) was paramount and an excellent 50 partnership did the business.
There were some alarms as Tall Jeff (24) and Dan (41) went in quick succession, followed by Josh Carpenter for six. A turgid and stingy innings was needed to keep wickets in hand and that was provided (as predicted in my preview) by Phil Carpenter, who was stoic and heroic in equal measure. This allowed youngster, Will Rabley, to administer the famous Rabley pull shot that has become a legendary family trademark.
Backed by Phil's ability to be utterly immovable, Will cut loose and pumped Oakley to victory with an excellent half-century that will go down in the history books along with the 3rd Eleven's first ever game and indeed, victory.
It proved to be one feature in a memorable day for the club where 33 players of all ages and ability contributed to a full deck of wins from positions where defeat was possible, even likely at times. The beers and cricketing tales that flowed back at Oakley later, were testament to happy and buoyant little cricket club.
On we go!
MOM: Mike De Vos/Will Rabley
Weather: 17c with intermittent light showers