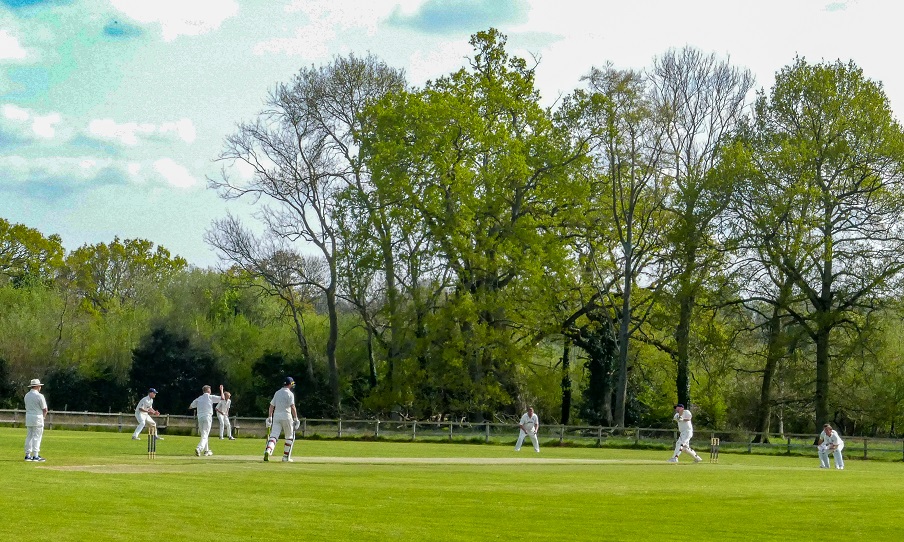 So, a busy weekend is complete as we go into the new season starting next week. It was a double victory yesterday as the First XI overcame Hook III's and the Second string won at Longparish.
First XI
The First's put on an impressive display in the field, reducing Hook to 121 all out. Wickets went to Neil Robinson (3) Will Cheyney (2) Josh Carpenter, George Lethaby, James Bayliss, and Harry Tucknott. The only disappointment was a total of 34 wides. Something to work on.
Chasing the target, everyone contributed, with 6 of the 7 batters hitting double figures before Josh Carpenter (17 no) and Ian Bennett (12 no) saw the Oaks home with 5 down. James Bayliss top scored with 20. I assume James was out inexplicably, as he knows no other way.
Second XI
The Second XI had a tougher chase in an excellent match up v Longparish III. An experienced 'Parish opening pair gave them an excellent start and despite some decent stuff, openers Noah Beckell and Lee Noble got little reward.
However, The Oaks stuck with it, and wickets for Rob Wood (3) Bob Lethaby (2) Dave Bowers, and Kalum Sappumanage, pegged Longparish back to 174 for seven after 40 Overs. Rob Wood was the pick of the bowlers with some superb leg spin demonstrating the worth of his recent shoulder operation.
A steady opening stand of over 50 from Jeff Triner (29) and Dan Beckell (32) set The Oaks on their way to the target. Thereafter, cameos from Ollie Rabley, Rob Wood and Dave Bowers set the game up nicely for a lovely winning partnership between the excellent Kalum Sappumanage (41 no) and new boy, Ben Robinson (15 no). Just to confirm, Ben is a batsman who can bowl a bit, not the other way round as stated by the chairman. It all worked out well in the end; a tactical masterstroke from the chairman, if you will.
So, plenty for the captains to think about when selecting next week's teams. Rather them than me as they wade through their options. Be kind to them, it is not easy.
All Stars
Today, we saw the start of All Stars cricket at Oakley. It is pleasing to report that Ross Hunter had 35 kids showing up, despite the damp weather. Ross was pleased with what he saw and had great help from the parents, notably Neil and Adam Robinson. Adam's daughter can according to Ross, give it a right old whack. A chip off the old block, it seems.
Week Ahead
The week ahead sees Colts training from 6:00 PM tomorrow, with all ages in action. The managers are now equipped with great training gear and continue to encourage senior members to come and provide a conduit between these two sections of the club. We are coming up with some cracking players from this section of the club and I am told more are coming through. I will see for myself tomorrow when it is my turn to assist.
A Very Local Derby
Tuesday sees the First XI taking on the Second XI in The Cyril Thomson Plate first round at The Bounty. I assume the First XI are favourites but what with it being a local derby combined with the magic of the cup, who knows what will happen? I don't know the teams but hopefully, those who are playing have been informed.
Wednesday sees us back on the training ground as we prepare for the new league season starting next Saturday. The plan is to have a team meeting after the session to discuss what we are looking for in 2022. However, with 22 players in action on Tuesday, we will have to see what the turnout is. If it is low, I will put in writing the committee's expectations of players.
What is critical if we are to continue to grow, develop and make the clubhouse bring in money for further improvements, is to ensure that the Under 9's are treated in the same manner as the senior First XI. Two of our First XI and one of our Seconds yesterday were in the Under 9's less than seven years ago. In fact, out of the First XI yesterday, Dan Jones, Josh Carpenter, George Lethaby, Nick Green, Neil Robinson and Harry Tucknott have all represented Oakley at Colts level.
Anyone who doesn't think creating a strong link between the two is not important, isn't looking hard enough.
Steve Savage
For those who don't already know, Steve had a heart attack during a Hampshire Over 70's game last week. Luckily Steve was treated quickly, has had stents fitted, and is on his way to making a great recovery. Typically of Steve, he wrote to me with disappointment that he is set to miss the first month of the season.
Steve is going to spend the next few weeks watching games, doing a bit of photography, and slowly building his fitness back up. During this difficult period, Steve has asked that second-team skipper Jack Brundle, doesn't buy a round.  Any sudden shocks to Steve's system are not to be recommended for at least 6 weeks.
Joking aside, we all wish you well Steve. We are grateful you got great treatment and look forward to seeing you back at Oakley Park soon.
Have a great week everyone!
The Chair