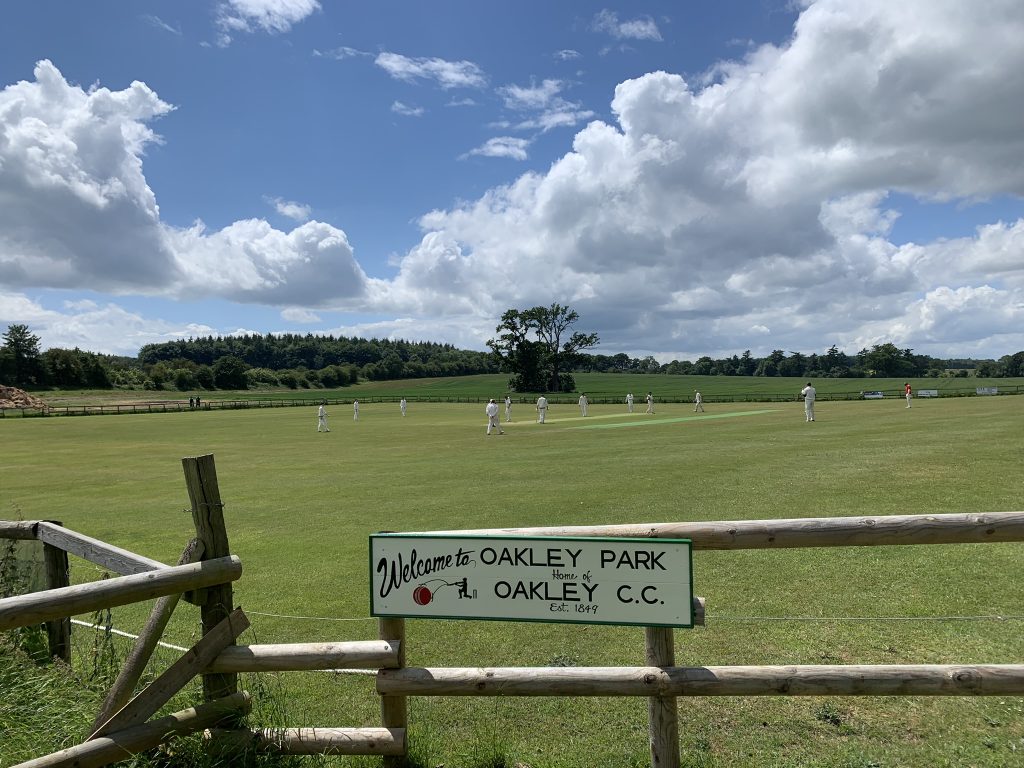 Well, well, well, what a busy schedule we have ahead of us this weekend, with the start of the Vector Cup and two friendlies taking place.
First XI
The First XI travel to Ashford Hill looking to build on their victory from the jaws of defeat against Hook last week; a game that showed plenty of rustiness but also some great team spirit. There is just one change in the line-up, with a homecoming for Brad Compton-Bearne, who returns from somewhere near Newport to fill the vital number 11 slot.
After a rescue job from the late middle order last week, the top 6 will be on the hunt for runs after an early collapse first time out. There is plenty of evidence to suggest they will come good.
In the field and with ball in hand, The Oaks look good to go after some good all-round stuff last week. Should be a good game, this one.
Team: Hennessey, Sumner, Welsman, Brundle, Lethaby, Montgomery, Bayliss, Bennett, Jones, Cheyney, Compton-Bearne
Second XI
The Second XI are entertaining Kingsclere, who, if at full strength, are a good bet to win Vector Cup League 2. Captain, Steve Bown, is happy with his batting line up (order not decided yet) but expressed his concern at lack of bowling options at a feisty team meeting. Despite the club Chairman putting his hand up and shouting, "Me, me, me…I can bowl", Bown is a maverick captain, not a sycophant. Bob Lethaby is driving to Ropley for a friendly instead.
With a shortage of bowling options, Bown will hope he and his team can deliver more in the batting department than last week's paltry 66 at Whitchurch. However, with rust shaken off, they should be okay; there are plenty of players in the team who can bat well enough to compile a decent score. Whether it will be big enough to cope with the controversial axing of the Chairman, remains to be seen.
Team: Bown, Wood, Savage, Morris, Carpenter (J) Fox, Rabley, Brundle (J) Welsman, Tall Jeff, Ravington
Third XI
The Third XI welcome slow bowling maestro, Bob Lethaby, into the team to travel to Ropley. Axed from the Second XI, like the other Bob (Willis) in the 1981 Ashes series, Lethaby is seething with anger and has a point to prove. The Ropley boys better have their lids on.
As another bonus, Captains, Dan & Dave, also have Deano back on the scene to add experience and some rambling and incoherent football updates that no one else cares about. batting wise, Tom Harris will be looking to start where he left off after his unbeaten ton last week.
In a team blessed with youth and experience along with a bit of inexplicable and entertaining ineptitude thrown into the mix, it is difficult to say how this one will go. Wrong, is probably the best bet, but it sure will be fun, especially with Deano's ongoing commentary of the Norwich v Burnley thriller. Thankfully, it doesn't start until 5:30 PM, so we might be done by then.
Team: Harris, Beckell (D) Beckell (N) Bowers, Lethaby (CHAIRMAN) McEwan, Carpenter (P) Clift, Rabley (W) Turner, James
Sunday XI
I am not going to lie to you, I am getting bored of this preview now; we have too many teams these days. With that in mind, I am not doing one for Sunday. What I will say is it is against Wherwell and it is at Oakley Park.
Team: Bennett, Savage, Sumner, Lethaby (G) Brundle (A) Middleton, Fawad, Hamilton (H) Hamilton (A) Jones, Cheyney
Good luck everyone, play well, play to win, play fair, but most of all, play to enjoy yourselves.
Vroom, vroom…handbrake off…let us rock!