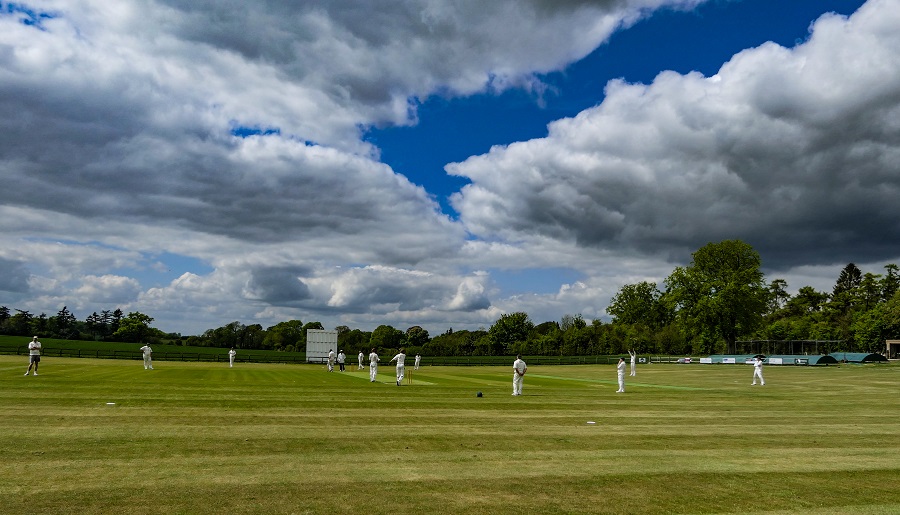 So, after a buoyant start to the season, we go into week two looking to start where we left off. A second hat-trick in a week may be fanciful in the eyes of non-believers, but…we are Oakley. Our club motto I have just made up is 'Believe in the Possible'. Pretty crap, eh?
First XI
Down at 'The Theatre of Scenes', The First XI take on RAM CC. RAM are a perpetually strong team but they got off to a disastrous start last week against Brad Compton-Bearne's favourite team. It's difficult to read into that game this early in the season, so I won't bother. We need to concentrate on ourselves rather than being distracted like a wandering chairman.
The Oaks make a few changes from their starting line-up last week, with Will Cheyney, Steve Bown, and talented young bowler, Harry Tucknott coming in. Out go George Lethaby (a trip to Ireland) Bob Lethaby (so bad, he is batting below Deano in the Three's) and Chris Morris (gone away somewhere, I think, but don't quote me on it).
The Oaks will be looking to maintain an excellent start in the field last week. One that apart from the dropping of a dolly by James Bayliss (who says our catching is dreadful) was spot on against Farley. The bowling was exceptional last week as well; It is already clear that Stef Kaltner, Neil Robinson, and Josh Carpenter will cause problems for most teams.
Some improvement will be needed with the bat in hand but there are plenty of encouraging signs. I'm hedging my bets and predicting a solid top-order display. This will be followed by an Oaks tail wagging like that of my dog when he sees a pheasant.
What there is in this team, is plenty of belief, even when games appear to be slipping away. To quote Gordy, if we keep playing with that kind of attitude, 'the sky is our oyster'.
Should be a good game, this one.
Second XI
The Two's travel to Donnington in a bouncing mood after a rousing victory at St Cross last week. However, Donnington have also had a fine start to the season after a great result versus St Mary's. They will be looking for another positive day as they return to the place they don't call 'The Berkshire Fortress'.
It could be seen that the loss of emerging talent, Harry 'he's one of our own' Tucknott, to the First XI is a blow. However, as a consolation, skipper, Jack Brundle, is so excited to have Nigel Bishop back in the team, some members are concerned he is falling in love. Rob Wood is also back in the line-up and looking to build on his good start to the season at Longparish. First-team regular, Matt Burrell, makes his first league start and is on the lookout for runs.
If Dan Beckell and Ben Robinson can build on a great start to the season and Jack finds good bowling back up for Rob Wood, Dave Bowers, and Noah Beckell, The Oaks should be right in this one. I'm sticking my neck out and predicting this game could go either way, with one of the two teams winning it.
The Third XI
The Third XI kick off their league season in an indifferent state of mind after chaotically chasing 58 at Overton last week. They did so for the loss of a bottom twitching eight wickets in a dramatic encounter. Not for the last time this season, I will call Kris Tucknott's team eclectic. However, it does have a few players who know what they are doing.
There are plenty of bowling options and the talented Herbie Hamilton, in particular, could feel hard done by not being in the Second XI. The Oaks also has James 'Warney' Middleton, who is turning into a secret weapon with his spin bowling. Although maybe not so secret now I have splashed his name all over the website. The return of the South African maestro, Mike 'expensive' De Vos, is also a bonus.
Other bowling options come from Bob Lethaby (that's me, that is) Ollie Rabley, and pop duo Ravi and Avi. Batting will be interesting, and one can't help but look at the list and hope Kris finds some form and Phil Carpenter manages to stoically hang around for most of the innings.
That said, Ollie and Avi know what a bat is for, and Rav slapped it around a bit last week, so we might be okay. You never know, some of us might come up with something. We could be heroes, just for one day (A Ravi & Avi cover version, perhaps?). I have not yet had it confirmed when Avi will give Deano out for a golden duck but if we bat first, aim to be there for around 2:00 PM for the fireworks.
So, the Oakley bus is ready to go again, and, as usual, we will all return to the clubhouse with grossly exaggerated tails of woes, dummy spitting, heroics, and the downright implausible. Let's hope the sun shines again on all three teams and it can be another good social after the game event.
Enjoy, everyone!