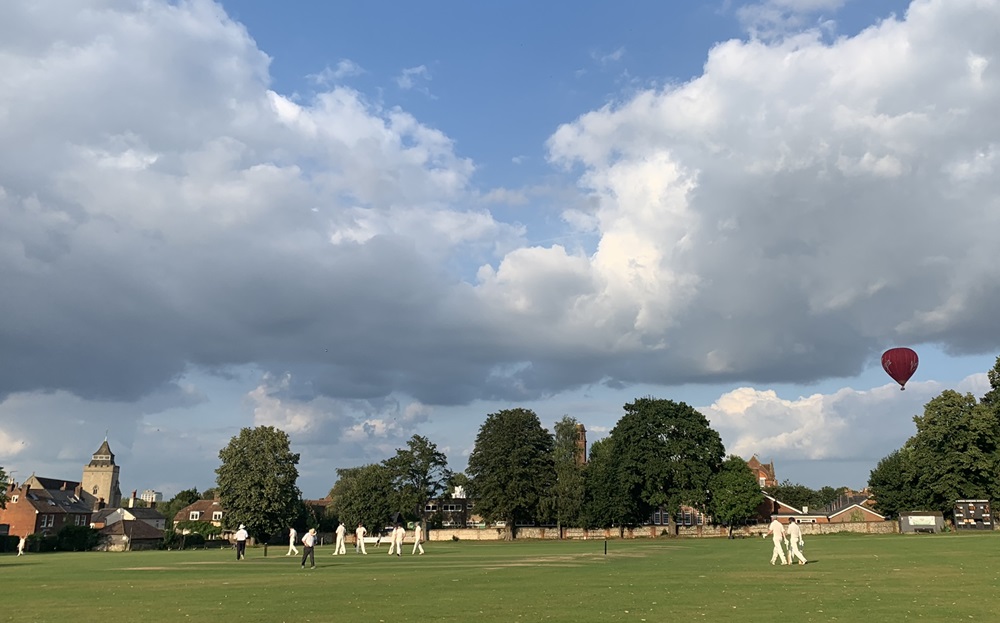 The Oaks put on a sensational team performance in the Guy Jewell Plate Semi-Final against a talented Basingstoke Hockey Club team last night. Don't let the name fool you, this hockey club had Southern Premier League players from Sparsholt and Basingstoke and a paid player from Camberley Firsts.
The Oaks batted first and Elliot Hennessey and Dan Sumner went to town on two bowlers who represent Sparsholt First XI, with The Oaks amassing 90 in the first 10 overs. Boundaries got peppered and cars and spectators had to be on red alert. It was a wonderful start.
When Dan (37) and Elliot (69) eventually went, the rest of the team rushed through singles and two's, willingly taking chances to keep the scoreboard ticking. This got us up to 179 with everyone playing a role. A good batting performance but would it be enough? One of opposition supporters said, 'If Oakley had got 200-220, it could have been a good game'. Presumption that the opposition's star batters would be too good?
Hockey Club started well and after 5 Overs were ahead of the run rate. There was indeed some class batting, but The Oaks were already battling hard in the field, stopping boundaries and firing the ball in hard.  In Bown, Brundle, Bennett and Lethaby, they have quick fielders with big arms; they would be needed. After 5 Overs the Oaks started turning the screw, then turning it further and further with wickets for Sumner, Brundle and Hennessey and some fine catching, notably a low diving effort by Woody. Nothing was getting through the field and the bowlers, to a man, were piling on the pressure. It was wonderful cricket to watch.
After 10 Overs wickets were falling and the run rate was increasing. Oaks supporters were beginning to believe this was game on. The players already had, and they were all over the opposition batsmen, taking the prize wickets of Hutton, Taylor and Weir.
By the 15th Over, The Oaks had fielded and bowled Hockey Club out of the game, they had nothing left in the tank as they ran out of cricketers and the hockey players came in. The job was done, and the boys could even afford the luxury of enjoying the last two overs.
Given the quality of the opposition, who have several fine players from Southern Premier and Berkshire Leagues, this was one of Oakley's best wins in recent years. It wasn't luck either, they out played the opposition in every department. It was full foot on the throat, and it wasn't taken off. It needs to be noted that The Hockey Club were good losers and appreciated that it was one of those days where the Oaks were bang on it and they couldn't respond.
A great evening for our little club. We Look forward to playing Hook in The Final.