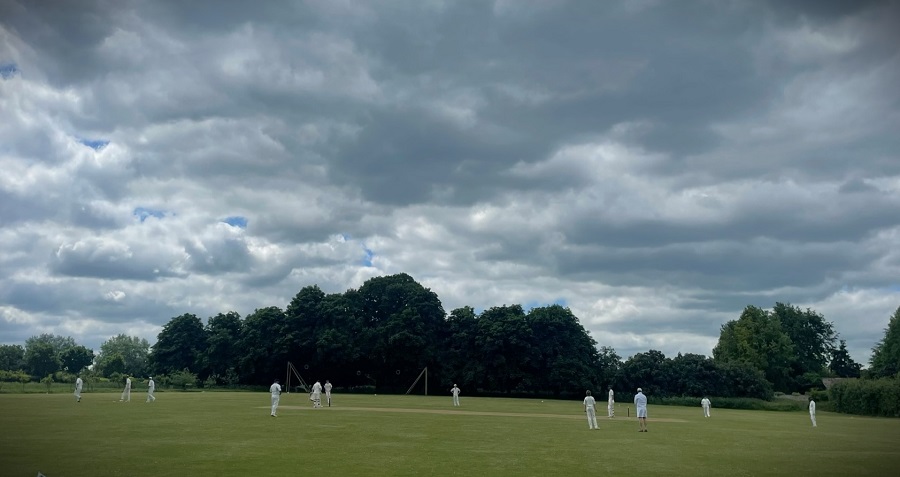 The Two's unbeaten start to the season came to a crashing end on a fine afternoon at Odiham's Long Sutton ground, on Saturday.
Batting First
Batting first, it appeared that The Oaks wanted to become a twitter sensation by being bowled out for less than 10, with the opening Odiham bowlers causing havoc. With binary numbers all over the shop, it was a heroic rescue mission from George Rutt that saved our scorecard being retweeted across the globe.
Aided by resistance from Ollie Rabley (18) and a "Just try and stay in, for Christ's sake" bit of obduracy from Bob Lethaby, Rutty scored a splendid 81.  This took The Oaks from 27-7 to 148 for 9 off 40 Overs. Not great but a fantasy after such a chaotic start.
Defending a Small Total
The Oaks sniffed a chance but some poor fielding early in the Odiham innings never really allowed them to strangle the scoring. Openers George Lethaby and Noah Beckell bowled well but the back up fielding wasn't at it's best, with one overthrow resulting in a deflating six.
A breakthrough did come courtesy of a smart run-out by Bob Lethaby, who was starting to believe it might be one of his rare, good days at the office (a thought that wouldn't last). Wickets did come for Kalum Sappumanage and Tall Jeff but after some sharp catching (Ollie, Jack Brundle and Tall Jeff) gave The Oaks hope, it was Bob who was to be centre of the action again.
A miscued pull off the bowling of Kalum Sappumanage looped into the air towards Bob, who ran to it, emanating all the confidence of Stevie Wonder, on one leg, with a piano strapped to his back. It was a horrendous drop to a decent player who survived another harder chance to Ollie Rabley to make a precious 31.
He was eventually trapped caught behind off Noah Beckell, but it all felt a bit late in the day. And so, it proved. Odiham had another good young batsman guiding them home with relative ease. A late wicket maiden for Bob was scant consolation that did little to lift the cloud above his head.
Not Good Enough on the Day
Ultimately though, it was (except for Ollie and Rutty) a poor batting display that done for The Oaks. Credit where credit is due, the boys made a game of it in the field, but it needed to be faultless for The Oaks to have any chance. And that, it wasn't.
So, a first defeat in a game where not having the likes of Dave Bowers, Rob Wood, and Ben Robinson, left The Oaks short. A massive well done to Rutty though; it was a classy innings in a desperate situation. One that deserved to be on the card of the winning team.
Once again, Odiham were great hosts, and the game was played in a spirit that was a credit to both teams.
We move on.