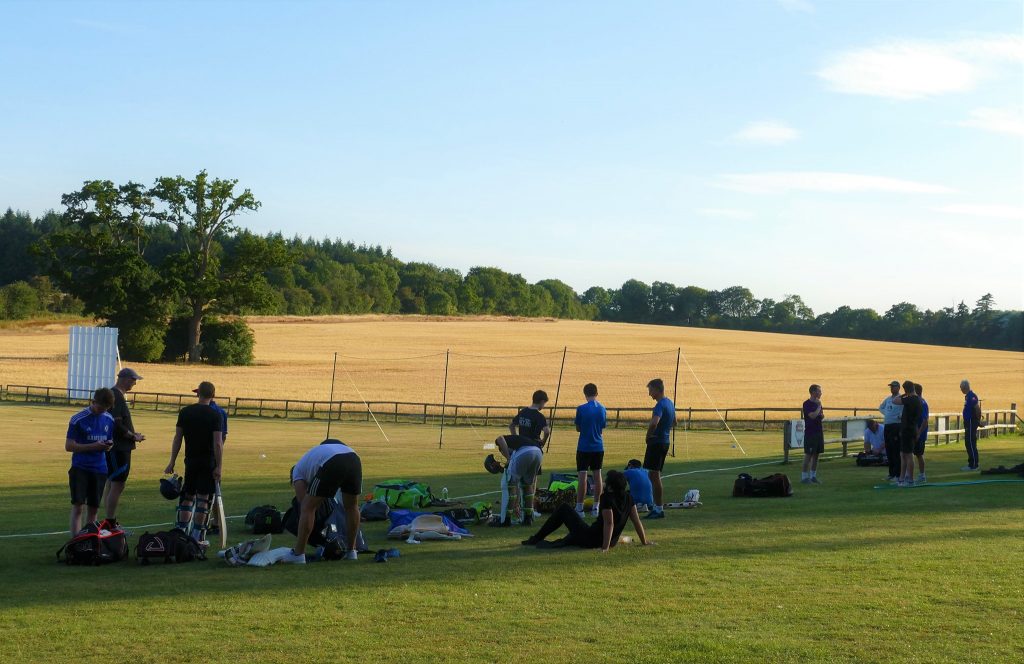 The Oaks go into this weekend with no fewer than 5 fixtures to look forward to over two days. Sadly, it will be with one eye on the weather apps as a low front approaches the shores of dear old blighty.
First XI v Overton
The first XI will have a tougher test in the Vector Cup this week, with old pals down the road, Overton, the visitors to Oakley Park.
The Oaks make three changes, with Clive Welsman, Will Montgomery and James Bayliss out. In comes youngster, George Fox as well as Tom Barnes, and Steve Savage, who takes the gloves for his 999th appearance for The Oaks.
Overton are a team that is often availability dependent, and when weakened, they are heavily reliant on Sam Miller. However, on their day, they are a match for any team at this level. Whatever the case, 'The battle of the 'O's' is always a good spirited affair.
Team: Hennnessey, Sumner, Compton-Bearne, Brundle, Lethaby, Bennett, Cheyney, Fox, Jones, Savage, Barnes
Second XI v Kingsclere
There are three changes in the Two's with Fawad, Clive Welsman and Deano James, coming in for George Fox, Steve Savage and Jack Brundle.
The Oaks won the first game of this double header quite convincingly last week, but Kingsclere have some good players. Complacency would be a wee bit daft and would probably result in a metaphorical custard pie in the face.
However, the biggest threat to The Oaks looks like the weather. Kingsclere have no covers and predicted morning rain could put the spoilers on things. We can only hope for better weather than expected.
Team: Tall Jeff, M Wood, Bown, Morris, Welsman, Fawad, Welsman (B) Carpenter, N Rabley, Kancharla, James
Third XI v Titchborne Park
The 3rd XI must prepare themselves for this Saturday's game without last week's hero, Bob Lethaby. However, they need to rise to this challenge against Titchborne Park III, and search for the heroes inside themselves.
There are debuts for Kris Tucknott and Nigel Bishop, with Avi Thakur, Mike De Vos and Ollie Rabley both making their first starts of 2020. There is not a lot known about the opposition but there appears to be enough depth in the Oaks side to make a decent fist of it.
Team: Beckell (D) Beckell (N) Bowers, Thakur, Rabley (W) Bishop, Tucknott, McEwan, De Vos, Rabbley (O) Carpenter (P).
Village Cup
On Sunday, many of our first-string travel down to Bramshaw for the Village Cup. Our record in the VC is patchy, with 4 first round knock outs from 4, so the lads will be looking to put that right.
Whether they do or not, is anyone's guess, because we have not really got a clue about the opposition. However, we have a strong looking line up, so with a bit of luck and a fair wind, we might break our duck.
Team: Hennessey, Sumner, Welsman, Brundle, Lethaby, Bennett, Cheyney, Fox, Jones, Carpenter, Savage.
Oaks v Dummer
Perhaps the biggest clash of the weekend is at Oakley Park, where Dummer are the visitors. With many players off to Bramshaw to lose in the first round of the Village Cup, skipper, chairman, and all-round legend, Bob Lethaby, has named an eclectic looking side that has 'village cricket' written all over it.
We have players in their Teens, 20's, 30's, 40's, 50's and 70's proving that cricket is a game for all at Oakley. It is bitterly disappointing that 68-year-old Steve Savage will be in Bramshaw celebrating his 1000th appearance for The Oaks, otherwise we would have the full deck.
Team: Lethaby (B) North, Scott, Coulter, Wood (R), Warner, Rabley (W) Welsman (B) Herbie, Clift, Taylor
So, good luck to the new boys and those stepping up to make their debuts in the Ones. The competition for places has been incredible this week but we have done what we can to be all inclusive. Let's hope the weather stays fair and we can get all the games on.
Handbrake off…vroom, vroom…off we go again!