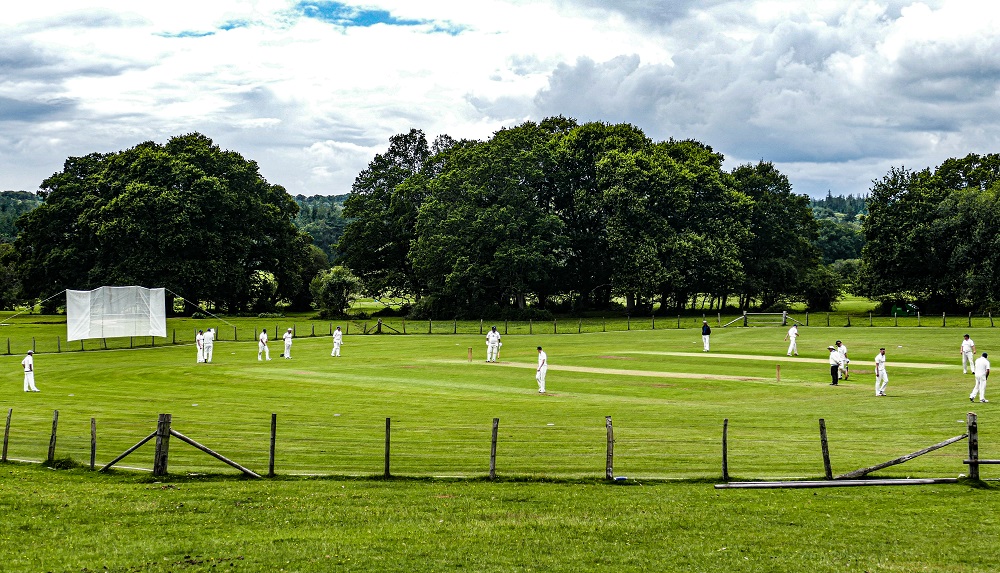 Report from this week's first team correspondent, Will Cheyney 
The Oaks travelled down to Bramshaw this week to face the unbeaten League leaders. This could be a very short report but ill try to string it out…
The day got off to a good start as it wasn't raining for once and the few of us that met at the club were full of optimism. Will Cheyney was the designated member to lead the pre match warm up this week. So, he got to the club earlier than usual only to find that Dave Bowers was already there. Will thought nothing of this until he went to grab some cones, cricket balls and a couple of stumps from the club house, when Bowers announced that he already had all of said items packed up in his van ready to go… A little deflated but not completely disheartened Will thought fair enough Dave's just helping and we cracked on down to Bramshaw.
We arrived at the ground that was surrounded by Horses which is always a firm reminder that you are in the New Forest. The ground was basking in sunshine and looking great considering all the rain that had lashed down in the week leading unto it. A few of us went to inspect the pitch as you do, Will noticed that Bowers was setting up cones and stumps in a very 'Pre match warm up' manner. Still fair enough good to have everyone on board for a warm up. We dumped our bags in the changing rooms and got back down to the pitch to start our warmup. Bowers was down there before everyone raring to go, and Will knew at this point that all the sleepless nights of planning the warm up were just not meant to be today.
Which was fine as he hadn't had any sleepless nights and didn't really have a plan anyway, so it was a massive relief. (I did say I was going to string this report out). The warm up started with Bowers wanting us to chuck a Frisbee around, which I thought fair play that's a good warm up if we were playing Bramshaw at Ultimate Frisbee, but we weren't and we soon moved onto using a cricket ball. Apart from that good warm up well done Bowers, and everyone was up for it and made use of it.
We did actually play cricket, but it was nearly over quicker than the warm up. Which I just spent 10 mins writing about in case you didn't notice… Alex Brundle won the Toss, and we chose to bat. Unfortunately, our optimism soon changed with Bramshaw openers bowling good areas and not giving the batsmen any easy chance of runs and the pressure built quickly. Bayliss went early on soon followed by Cheyney. Woody showed resistance and a few lusty blows got him up to 20 odd. Woody had heard the Bramshaw team muttering that it was the last over in the spell for the opening bowler, so he thought "I'll see him off this over and we'll see what the 1st change brings."
Great plan until he chipped it to cover. It was a shame as he could have gone on to get a good score. The next bit isn't pretty, so I'll say it quick. George came in… got bowled top of off. Josh came in and played on… Hat-trick for the bowler that was about to call it a spell… So of course, he stayed on after that. Brundle came in and him and Clive showed some resistance and in that I mean they were at the crease for more than 3 overs. After Clive and Brundle were out Ian and Tom hit a few more runs but inevitable it would never be enough against an unbeaten team at their home ground. The Oaks ended on 73 all out from 25 overs.
So, it's safe to say the optimism of a big upset had well and truly gone. But the Oaks went out to field with a good energy knowing that loosing points were still up for grabs. Josh and Mike opened and were bowling well but the odd loose delivery allowed the Bramshaw openers to relieve the pressure and started ticking off the runs. The Bramshaw bowlers showed how effective that a consistent line and length is and something that we are all working on and know that it's just perfecting the basics which makes the difference. So, what I'm trying to say is that a very good Batting line up cashed in on loose deliveries and kept the good ones out, and on a small ground it didn't take long for the Bramshaw batsmen to almost close out the game with ease.
This was until Mike Bryant, who was well into his spell now and hitting some good areas and chucking in the odd 'leggy' for good measure, enticed the batsman into the big shot which ended up being chipped to just inside the boundary to Will Cheyney running round from mid-on to FINALLY catch one! I could say this was down to Bowers warm up, but I don't want to give him that pleasure and I'll put it down to raw talent this time. Brundle and Clive had a short spell each and Bowers bowled one over. Oh, yea he got a wicket as well which was good for the team as It meant we snaffled a fielding point with Bradshaw only needing 4 to win. The inevitable happened and they closed it off in the 14th over. Bramshaw were graceful winners, and the game was played in good heart, and it showed why they're top of the league.
Although it was a thrashing that the Oaks had had, there were positives to take from the game and into the final few games of the season. Apart from this game, we've taken all our games down to the wire this season, so we are in good stead in this league and there is a great energy around the squad now to build a momentum and remain in County 2 to compete for a good place next season.  I think I managed to string that out enough.
Up the Oaks