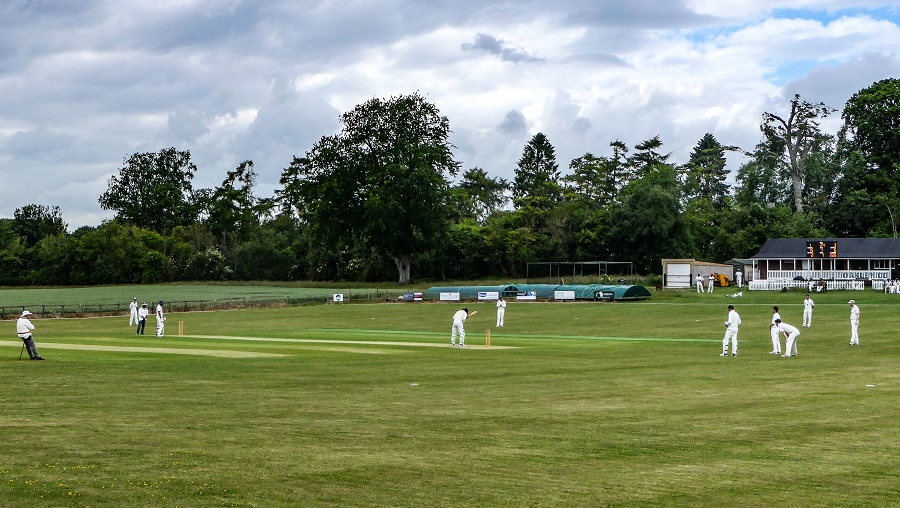 Report by Michael Wood
The Oakley First XI welcomed Southampton Community to a sunny and breezy Oakley Park on Saturday. Alex did what he does best and lost the toss which meant the Oaks were batting first. When talking about the toss, Alex said, "we must bat, and we must bat long".  Opening, DJ and Will Cheyney, got off to a nice little start. Then, for some reason, Will tried to push off a miss field and got run out just as his sister turned up.
So at least Will got to have a nice catch up. Meanwhile, DJ was looking good despite wickets falling around him. Nigel, who I don't think has recovered from his 100 last week, was next to go, followed by Woody who hit two lovely shots before getting a gripper that ended his knock.
Josh Comes Good
Next up was Josh, whose voice is so close to breaking it sounds really funny. Josh looked like he meant business right from the start, smashing the ball around Oakley like nobody's business. Then just as DJ looked like he was on for a good score (hitting the most superb cover drive since Woody's in the 15th Over) he got himself out.
Moz went out then came back in, followed by Brad who hit a few big shots, getting a quick-fire 27 before getting caught, leading to the bowler to shout straight into Brad's face (nice bloke). Meanwhile Josh was still batting nicely and with Alex Brundle at the other end they started to get a nice little partnership.
Even when a grown man started to give Josh some quite aggressive chat, he carried on batting and got a fine 50, even with wickets falling all around him. It was also good to see Josh signing a 10-year deal at the club before the game which means he'll have a great future at Oakley. With Alex getting out, Ian getting a big GD, and Neil getting out early, Oakley ended up on 226. Enough runs to bowl to?
Defending the Game
Opening the bowling, Stef Kaltner found a good line and length but couldn't get the breakthrough he deserved. The plan from the visitors was to give it a good old whack and they did, with one batsman hitting a 6 that landed in Kempshott.
Josh got the first wicket courtesy of a fine catch from Neil Robinson, but Oakley couldn't get another wicket until a superb run out, with Neil in the action again. It involved Neil stopping a certain 4 before getting up and throwing the ball into Ian, who did the rest.Wickets then started to fall but the visitors were always getting runs. It was clear Oakley needed to get Southampton all out to win the game. With a few chances flying past Ian behind the stumps and the ball landing everywhere apart from the hands of Oakley fielders, the visitors suddenly looked in charge.
After a few good catches from Will and Woody there was a bit of hope for Oakley. However, with the batsman still finding the boundaries despite everyone bowling and fielding well, it just wasn't meant to be for Oakley. With the SC number 3 batting well, the visitors stayed in the game, and he was ably assisted by a flurry of big hits from the tail. Victory was achieved, leading to a pitch invasion from the visitors who celebrated long into the night (Probably)
So, the First XI lost but everyone gave their all until the end of the game. It just wasn't meant to be. Congratulations to Josh on his first 50 for the First XI. What is for certain is it t won't be his last.