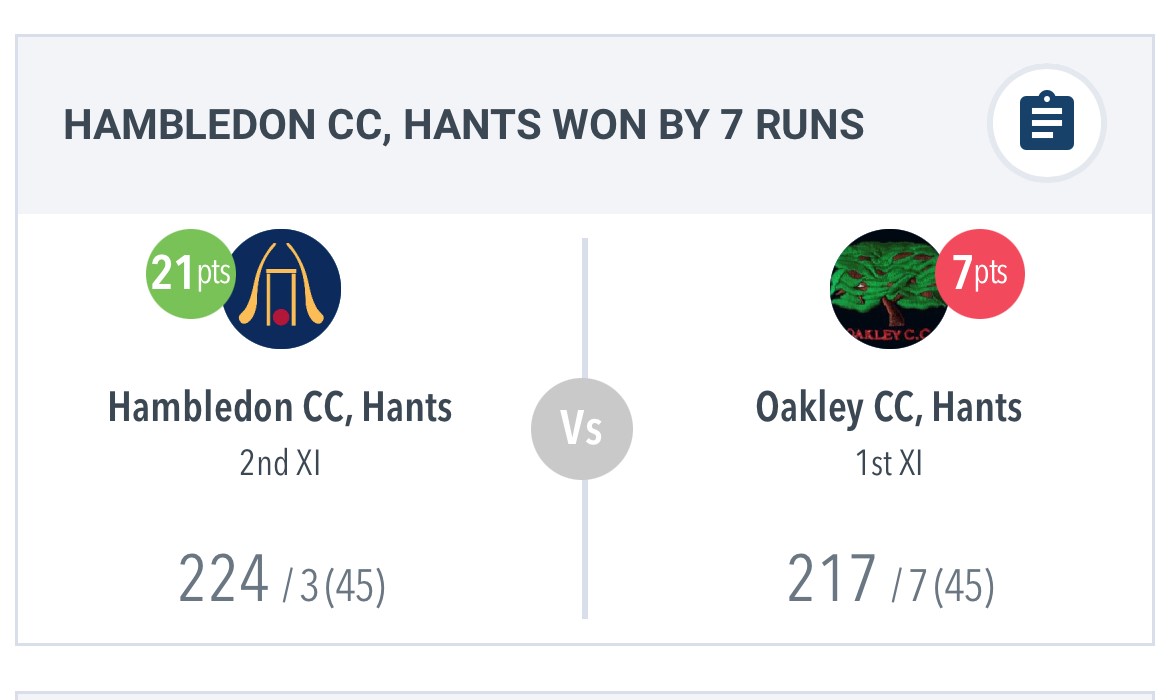 Report from First XI skipper, Alex Brundle
The First XI arrived at Hambledon, a place that, according to Woody, is basically in France, even though we didn't get a ferry there. The Oaks were in high spirits after 2 wins out of 2 so far this season. The buoyant mood was lifted even further when we remembered Bayliss wasn't playing, meaning we didn't have to do 20 minutes of yoga before the warm-up.
The Useless Tosser
Captain Alex Brundle successfully lost his 3rd toss out of 3 and the Oaks were put in the field as the pitch looked a belter. Stefan and Josh opened the bowling and started really well. Josh removed one of the openers with a yorker that probably would have got Brian Lara out. Stefan bowled impeccably as always and was extremely unlucky not to get a wicket.
Neil and Harry came on next and continued the good work with Harry removing the other opener after a good low catch from Moz. DJ replaced Harry and bowled some absolute jaffers and some absolute trash. Unfortunately, the trash got smashed to the boundary as the Hambledon batsman started to accelerate.
Neil bowled his 9 overs straight through in a great spell on a pitch that wasn't offering much. Alex came on to replace him and bowled a rubbish first over. Thankfully the Oaks got the breakthrough soon after with a simply stunning flying catch from Neil at cover. Nobody can still quite believe it.
From then on in Stef and Josh came back on and both bowled well. Oakley restricted Hambledon to 224 in their 45 overs on what proved to be a good batting pitch. Still, fair play to the Hambledon number 3 who got his ton off the last ball of the innings. Top knock from the lad.
Chasing the Target
Chasing the target Oakley started with a risky move of opening the batting with Ian Bennett to try and get ahead of the rate. Ian smashed a couple of 4's but then got caught. However, the tone had been set. At the other end DJ was doing a better job of being Ian than Ian did and started with some lovely boundaries.
Matt Burrell joined him, and we continued to stay with the rate due to some fantastic running in between the odd boundary.Unfortunately, DJ (36) and Matt (17) departed and after a quick cameo from Josh it was down to Woody and Neil the Salmon to continue the chase. They did this excellently both picking the bad balls and continuing to run well.
When Neil got bowled and was replaced my Moz with Oakley needing 7 an over off the 9 remaining. As expected, Mozza's running between the wickets was quality, even with Woody at the other end. Woody, by this stage, had passed his 50 and was batting superbly.
A Cracking Knock
Unfortunately, with Oakley needing 33 off the last 3 overs it was one quick single too many and Woody was run out for a cracking knock of 65. Alex came in next with the plan to go for a couple of big hits to swing the game back into Oakley's favour. He smashed his first ball straight down the throat of long on and trudged off.
Nigel Bishop joined Moz and played a couple of lovely shots, but the Hambledon bowlers were bowling tight lines and were difficult to get away. In the end, with 16 needed off the last over we couldn't quite do it and came up 7 runs short. Moz finished with a valiant 28 not out, an encouraging knock.
Everyone was gutted to lose a close game, but it was a batting performance to be proud of and we were in it right up until the penultimate ball. The whole team had a quick beer sat on the outfield in the sun, then off we went back on the ferry across the channel to England to celebrate the 2nd and 3rd team victories.
Hambledon will be right up there throughout the season and although The Oaks weren't quite good enough, there was enough in the game to suggest they won't be very far behind them.
On we travel.