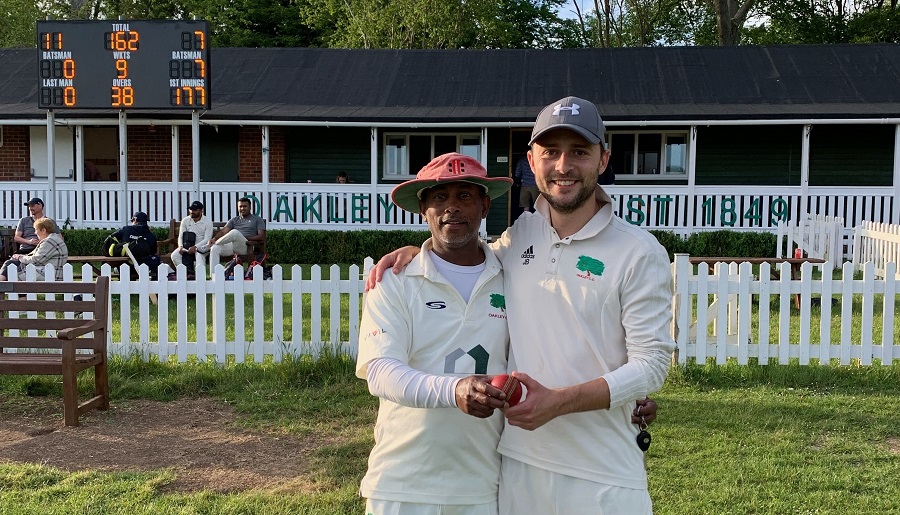 Kalum Sapumanage produced one of the great individual performances at the theatre of scenes to give Oakley II's a 13 run victory over Herriard I's on a stunning late spring afternoon.
The Batting 
Having won his first toss of the season, captain Jack Brundle chose to bat first at Oakley Park. Jack, alongside Dan Beckell, opened the batting as they aimed to set a big score. Dan came to the crease in great form after back to back 50s, but some top quality fielding saw him run out by a direct hit early on. Jack departed shortly after for a duck, edging behind and caught at slip. Jack claims the ball nipped away but this is unconfirmed. Neil 'Nelly' Warner and George Lethaby came in at 3 and 4 looking to steady the ship. Despite George hitting one of the best 4s of the day, he was then out next ball. 'Tall' Jeff Triner joined Nelly and solidly defended as Nelly looked to get going. After a couple of lovely shots, Nelly unfortunately chipped one to mid on and was out for 17. With the Oaks at 37-4, Jack began to wonder if he made the right call batting first. Luckily for him, he had Kalum walking out at 6. 
Kalum made a quiet start to his innings but after drinks, both Kalum and Jeff decided now was the time to kick on jumping from 48-4 to 93-4 in the space of 5 overs. Jeff was the unfortunate victim of a fantastic caught and bowled and departed for a well made 20. Rob Wood joined Kalum but was out shortly after. Kalum, completely unflustered by this, continued to accumulate runs quickly and reached his 50 with a very big 6. Fawad was in at 8 and followed in Kalum's footsteps with some boundary hitting as the game turned in Oakley's favour. Kalum was eventually run out for 67 off 56 balls, including 4 6s. He was so shattered by his efforts that he looked almost relieved to be out and he returned to the changing room for a well earned nap. Will Rabley and Fawad looked to push the Oaks past 175. Fawad was out for a very handy 34 and Will followed for 6. Dave Bowers and Noah Beckell were the last batters and some sharp running saw them push Oakley to 177/9 off their 40 overs. An excellent score considering where they were, but the job was only half done. 
The Bowling 
Captain Jack insisted on a short lunch break and was keen to get started on the bowling now he had to a good score to defend. Dave and Noah opened the bowling and like they have in every game so far this season, started well. Despite Dave making fielders yawn throughout his 8 overs, he was able to pick up 2 early wickets. The first was a very sharp catch low catch from Jeff at cover, made harder by the fact he had further to get down than most. The second was a catch from Jack which was very straightforward, but was made more dramatic by Jack falling over for some reason after taking it. Dave ended with figures of 2–19 which was a great, but boring, spell. Noah was unlucky not to get any wickets from his opening overs as he continues to open effectively this season. Fawad came in and picked up a wicket with his second ball thanks to a catch by George and a shot by the batter which saw him injured in the process. Dave went over to provide some support and help stretch out the injury, but couldn't resist letting the batter know 'you're still out mate'. With Herriard 27-3, the Oaks were on top. 
However, the game turned once again as Herriard's 4 and 5 began to build a large partnership. Fawad, Rob and George all bowled effectively (except George's first over), but with little reward. Dan and Will kept the noise up in the field to try and inspire those around them, but it was getting tough. In need of wickets Jack knew there was only one man to turn to. Kalum. Kalum and Jeff came on to try and find a breakthrough before the game was out of reach. As the partnership reached 99 and one batter reached his 50, Kalum picked up a vital wicket thanks to a good catch by Bowers. In Kalum's next over, he picked up the other set batter thanks to a very sharp caught and bowled. Herriard were 137-5 and only 41 away from victory with 9 overs left. Noah came back on to support Kalum but couldn't find a breakthrough. Turns out bowling no balls directly at the batters head isn't effective. A couple of 6s threatened to leave the oaks effort in vain but Kalum was not about to let his efforts result in a failure. 
As the ball went high in the air, only one man was going to be underneath it and Kalum claimed his second caught and bowled and his third wicket in as many overs. A fourth wicket followed shortly after and tall Jeff, back on for the death, picked up a deserved wicket thanks to another good catch by Bowers. With 18 to win and only 2 wickets remaining the game was tight. The scorer decided to make a tense situation even more tense as the scoreboard went down and he was unhelpfully shouted out by both teams. Maeve couldn't take the tension and started crying. In the end, it wouldn't matter as a run out by Fawad left Herrarid 9 down. Kalum came on to bowl his final over and as the ball looped into the air, Fawad took the catch that secured 5 wickets for Kalum and victory for Oakley by 13 runs. Kalum ended with figures of 5-21 and Herriard were left wondering what had just happened having lost their last 7 wickets for 38 runs. A collapse the England test team would be proud of. 
The Aftermath 
Kalum was the man of the match, but everyone worked hard in the field and made a contribution in some way. Deano 'convinced' Kalum to buy a couple jugs after the game and then he trotted off home, like scoring 50+ and taking 5 wickets was a standard day out for him. The 23 point victory leaves the Oaks 2nd in the league as they chase promotion. Thanks to Gordon Scott for umpiring and Herrarid for a great contest that was played in good spirits by both teams. They also stuck around for a couple of beers after the game which was much appreciated. Captain Jack is already looking ahead to next weekend when the Oakley IIs travel to Odiham IIIs. Kalum will be sleeping until that match. 
Up the Oaks!