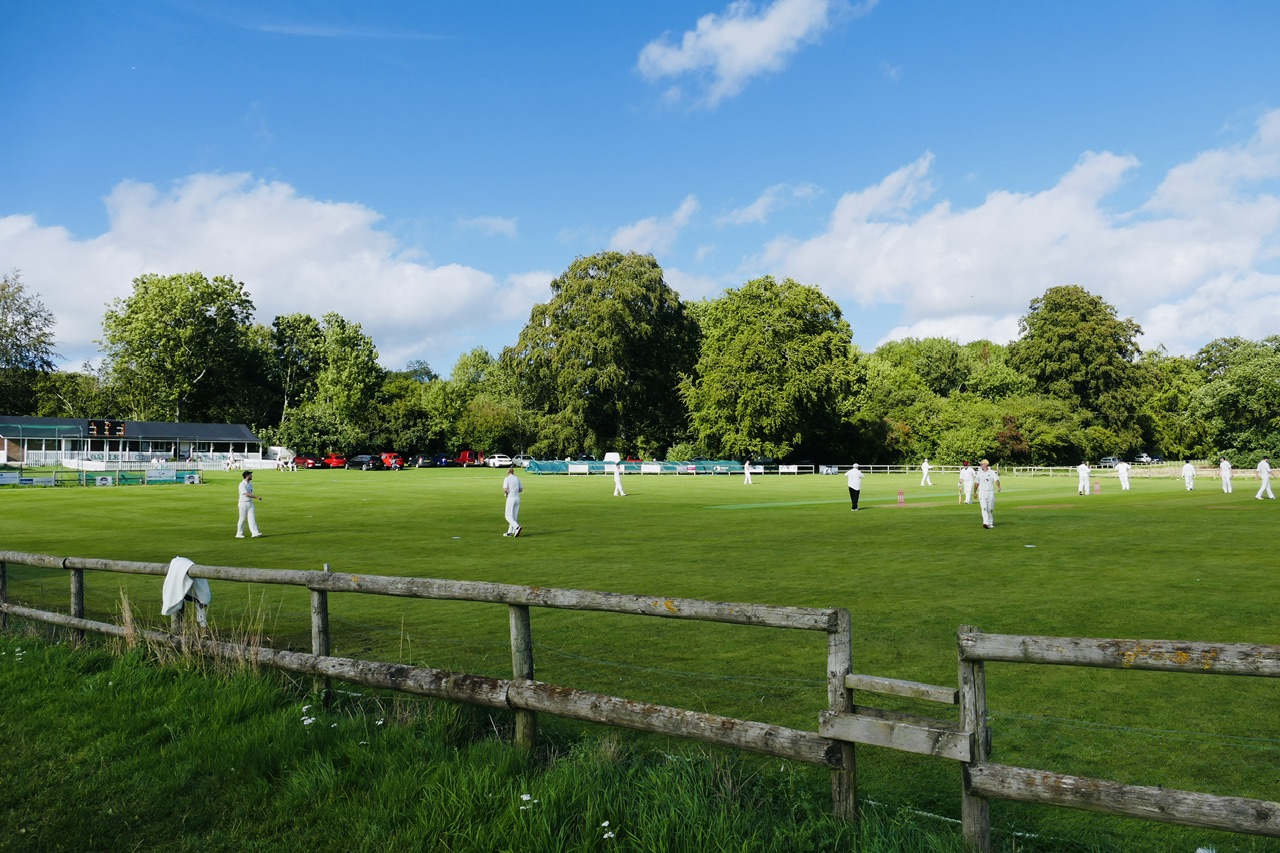 The First XI put aside any fears of complacency with a ruthless win against Colden Common. On a blustery and humid day courtesy of the tail end of Storm Betty, The Oaks batted first with DJ and Paddy opening.
Steady Start
It was a steady start, despite DJ looking every bit like someone who had been on a boozy cricket tour for 4 days. Paddy, who had not been on tour for 4 days, looked composed though and the Oaks moved past 50 without loss.
DJ eventually played one ugly shot too many and departed for, shall we say, an interesting 24. He was replaced by Michael Wood as Paddy pushed towards 50. Unfortunately, Paddy mistimed a sweep on 49 and had to go LBW. A decent knock though to put the Oaks in a good, if not commanding position.
Chippy Jnr Shines
So, an ideal time for Chippy junior to shine. He started a bit scratchy but soon settled in with some classy looking strokes. After going along quite nicely, Woody departed for 23 to a C&B that had "I've just been on tour" written all over it. No such problem for Nigel though, who decided to go for a whack in a bustling and occasionally brutal 37 off 28 before getting caught. A good knock, that.
Josh was now in full flow, fizzing past 50 and looking utterly dominant. Could he get to the magic ton, meaning his name on the hallowed Oakley honours board? Alex wasn't going to be there if he did, going for a two ball duck trying, and failing to have a whack. So, it was down to Mike to guide Josh home in the last over.
Josh kept the nerves jangling, playing and missing before hammering the last ball for four to complete an outstanding century. Oakley finished on a commanding 270.
Ruthless Defence
Defending the total, The Oaks were pretty ruthless. The fielding and bowling was tight and Colden Common never got going. Mike Bryant removed the 2 and 3 whilst Hazzer Tucknott got the potentially dangerous, opener, Matt Burrows. Stef was as tight as a ducks arse whilst simmering to boiling point.
AB brushed off tour cobwebs to pick up three of the middle order and Mike removed the other Burrows. George Lethaby picked up the wicket Riaz who was having a late order whack and Josh ran out Merrit. Job done. Colden Common all out for 85.
Finishing on a High
The Oaks are finishing the season on a high. The rained off fixtures did severe damage to their promotion hopes but they have not let that affect them. It's frustrating though, as the top sides avoided each whilst we missed out on playing lower teams.
At least we go into the final fixture still with a mathematical chance of promotion. We play unbeaten Hursley Park with much to prove. I believe, that bar one stupid loss, we have played fantastically all season and the year on improvement continues, promotion or not.
On we travel.