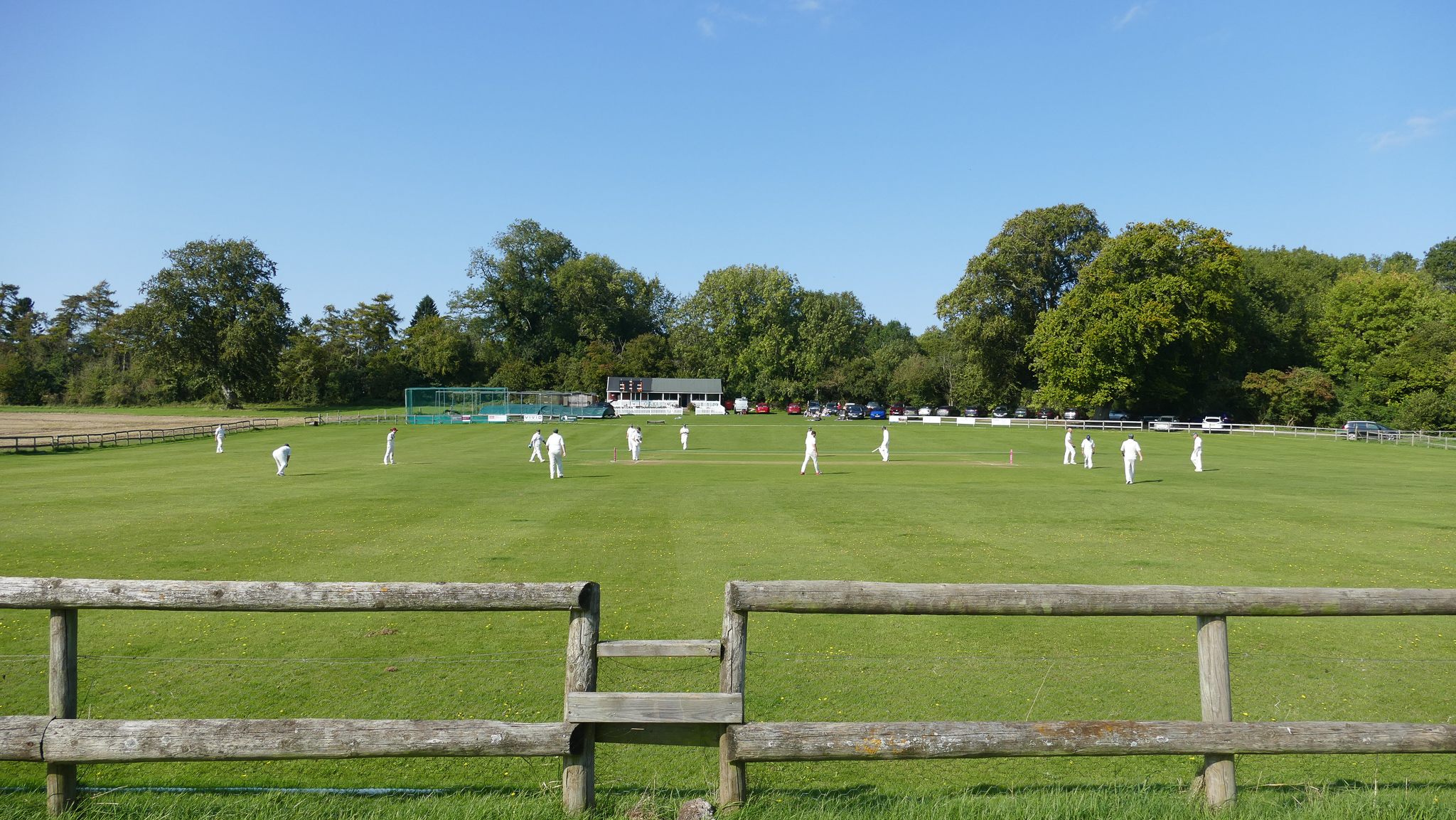 Report by Second XI correspondent, Ollie Rabley.
Where were you on the afternoon of 12 September? I had the fortune to be at Oakley Park to witness George Lethaby unleash a cover drive, which will go down in Oaks folk law….
To set the scene for those of you that were not fortunate enough to be present, George had settled in to his innings and was in good touch.  A nicely pitched up ball came his way.  George leant in to it with a connection that sounded like a rifle shot.  Deer, startled by this sudden unexpected noise fled the field; a flock of birds flew up from the tree.  The ball sped like a tracer bullet up the hill to crash into the fence.  The watching crowd showed their appreciation in a manner that pleased even Jack "I hate it when people don't applaud boundaries" Brundle.  Four runs was a poor return for such a moment of cricketing excellence.
Anyway enough of this pandering to George's ego, and back to the matter in hand.  Oaks somehow managed to grab another defeat from what had been a promising situation.  Bowling first, a pair of Rableys started with a tight opening spell, finding some movement from the pitch and getting a wicket early on courtesy of a plumb lbw for Nathan.  St Mary's second wicket pair then built a largely chanceless and shotless partnership of 97.  George (yes him again) and Herbie kept the run rate down.  The highlight (apart from George's three maidens on the trot) was Herbie swallowing what appeared to be the largest insect in North Hampshire.
Tall Jeff came on to bowl and was able to break the partnership with a nonchalant one handed catch off his own bowling.  It's a good job that he's in known as Tall Jeff.  Other members of the club who are more vertically challenged would have required a salmon-like leap to get anywhere near it. So with 100 on the board and 9 overs remaining, Oaks felt confident of having a relatively modest target to chase.  But the Churchmen were able to tee off against some shall we say inconsistent bowling, and raced to 190.  Another couple of wickets for Jeff (the tall fella) and one for DJ (the demon off spinner) broke the monotony.
Oaks' run chase got of to a difficult start.  Inspirational skipper Bowny got one that moved miles off the pitch (honest it really did – I was umpiring and I saw it) and passed through the small(ish) gate that he'd left between bat and pad.  That brought DJ to the crease.  He looked in imperious form, stroking the ball around comfortably.  But that came to an impromptu end when he was unable to deal with a turning off spinner.  Looked like another good ball to me!
George (yes him again!) and Jeff (the tall one) then got the innings back on track, looking untroubled putting on 74.  Unfortunately George couldn't build on his moment of genius (see above) and got himself bowled for 41.  Nigel strolled to the crease and ignored the pressure of his debut innings for the esteemed second team of this famous old club to get off the mark with a 6 over long on.  It was good, but not as good as George's off drive of course.
Runs became a little harder to come by and the required rate started to grow from 6 to 7 to 8 to 9 per over as Jeff, Jack and Nigel's wickets fell.  Nathan had a go at keeping the contest going, with a quick fire 27.  But ultimately Oaks were running out of overs, which led to some indifferent shot selection from the lower order (your correspondent's effort being possibly the most indifferent).  Ravi stood firm at the end, as is his wont.  A defeat by 13 runs was the outcome.
An honourable mention to Will for a tidy display behind the stumps.  Not many byes (unfortunately the book doesn't say how many) and also a good effort at upsetting his big brother as they converged on the ball, going for run outs at opposite ends of the pitch.
So the second team bus is approaching the end of this season's road.  It's been fun and the weather has been kind over the last few weeks.  But cricket really is a completely stupid game.  Except of course when it provides the opportunity to see moments like George's off drive.
On we travel.