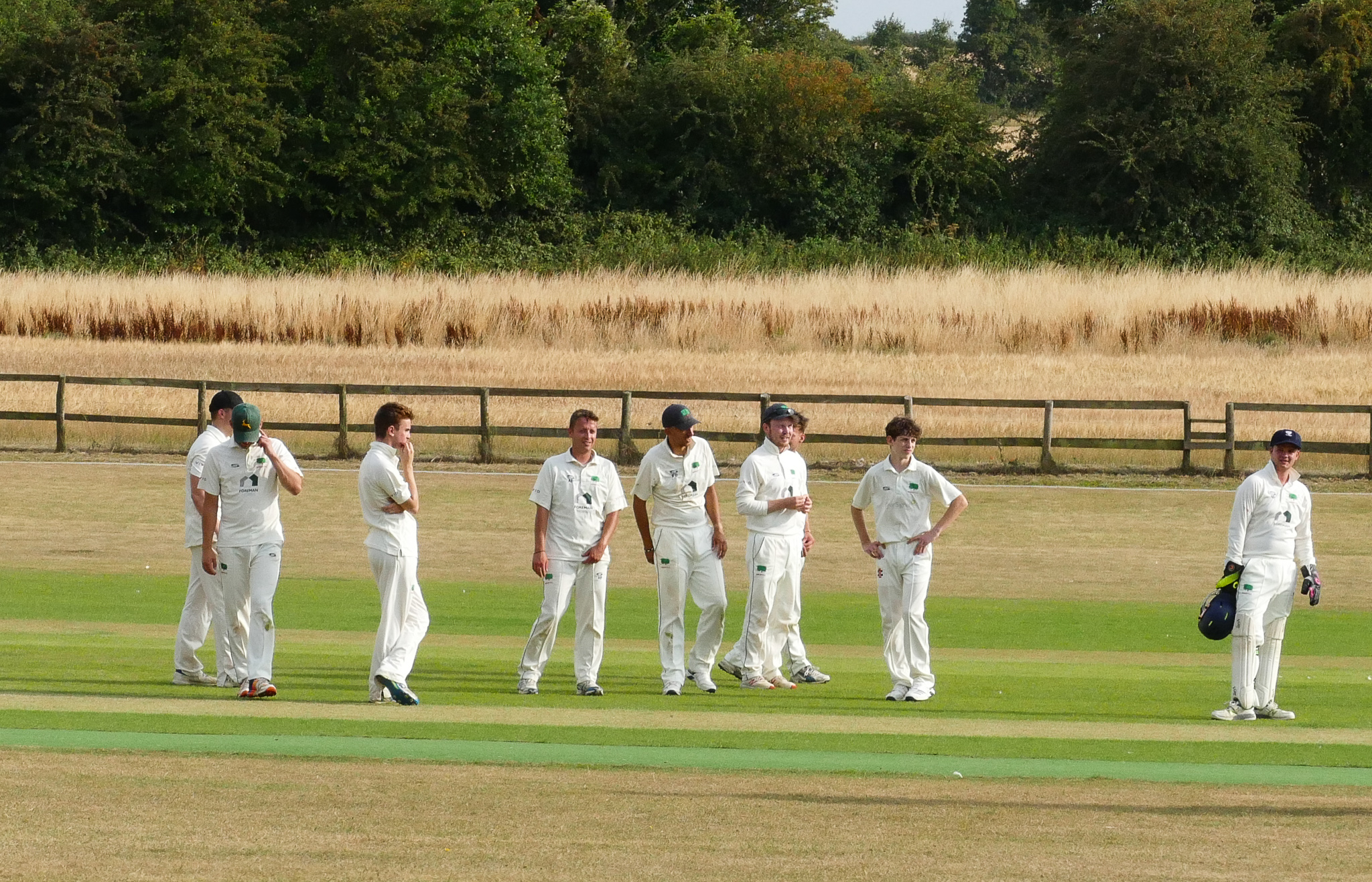 The First XI enjoyed a hard-fought victory against a battling Wherwell side yesterday. At a scorching hot Oakley Park, The Oaks were fortunate to bat first and soon started piling on the runs.
Elliot Hennessey returned to open and dug in, whilst Will Cheyney looked like he could be the opening bat The Oaks are looking for, until he was dismissed on 17. However, he at least did enough to warrant another go.
Dan Sumner came in at 3 and soon started playing some glorious shots in a largely chance-less innings as the scoreboard raced along. Elliot, who made a fine 68, was happy to play second fiddle for a change as Dan raced to a fine hundred as Wherwell wilted.
A late 38 from Ian Bennett showed why he is rapidly showing the potential to become the new Brad Compton-Bearne. However, some say that until he does the splits at an awards evening and knocks all his front teeth out, it is an undeserved comparison.
The Oaks finished on 281, which was not as formidable as it could have been after getting a bit bogged down between overs 30 and 35.
In reply, Wherwell showed why they will do more than compete in CN3 next season if they keep their top and middle order. Many teams would collapse looking at such a formidable score. However, an excellent 100 from Jonty and a deep batting line-up meant this one would go all the way.
However, The Oaks generally stayed calm despite some patchy bowling in the heat, where Clive Welsman was the pick of the bowlers with regards to economy and Nathan Rabley was doing a good job behind the stumps.  Dan Sumner and AB also bowled well. The fielding wasn't as sharp as normal, but it was incredibly hot with sweaty hands and a greasy ball.
This was demonstrated by George Lethaby who saw one fizz through his hands before he impersonated a central defender heading it off the line. Everyone rushed to his aid, expecting to see claret spilling all over the hallowed Oakley turf. Somehow, he remained largely unharmed, with his skull doing a decent job.
As the pressure mounted, a flurry of catches and run outs halted Wherwell's progress. When big hitting Mike Cutts was caught by AB (followed by a wonderful display of expletives you wouldn't want your Granny to hear) it was all but over and The Oaks wrapped up the game with a 31 run victory. Oaks wickets went to Alex Brundle (3) Tom Barnes (2) and Dan Sumner with 3 run outs completing the job.
The game was played in a good but occasionally feisty spirit between two young sides who will keep improving. Wherwell, who nearly packed it in a couple of years ago, would be a good bet for back to back promotion if they keep their players. They have a great team spirit and have moved on quickly after losing key players.
So, The Oaks move on to Odiham next week still looking to improve in certain areas but all in all, it was a positive day, with a great gathering of players enjoying a balmy summer's evening afterwards. The club is in fine fettle.
Upwards we go!