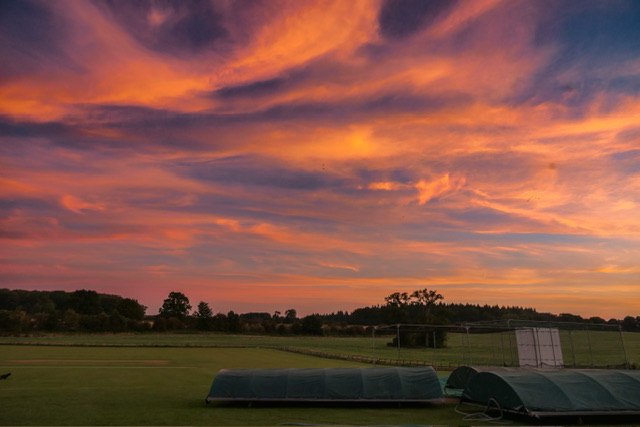 There were tear stained cheeks of joy at Oakley Park yesterday as chairman, Bob Lethaby, claimed his 100th scalp (wicket). On the type of sunny afternoon that everyone had hoped to enjoy in July and August, the opponents were long time nomadic visitors, Tabard Pilgrims.
The game started with youngster, Harry Tucknott, playing in the full spirit of a friendly by ripping out the stumps of the Tabs openers in his first over. It was what young people would describe as, "a bit cringe". Driving from Chiswick to be out for a diamond duck, was probably not what the Tabs opener had planned.
Brotherly Love
At 0-2 it had 'Beer Match' written all over it. However, a couple of Tabs brothers whose names escape me, set about a rebuild. It was some rebuild too, with 126 added to the total before one of them went for a shot too many, holing out to a Kalum delivery that Hazza Tucknott pouched with some aplomb.
A chap called Rhino then came to the crease and splayed the ball to all parts as the other brother (Norman, I think?) also pummelled the bowling to and over the boundary rope. This was despite Bob steaming in from East Stand with arms and legs pumping in unison like a well-oiled traction engine…or perhaps a fucked pushbike with a rusty chain?
The Moment
Then came the moment everyone had been waiting for. Bob, now in full flow, unlucky to see the first two balls pumped back over his head somewhere towards the M3, plotted his revenge. Using all his experience dating back to his first Oakley wicket in 2006, Bob expertly dragged one short and wide, knowing that Kris Tucknott was ready for a ball coming at him like it had emerged from a nuclear fuelled cannon.
What a catch. What a catch! It was an incredible take by Kris. Had he not taken it, there is a fair chance he would have spent the evening getting his jaw rewired. Bob wheeled away in delight, Norman (on 96) denied a ton by the cunning of a man who took just 17 years to reach this milestone. The roar from the clubhouse could heard from those sat in it as the ones of fans on the balcony acknowledged Bob's achievement. There probably wasn't a dry eye in the house.
Chasing the Target
After Bob's milestone, Rhino (no, he didn't look like a Rhino) continued to smack it around Oakley Park meaning the Tabs reached a formidable total not far south of 300. The big question on the balcony was whether The Oaks could chase it. Did they have enough in the tank to put the Pilgrims to the sword, or even the bat.
No, was the answer.
Perhaps it was the emotion of Bob's wicket that got to the Oakley batsmen, as they never really got going. Well, Josh did, compiling an unbeaten 86 to continue a pretty spectacular end to the season. Otherwise it was a few cameo roles from everyone with the consolation being no ducks on the scorecard. Not many double figures either but I repeat, no ducks.
A Fitting Finale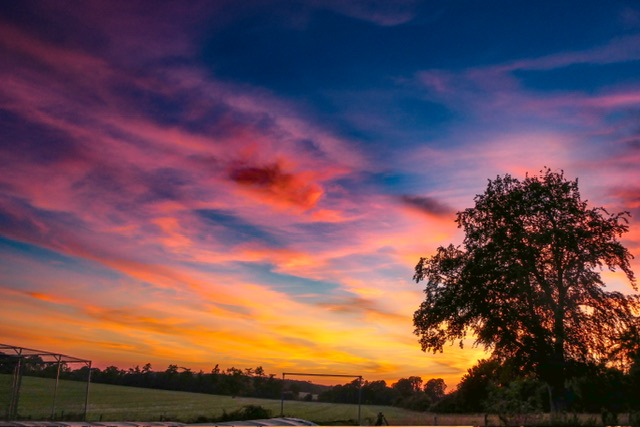 Fittingly, Bob was there at the end, unbeaten and defiant on 9, guiding his apprentice, Josh, past his 50 by reluctantly allowing him to steal the strike. The Oaks finished 8 down just 100 runs short of the target as dusk began to sweep across Oakley Oakley Park, turning the sky pink as shepherds danced with delight in the distance.
But, you know what, the result didn't matter. Everyone (well, Bob at least) was talking about the day a club legend was made. Bob knew that in decades to come, future Oaks players would look at Steve Savage's book of records and stats and if they didn't check dates, they would mistakenly believe he could play a bit. A faux legend, if you will.
As Bob left Oakley Park, he glanced around at a spectacular sunset. Was this a sign? Did this mean that the sun was setting on a wonderful career as an Oak? Bob stared into the red glow, a lone tear rolling down his partially sunburnt cheek. "Is this a sign of the end?" He said to his dog, who was now tiring after 10 hours of playing fetch and not in the slightest bit interested.
He then saw Steve Savage driving away into the cooling evening air.
"It's not even midday, Marley, it's not even midday", he said, despite the distinct lack of enthusiasm coming from his disloyal canine.