BEGININGS
Hi, I'm Dave Bowers, I'm sure most of you know me through my time at Oakley Cricket Club.
About 7 years ago my son, Brin, said he'd like to play cricket. I was delighted and took him along to an open day at the club as part of the Village Sports Weekend.
Brin started to train with the U9's but to say there was only a handful of kids was an understatement.
GROWTH
The Colts section had had years of ups and downs. It appeared that when I first came along there was certainly little direction.
Determined to give my son the chance to play I offered to help with the coaching sessions. It was something that I found enjoyable and rewarding.
Within a couple of years, the younger ages in the Colts Sections had started to swell. More coaches and helpers had joined in and things were looking promising.
When Natalie Beckell jumped on board, she took the whole of the Colts set up to new levels. Her husband Dan Beckell has coached at the club for several years alongside Phil Carpenter.
A new structure was put in place to offer the kids the best chance to enjoy playing cricket, along with investment into new training equipment.
We were soon catering for nearly 100 kids throughout the different age groups.
TODAY
With great organisation and structure over the last few years along with new coaches such as Garf, Kris, Jeff and more, we, as a club, can offer cricket to kids in the U9, U11, U13, U15 and U17 age groups, as well as All Stars Cricket for the really young kids.
The latest exciting development at the club is the first ever all girls team currently being set up by Ross Hunter and Adam Robinson. This is a superb venture and shows how much interest there is in cricket for all at Oakley.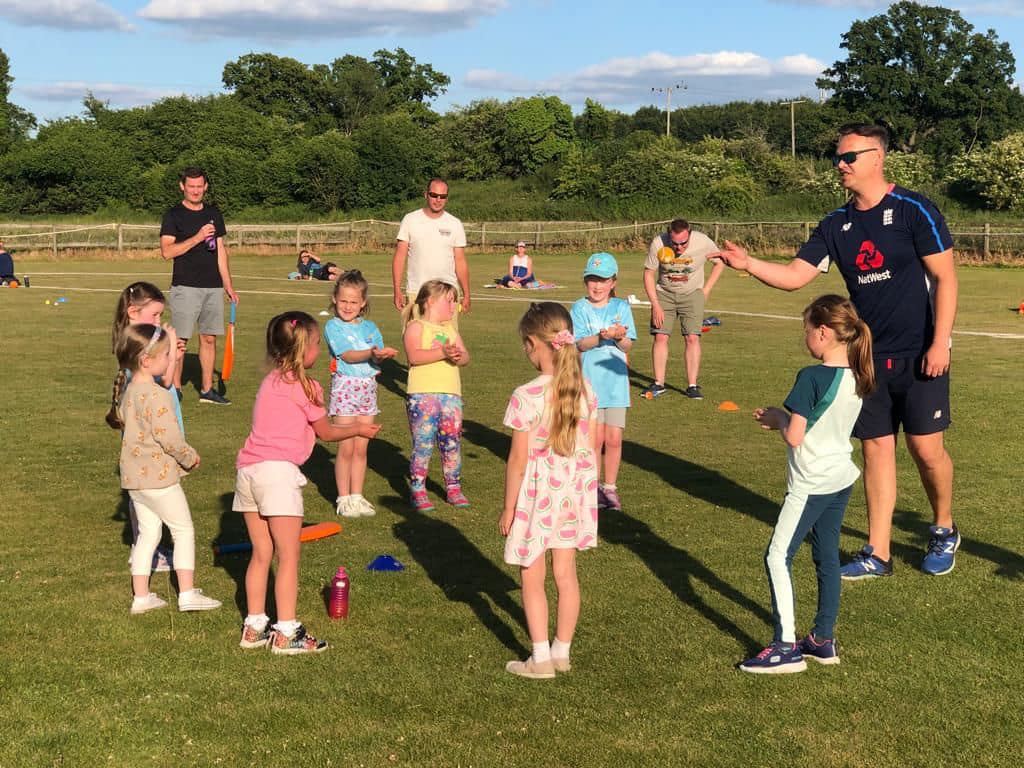 Oakley based Coach, Ross Hunter, is getting parents involved in setting up a girls team ready for 2023
This season has seen more parents becoming involved in helping at matches which is of invaluable support to the coaches. Senior players have been attending every coaching session to meet the kids and help by running drills and offering advice. A group of Mums are helping with the organising of fixtures in an almost daily basis. For this we are so thankful. In fact, every little bit of help we get is gratefully received.
OUR SUCCESS
With all ages groups being well supported Oakley Colts are in good form. There have been plenty of matches won, and whilst that is not always the be all and end all, it is nice to see the kids getting rewarded for all their hard work at training.
We have also seen several of our Colts now progressing into the adult sides on Saturday afternoons. This has given everyone an immense feeling of pride.
THE FUTURE
Colts Cricket is thriving and will continue to always be a mainstay here at Oakley. We have been blessed to have so much support from players and assistants helping with coaching and matches. This is something that gives us pride and shows how committed we are to offer the Colts the best opportunities to play a fantastic sport.
We will continue to drive forwards and constantly improve.
GET INVOLVED
So, if you've read this and are wondering how you can be involved then please ask one of the coaches. We are always looking for people who are willing to help at coaching evenings, umpire matches or do the scoring. With Natalie now taking a backseat we are also looking for someone to oversee the Colts (it's not as daunting as it sounds due to the amount of people we now have helping). So please let us know if you'd like to be involved. Every little bit helps.
7 years on and I can still say that being involved with the Colts is genuinely rewarding and will always be worthwhile.