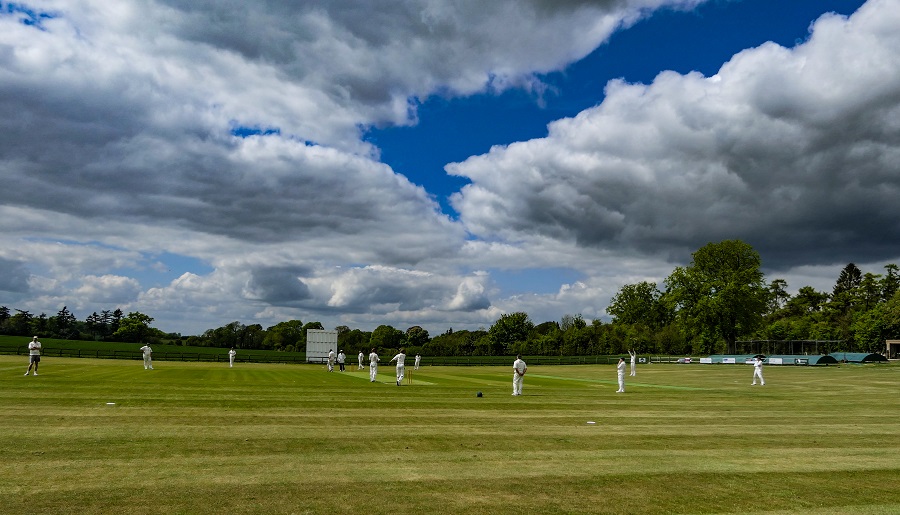 The First XI produced a stirring performance in the field to complete a confidence-boosting victory on a warm spring afternoon at Oakley Park.
Batting first, The Oaks lost Dan Jones and Michael Wood early on and were on the ropes at 10-2. James Bayliss was being patient though and with Josh Carpenter also looking good, The Oaks changed the tide of the game, pushing the score to a respectable 48-2.
However, Josh then got himself out with a loose shot he knows he shouldn't have played. Josh is an excellent young batsman and once his concentration levels go up another gear, the 50s and 100s will follow. Once James Bayliss went, perhaps, unfortunately, a middle-order collapse left the Oaks from 70-3 to 94-8 and apparently out of the game.
All Rounder Rescue
The benefit of having a team of all-rounders then came to the fore, with Stef Kaltner and Neil Robinson dragging The Oaks back into contention. Stef went for a patient 13 but Neil kept going and was playing as if the leather sphere were a beachball.
Along with Bob Lethaby, the plan was to keep Neil on strike operating with two's, fours, and a single on ball 6. It was a plan that was working perfectly, with 30 runs on the board and Neil in the mood to cause carnage. Then, calamity. Neil thumped the ball towards the boundary but as it slowed up, four became to, then one, putting Bob on strike.
The Calamity then the Launch
Bob wandered from his ground (again) and was run out. It was a hideous moment as Farley were deflated and Neil was in a punishing mood. Bob remained calm for the first 30 yards of his exit, then the red mist came down. The bat went, then the gloves. In fact, in fairness, the bat went some distance. If Michael Holding was commentating, he would have said, "That has gone a long, long, way".
The onlooking Paul Sumner and Adam Robinson said it should have been a dead ball, but the chairman knew deep down, he had cocked it up. To cost your team a game by being a useless number 11 is one thing, making a calamitous unforced error (not for the first time) is quite another. The chairman had put in his preview that sport doesn't have a script, and this was a black comedy the best screenwriters couldn't make up.
Somewhat heart-warmingly, the team rallied around the chair when they had every reason to hate him. To get from 94-8 to 143 all out was still something to fight for. The Oaks have a strong bowling line-up and there was a real belief that the game was there to be won.
The Openers Steam in
What followed, was a stirring performance as Stef Kaltner and Josh Carpenter steamed in and the fielders stayed alert and buoyant. Within no time Farley were in bits at 11-2 and The Oaks were right up for it. However, despite a wicket apiece, Stef and Josh couldn't find that next breakthrough as Farley admirably rode the storm, edging to 39-2.
James Bayliss then came on for Josh and got the breakthrough with two wickets, an LBW followed by a smart catch from Chris Morris. At 51-4, The Oaks were on top again. Once again, Farley rallied, scratching their way to 73-4 but still only halfway to victory. Alex Brundle brought himself on, then off again, after a costly over. With two big lads coming in, The Oaks knew it would only take a couple of big overs and the game was gone.
In came Dan Jones and Neil Robinson to see what they could do. Well, they mopped up the middle order and tail with great control and superb backup fielding. It was apparent that, unlike The Oaks, Farley didn't have middle to late order batsmen to dig them out. In the end, it was not the thrilling finish we expected and a 54-run victory was completed.
A day For the Bowlers
So, it was a day for the bowlers, and although Neil Robinson (33 not out and 4 wickets) was the undisputed man of the match, Stef Kaltner's figures of 7-5-5-1 must be some of the best ever seen at Oakley Park. Along with his knowledge of field settings and constant encouragement, it was an extraordinary individual effort that lifted the team and gave it the belief it could win the game.
With Josh, Stef, and Neil in the bowling line-up, The Oaks will be right up there in the field of play. The concern remains that we are a little short on batting. However, if everyone bats for the '20s, '30s, and 40's that the whole team is capable of, there are 250 to 300 runs right there.
Everyone stayed for a few beers after, and it was great to see the Second and Third XI come back from their victories to see us home. The new clubhouse looked great with a bumper turn out of friends and girlfriends a wonderful sight.
We move on to next week, with AB gleefully accepting Bob's request never to be picked again.