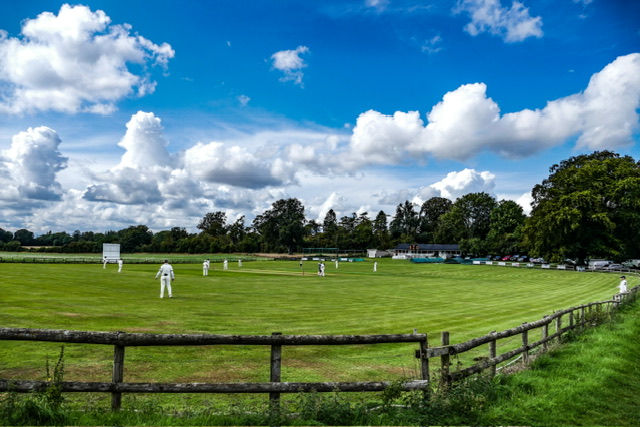 The Two's completed the 2023 season with a reasonably comfortable win over Ramsdell 2s on Saturday. In cool and wet conditions that summarised the season, The Oaks batted first as the dark clouds threatened.
The Rams openers bowled pretty well but were aided by the impatience of The Oaks batsmen who were either too keen to hit everything or not keen enough to put away bad balls. Shot selection is more of an issue than talent. The only exception being Steve Bown who was playing sensibly and Alan North who was a tad unlucky to go LBW.
Matt Helps Bown Steady the Ship
So, as Bown cracked on with others fell. George (7) Jack (4) and Will (15) all went to shots that infuriated Bownie and at 74-4 it took Matt Neal to steady a bumpy ride. Matt survived a stumping appeal where his foot was apparently in but not down when the bails came off but it was a close call.
This reprieve galvanised him and he started to look like a compact batsman, defending and attacking at the right times. A 110 partnership ensued and Bown, dropped a couple of times started motoring along. Matt eventually went for a vital 43 and Bown was joined by Alfie then Kris.
Bown Completes Ton
Bownie completed his ton with a couple of overs to go. Of course there were chances and when you get a ton at this level, it is never faultless. However, Bown in an imposing figure at the crease. He stands tall and has a good solid technique. In my opinion, he should have more than two Oaks tons and he should play far more often. I want to see more of him next year as he has a lot to offer if he stops being a big girls blouse.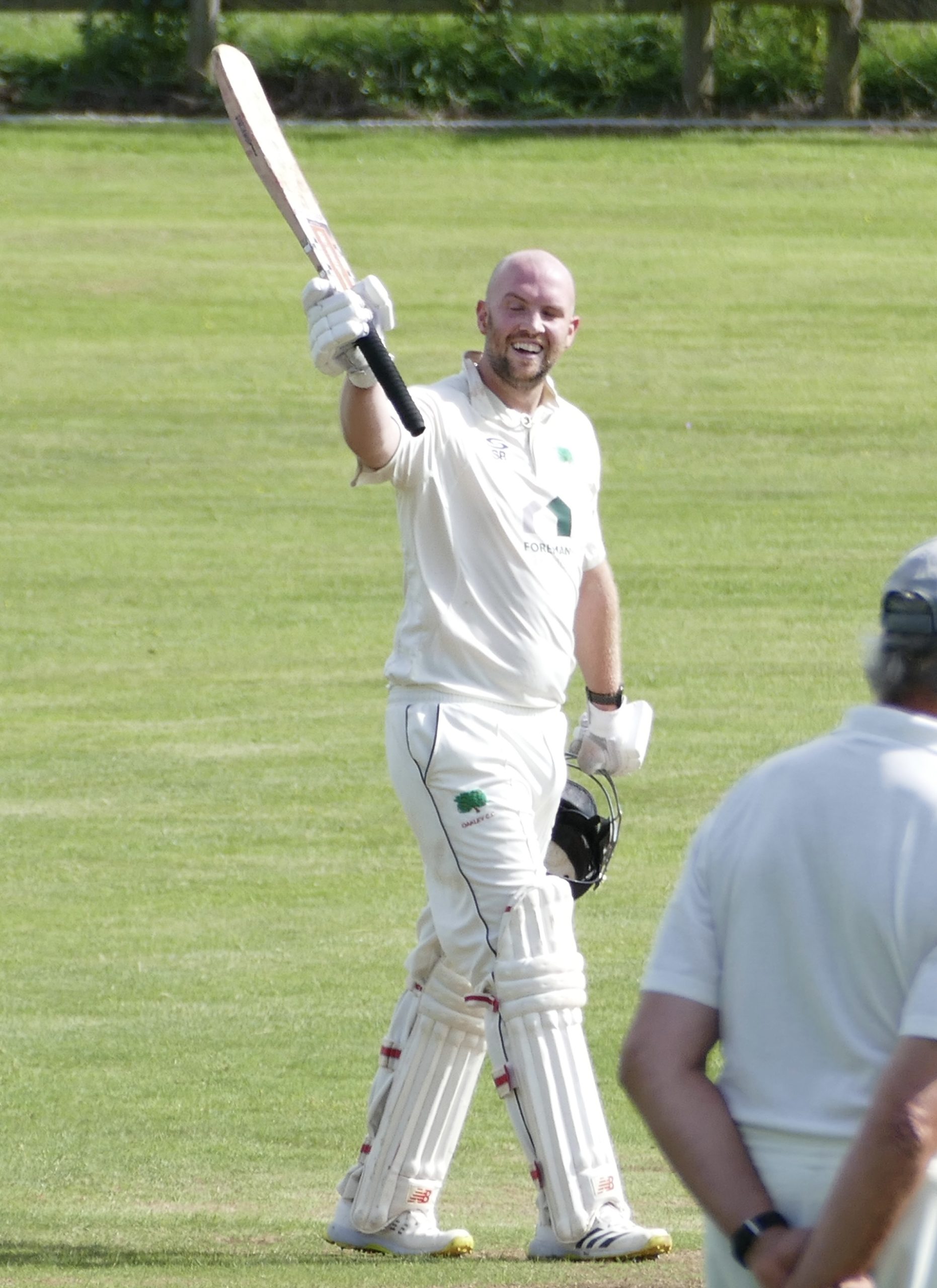 Ton up: Bown Hits 100
The Oaks passed 200 with 4 wickets to spare and it looked a pretty good total. However, They  have lost plenty of games with over 200 on the board this year, so a good bowling performance was needed. Although the Rams batting line-up looked on the wrong side of youthfulness, Burrows and Simpson are First XI players who bat well.
Early Inroads From Zakatak
Ramsdell got off to an awful start. Zak Newton was on fire, bowling skidding left arm deliveries that ripped through the top order. Zak took out the 2,3 and 4 batsmen and the Rams were all over the place at 26-3. Burrows remained intact though and looked like he was going nowhere. Alfie Rowley also bowled a good spell without reward but as a valuable partner for Zak.
With help from New and Monger, Burrows looked at the scoreboard and decided it was time to go. And go he did, with George in particular taking some tap as the run rate came down to 8. However, the slower stuff from Bob Lethaby and Jack Brundle was more effective and without pace on the ball the batsmen were curtailed.
Safe Hands Rabbers
With the pace off the ball, Jack tempted New and Burrows to have a go at cow corner. Both fell into the trap and there is no one at the club better than Will Rabley at pouching catches. This left Monger as the soul danger man. George had him but Jack showed Will a dropping masterclass by fumbling a dolly with all the grace of an octopus falling out of a tree. The next ball sailed over cow corner. George wanted to punch his skipper, which was understandable.
Thankfully, Jack made amends by removing Monger shortly after, meaning the onslaught The Rams required came to nothing. Bob picked up a wicket his decent efforts warranted and Jack was reminded from the boundary he had one more over. George offered it up so Jack could get a five for. It was a generous gesture but came with a caveat. How tolerable would Jack getting a five wicket haul, be?
Oaks Ease Home and Deano Gets a Bowl
Fortunately, Jack didn't quite get his fifth, leaving the honours board safe. However, in fairness, Jack's floating tempters were the answer to The Rams going hard at the target. If Burrows (53) stayed at the crease, they would have won the game. It was a huge wicket, taken at time when the run rate was reducing with every passing over.
The Rams tail was competent but never dangerous and with 40 odd runs in hand, Bob, a true man of the people, tossed the ball to Deano to complete the overs, and indeed, the season. Deano proceeded to bowl with the consistency of Stevie Wonder with his legs tied together. The Oaks fielders wondered if The Rams could still sneak a victory courtesy of 40 wides and no balls. Fortunately Deano got a few somewhere near the stumps and we got off the pitch before darkness fell.
In Summary
So, the season ends, as does Jack's reign as skipper. To turn around a season that was falling apart, to finish 6th, has been a really good achievement. If players such as Zak, Alfie and Matt Neal been around earlier and Bown more often, The Oaks would have pushed a very good top two teams all the way. A team featuring those players (and Nick Green & Alex Ogden) would see off most teams in our league. That's the consistency we are looking for next year.
As for Ramsdell, they go down. They hung around for beers after and concerns were expressed about how they are ageing and need youthful reinforcements. They are going in the right direction with All Stars and Dynamos but time is not on their side. I hope they get the reinforcements in and get a Colts section going. It was a timely reminder of how important our Colts section is and why us seniors must support it.
So that's it. Another season done. Well done to all. The next challenge is to improve on 6th place next season.
On we travel…