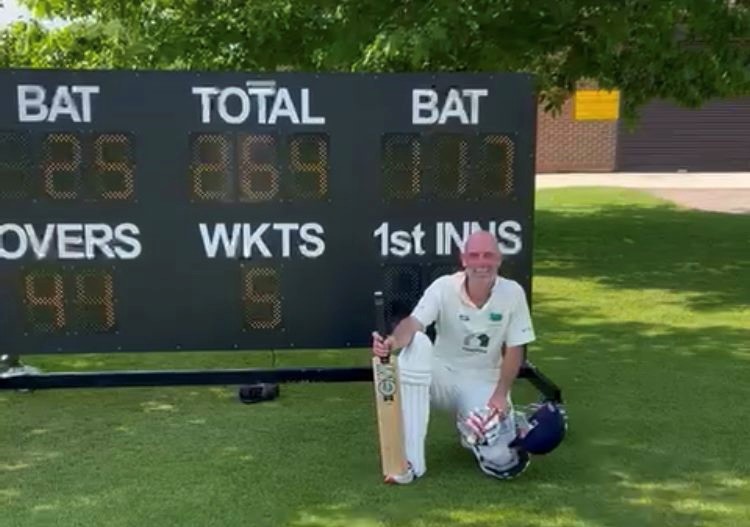 Oakley's first team travelled to Old Basing on Saturday and were greeted on arrival by a pitch that was soaked at one end because only one half of it appeared to have been covered. Bowl first said everyone. As Alex had lost 4 tosses out of 4 to date, so it was obvious he would win this one and Oakley would be in the field.
'They've put us in to bat', Alex informed his teammates 5 minutes later.
Cinnamon Leaves Bayliss Buzzing
As Will Cheyney had a belting time watching Gerry Cinnamon on Friday night, he was running a bit late, so James Bayliss was absolutely buzzing when he was asked to open with DJ. Things didn't get off to the best of starts when Bayliss was out lbw in the 3rd over. Nigel Bishop joined DJ at the crease and dug in. The Old Basing openers were bowling tight lines and were hard to get away. The digging in worked though with Nige and DJ making it to 80/1 at drinks.
After the break, Nigel and DJ accelerated superbly and both reached 50 in no time. DJ unfortunately departed soon after for 58. It was a great knock and fully deserved after looking in fine form over the last few weeks. It was a 149 partnership that set the perfect platform.
Quicky Chippy and a Bishop Ton
Josh Carpenter joined Nigel and smashed a quick-fire 35 including some lovely shots and very good running on a slow outfield to continue the acceleration. After Josh got bowled going for another big heave, our man in form Chris 'Mozza' Morris joined Nige, who was now absolutely knackered but well into the nineties. On a stupidly slow outfield when you're in the nineties there's no better person to have at the other end than Moz.
A couple of overs later including with more good running, Nigel got his 100. It was a stunning knock and well deserved. Everyone was very happy for him, with loud applause greeting a great achievement in tough conditions.
By the time Moz got bowled a couple of balls later Oakley had reached 230 after 43 overs. With 2 overs to go a few more runs were needed as we knew the wet end of the pitch was drying out and would play better. Despite having had enough sweat dripping off him to fill the Oakley duck pond, Nigel duly obliged and smashed a massive 6 over long on. Alex ran him ragged at the other end and Oakley got 34 vital runs off the last two overs to finish on a commanding 264.
Let's get back to Nigel for a moment. What stood out most about his innings was his selfless running and risk taking while he was in the nineties. When some people would have put their personal milestone first, Nigel put that to one side, knowing that The Oaks needed to crack on and put up a formidable score. Personal achievement but a team effort.
Boring Dave and Angry Shearer Lead the Way
After tea, Stefan and Dave opened the bowling and started well, getting an early wicket each to really put Old Basing on the back foot. As always Dave bowled tightly and was hard to get away whilst Stefan was at his angry best, steaming in from the other end. Dave got a second well deserved wicket and bowled his 9 overs straight through, much to the crowd's delight.
Harry Tucknott and Josh Carpenter came on first change and continued to bowl well as wickets fell at regular intervals, including a smart run out from DJ. When DJ and Alex came on and bowled a few tight overs it was clear Old Basing had given up on the chase and it was time for Oakley to go into full attack mode, on the hunt for full bowling points.
Stef and Josh came back on and both picked up further wickets, Josh by now was bowling in really good areas and causing the batsmen all sorts of issues. Stefan finished with superb figures of 9-2-20-2. In the end Oakley didn't get the final wicket as Old Basing finished on 205/9 but the most important thing is that victory had been secured and Nigel didn't collapse in the field.
It was great great all-round performance, and The Oaks look forward to going again next week.