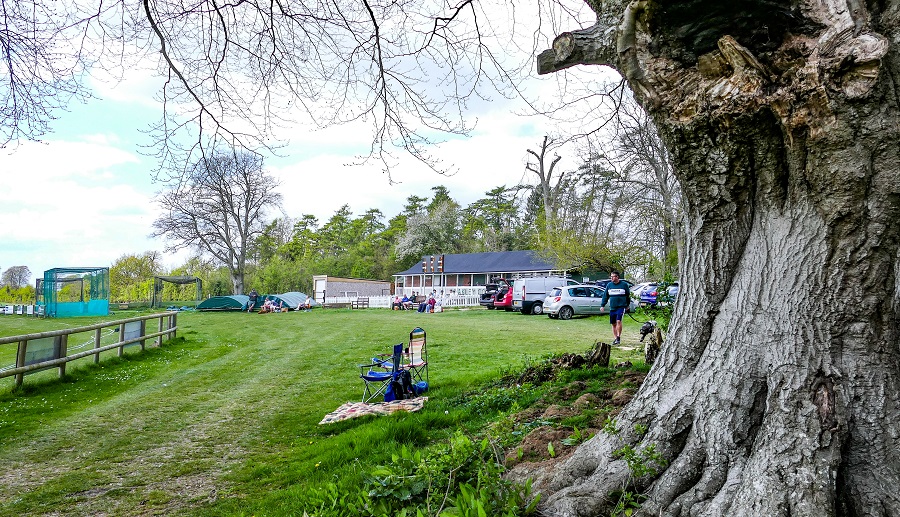 So here we go again into another season. Will it be a long hot summer complimented by uplifting victories? Or will it be an arduous slog through rain, wind, and dispiriting defeats?
The truth is, we just don't know, that's why we keep coming back for punishment. Scripts aren't written for sport like they are for films and plays. This gives it a glorious sense of unpredictability (ask a Man City fan). A film star knows when he or she is cast to be the hero. A cricketer doesn't know whether he or she will be the hero or the villain. That's why we keep coming back to Oakley CC, dubbed by many (well, me at least) as 'The Theatre of Scenes'. Personally, cricket rarely elevates me to the role of hero, but I continue to turn up. It's purely for those rare moments when a catch stays in my hands or hits the bat making 'thock' like sound rather than a whoosh of fresh air or a sickening 'sphlick'.
It's little wonder those outside of the game think we are weirdos. We are constantly seeking for the hero inside ourselves and generally failing. If I ever score a 50, I think I might cry before wondering what next to do in my life. I have been fighting off thoughts of Crown Bowls for some time, but I keep bumping into people who are playing it. It's all rather disturbing.
Anyway….
The One's
The First XI find themselves at home for their first game back in County 3, with Farley the first league visitors to our new pavilion. Predicting the ability of teams at this stage of the season is impossible. This is due to winter club changes we could never know about. A team that had a poor season last year may have had Fannie Van De Kwak, a former South Africa B player, move into their village. Fannie pops into the local boozer and by chance, bumps into Shane Cooper, a dashing and annoying young Aussie who has come to England to work in the local pub for the summer and Saturday is his day off. Hey presto, you have the runaway champions.
So, I am not going to predict what will happen. What I do know is out of our top order we are missing Will Cheyney (stag do) and Matt Burrell (Covid) so it's not an ideal start. Luckily squad numbers are good, and this allows the likes of Chris 'Mozzer' Morris and Michael 'Woody' Wood to stake their claims for First XI cricket. Our bowling looks good, with Neil 'Robbo' Robinson, Stef 'Shearer' Kaltner and Josh 'Apprentice Chippy' Carpenter, all raring to go after a good pre-season. Back up bowlers James 'Miserable' Bayliss, Dan 'Deej' Jones, and George 'The Hair' Lethaby, all bowled well last week, so it looks dandy if the wides can be trimmed down a touch. Obligatory useless all-rounder Bob 'The Oakley Express' Lethaby, is also an option with his reverse good deliveries.
The batting looks steady enough but remains an area where we must do better. Josh has made a good start to the campaign and now it is down to others to join in. Lots of capability there, so let's hope for a few confidence boosting innings. Should be a good test to see where The Oaks are this season.
The Two's
The Two's travel to St Cross V in a game that could go in any direction. The Winchester men are all about who they have available at this stage of the season. I have said it a million times before, so I might as well say it again. The Two's look a decent side on paper with a nice equilibrium melting pot of batting and bowling. There are debuts for Ben 'Batter who Bowls' Robinson and Lee 'The Pro Potter' Noble, who have both impressed in pre-season.
Harry 'Tuckers Junior' Tucknott has had a great pre-season and it appears to be on a fast track to the First XI. Good knocks for Dan 'Dashing' Beckell, Jeff 'Tall Jeff' Triner and Kalum 'Bowl a Good One' Sappumanage will give skipper, Jack 'The Serious Captain' Brundle, a real boost.
No point in calling this one but the Two's should be competitive…at least on paper.
The Three's
The Third XI have a local derby friendly with Overton. Kris 'Senior Tuckers' Tucknott, is keen to give everyone a good game tomorrow and use it as a way of getting players into form.
Whilst winning is important, a good workout is more so for both teams in what should be a good, spirited affair, at least until Avi 'A Man of Many Moods' Thakur, loses his shit over something trivial. The real stuff gets underway for the Third XI next week, but it will still be good to get off to a flier with Dean 'Deano' James on the lookout for a maiden 10.
So, off we go again. Let's be competitive. Let's enjoy our cricket. Let's make the most of any good weather and not only enjoy our cricket but the social time afterwards. The new facilities are there to make us a welcoming, clean, and enjoyable environment for players, family and fans of this great old club.
I have to be honest; I am more excited than a 54-year-old bloke should be.
Up the Oaks!