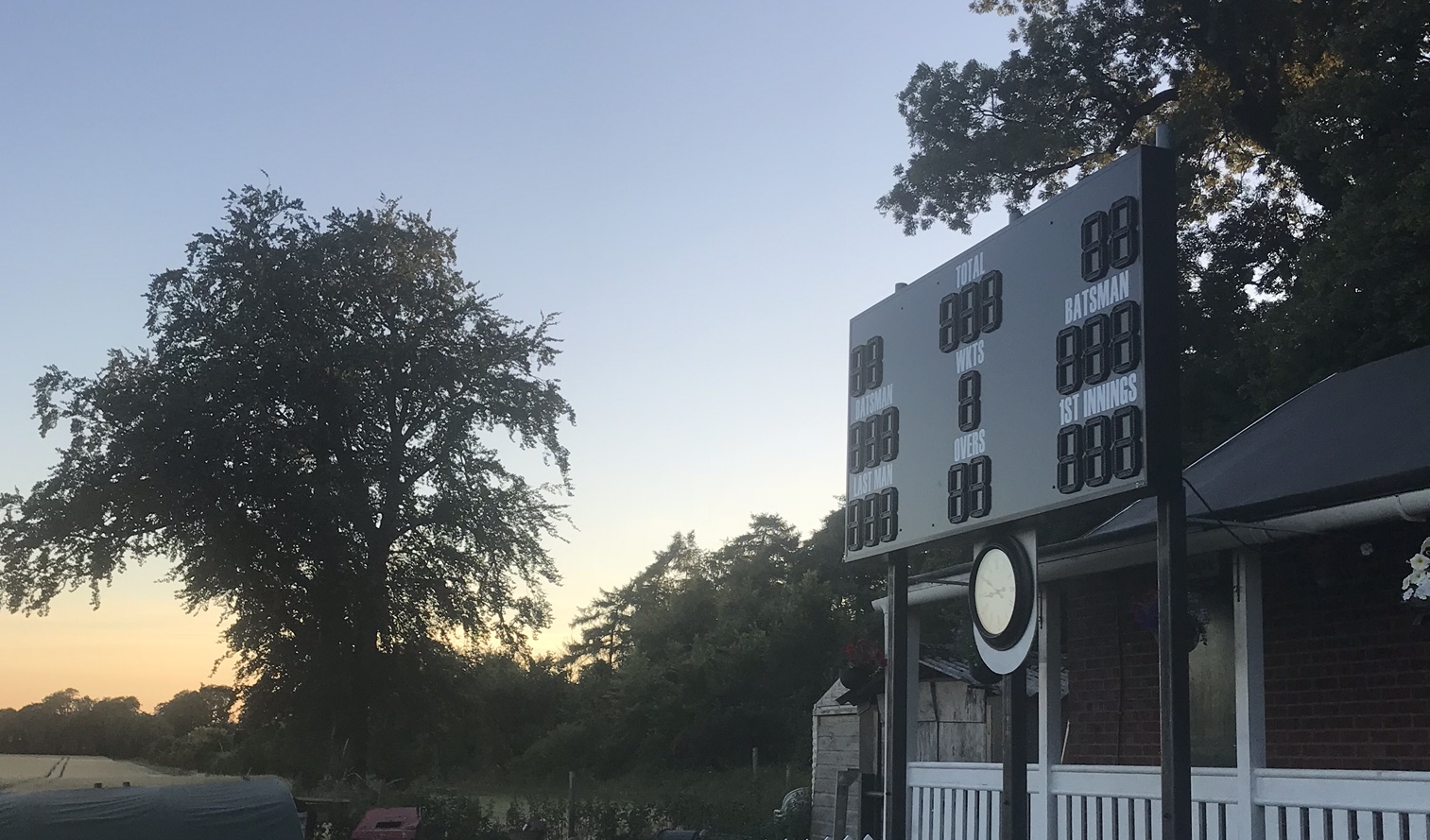 Sorry the reports are a little late, I have been away all weekend and have only just got time to do the review that will be shorter than usual as I was not around and have not really had a chance to speak to the captains for too long.
All Round Effort as First XI Go Top
The First XI had to put on a resilient display to see off a decent Basingstoke side on a baking Saturday at Oakley Park.
Batting first the boys wobbled in the heat with on Clive Welsman (18) scoring more than 10 out of the whole top six. Fortunately four out of the bottom five got runs, with James Bayliss (22) Brad compton-Bearne (25) Rob Wood (21) and Tom Barnes (25) aiding the score along, with the 10th wicket partnership between Rob and Tom particularly impressive and indeed vital to the outcome. Basingstoke will also rue the 52 extras they conceded.
This left The Oaks on 197, which was deflating for 'Stoke as they were well aware of power in the Oakley bowling line up, and this proved to be the case. Rob Wood, Tom Barnes and Clive Welsman all bagged two wickets as Basingstoke failed to get a grip on the game but the real star of the show this week was Mark Potter, who bagged 4-10 off 7 Overs, a cracking return.
In the end, Basingstoke were dispatched for just 108 courtesy of yet another fine Oakley performance with ball in hand and as news filtered in from Twyford that Overton had beaten the leaders, The Oaks could celebrate being top of the pile after an 8th successive victory.
This was an enormous test of character for The Oaks and they showed great team spirit in a game that at one point appeared to be drifting away from them. However, captain, Gerry Dique, was fully aware after the game that Oakley must seek to continue improving if they are to keep the good run going.
Early Batting Collapse Leaves Oaks Beaten Despite Late Fightback
The Second XI surrendered top spot on Saturday after never really recovering from an early batting collapse on a scorcher of an afternoon at Colden Common.
Colden batted first and looked the good side the lads were expecting, with some controlled batting as The Oaks struggled to make inroads. Colden made 203 with Oakley taking just 5 wickets including one apiece for Alex Brundle, George Lethaby and Rav Kancharla and 2 for Ian Bennett. However, economy wise, Stuart Spalding and Jeff King were the pick of the bunch.
The Oakley reply is hard to type without wanting to vomit, and the game was effectively up after a series of poor shots against straight but not devastating bowling that effectively ended the contest as Oakley found themselves reeling at 7-3.
At 46-6 and 87-7  it looked likely to be all over bar the shouting but a resilient partnership of 80 odd from Brett King (34) and Alex Brundle (55 Not Out) took The Oaks to respectability and, for a brief period, in with a sniff of victory but it was too much to ask with so few Overs left.
It was not a good day in what has been a really good season where the Oaks have achieved beyond their expectations but if they are to maintain a promotion push, a few of the lads need to look at their technique when chasing a target; 203 is only just over 5 an Over, so the top 3 or 4 need only to make steady contributions, rather than playing the wild shots a few of them were guilty of.
They are good enough to bounce back and will need to do so quickly and move on, starting with Overton next week.
Up the Oaks!