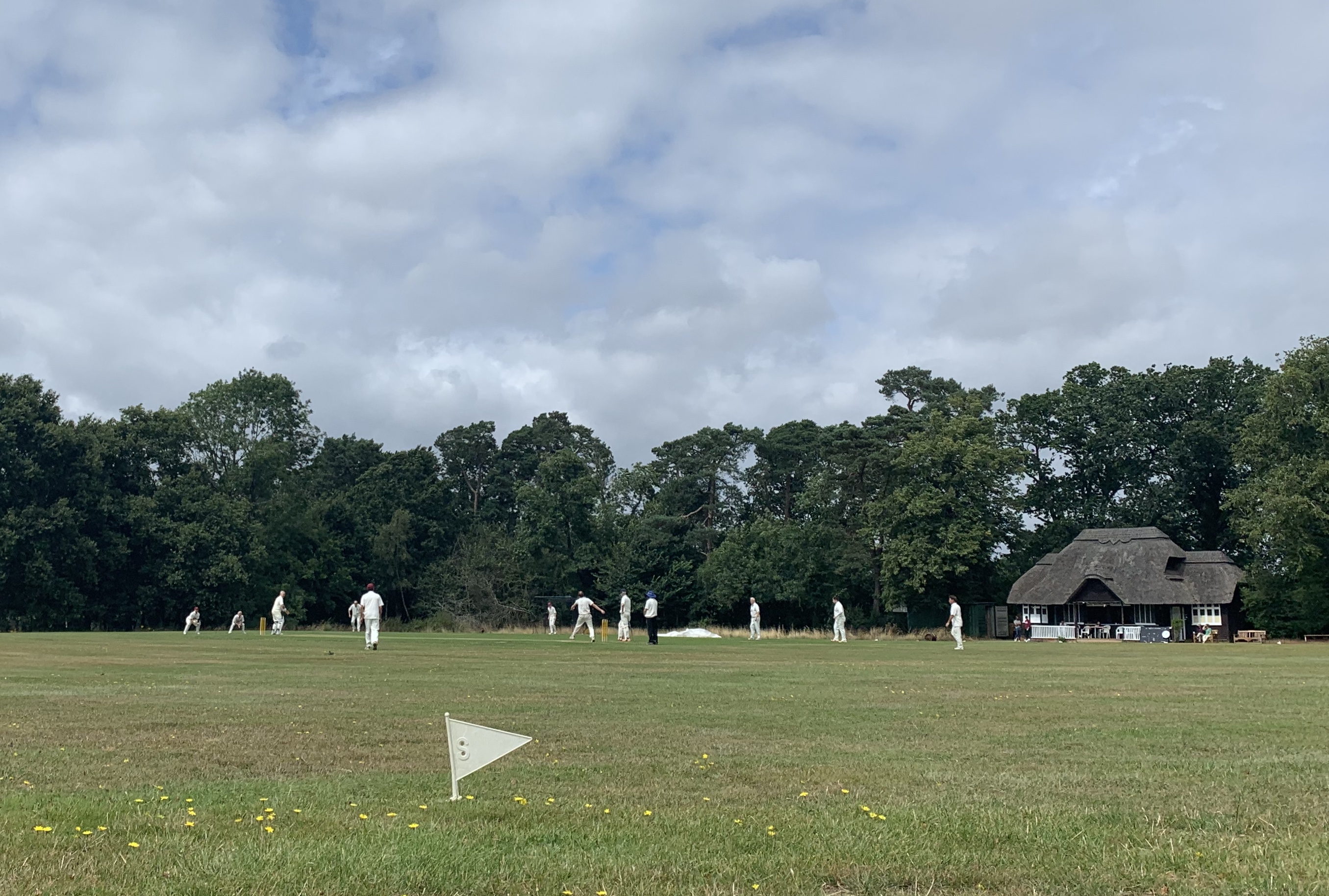 It took some third team heroics to rescue the Oaks from their first hat-trick of defeats on a miserable Saturday featuring stodgy pitches and gale force winds. Talking of hat-tricks, it was three in a row for the thirds. The excellent report from Dan is further down the page.
The One's paid the ultimate price for utilising the HCB's motto of 'getting the game on', suffering a 27-run defeat by Hartley Wintney 2's and a potentially fatal blow to their promotion hopes.
The Oaks bowled well getting HW all out for well under 200 on a tough pitch with Alex Brundle (3) Dan Sumner (2) Brad Compton-Bearne (2) Elliot Hennessey and DJ picking up the wickets and full bowling points.
Chasing the target, The Oaks just didn't show the application required and quickly came unstuck. Apart from Elliot Hennessey (45 I think) only a few others showed the resistance needed. The Oaks seem a bit too reliant on the opening batsmen and bowling teams out cheaply; that has caught us out in recent weeks.
There is no point blaming anyone as everyone is doing their best, it just appears that we are, at last, getting a bit found out at this level. However, it needs remembering that in my pre-season preview, I was looking for survival, with anything else being a bonus.
We are not out of the promotion race yet, but we are looking leggy and short of confidence at the same time as others are surging up the league. It will take some resurgence now, but where there is life there is hope.
Keep going boys, wherever we finish will be the highest in our history, and we still have the GJ Final to come.
Weather: Windy Cool and miserable 20 C
MOM: Alex Brundle: 3 wickets
The second XI were eventually well beaten at Rotherwick in a game that was often tighter than the score suggests. The Oaks had the misfortune of batting first on a sticky and variable wicket and got off to a chaotic start, with players coming in and out like a cuckoo clock.
Only Nellie Warner, Jack Brundle and Rob Wood came to terms with the pitch and it took a fantastic 100 partnership from Rob and Jack to get us to anything worth defending after being 30-6. If needed, Bob Lethaby would have played a gutsy innings too, but he didn't bat, because he was held back so he could be fit to bowl no overs.
Defending 154, Fawad Amin, Josh Carpenter, then George Lethaby and Rob Wood, started superbly and with Rotherwick 60-3 at drinks, the Oaks were right in the game. However, a few wayward overs straight after the break took the game away and, in the end, Rotherwick won at a canter. Oaks wickets went to George Lethaby (2) and Fawad Amin (1).
It was a game played in a good spirit and a consolation for Oakley is the continued improvement of 13-year-old Josh Carpenter, who once again shone with the ball in hand.
Weather: Cool, gales with sunny spells 20c
MOM: Jack Brundle: Gutsy 50.
Third XI report from Dan Beckell
It was three wins on the trot for the 3rds as another excellent bowling performance was enough to ensure victory against Tichbourne Park.
Playing in a gale was as much fun as Abu Hamza with an itchy arse (Bob, you may not want to include that) but, after winning the toss, Dan had no hesitation in putting Tichbourne in to bat.
Once again, the opening bowlers, Dave and Noah, put on a great spell of bowling.  Dave returned excellent figures of 8-4-15-2 whilst Noah, despite battling the gale, returned 5-1-9-1.  A decent chance of a caught and bowled went down, as well as one that was taken by the wind, but after 10 overs, Tichbourne were just 14-2.
Taner replaced Noah, bowling with the wind, and was unfortunate not to pick up a wicket or two, as well as bowling to their best batsman who scored an excellent 50.
Diamond Lights Avi and Ravi then came on to bowl in tandem and really knocked the stuffing out of the Tichbourne innings, just as they were looking like they might start getting away.  Ravi continued his return to form by picking up 3-44 and Avi bowled his best spell of the season, returning 4-25; a really impressive display.
Chasing just 147 to win, we lost skipper Dan for a duck, lofting a drive to mid-off first ball and against the gale (twat).
However, the value of two experienced players in Tall Jeff and Phil Carpenter meant that Oakley cruised to a 7 wicket win in about 30 overs.  Jeff scored another excellent 50+(making him top scorer for the team by quite a distance) and Phil played very sensibly for 40.
Despite both getting out, the result was never in doubt and it was left to Avi and Will to score the few runs needed.
It was another excellent bowling performance by the Oaks and, despite a little sloppiness in the field and a hurricane blasting down the ground, we really kept it tight.
Three games left now and, although two are against the top teams, we are comfortably mid table with all the suggestions that next season will see us even stronger.
Come on you mighty Oaks!
*REMINDER: If you are playing for the second XI on Saturday, groundwork is from 6:00 PM on Thursday night,