On a weekend that was blighted by Friday's deluge, only the Second XI got a game as Oakley Park withstood elements akin to October. The First XI lost their fixture to Hursley early on Saturday, leading to James Bayliss releasing the shackles of his normally calm persona and turning into a crazed maniac. This is a family club, so sadly, I cannot print James's reaction to the postponement. However, if anyone wants to discuss it, please call me after 9:00 PM when your children are asleep.
Second XI Back to Business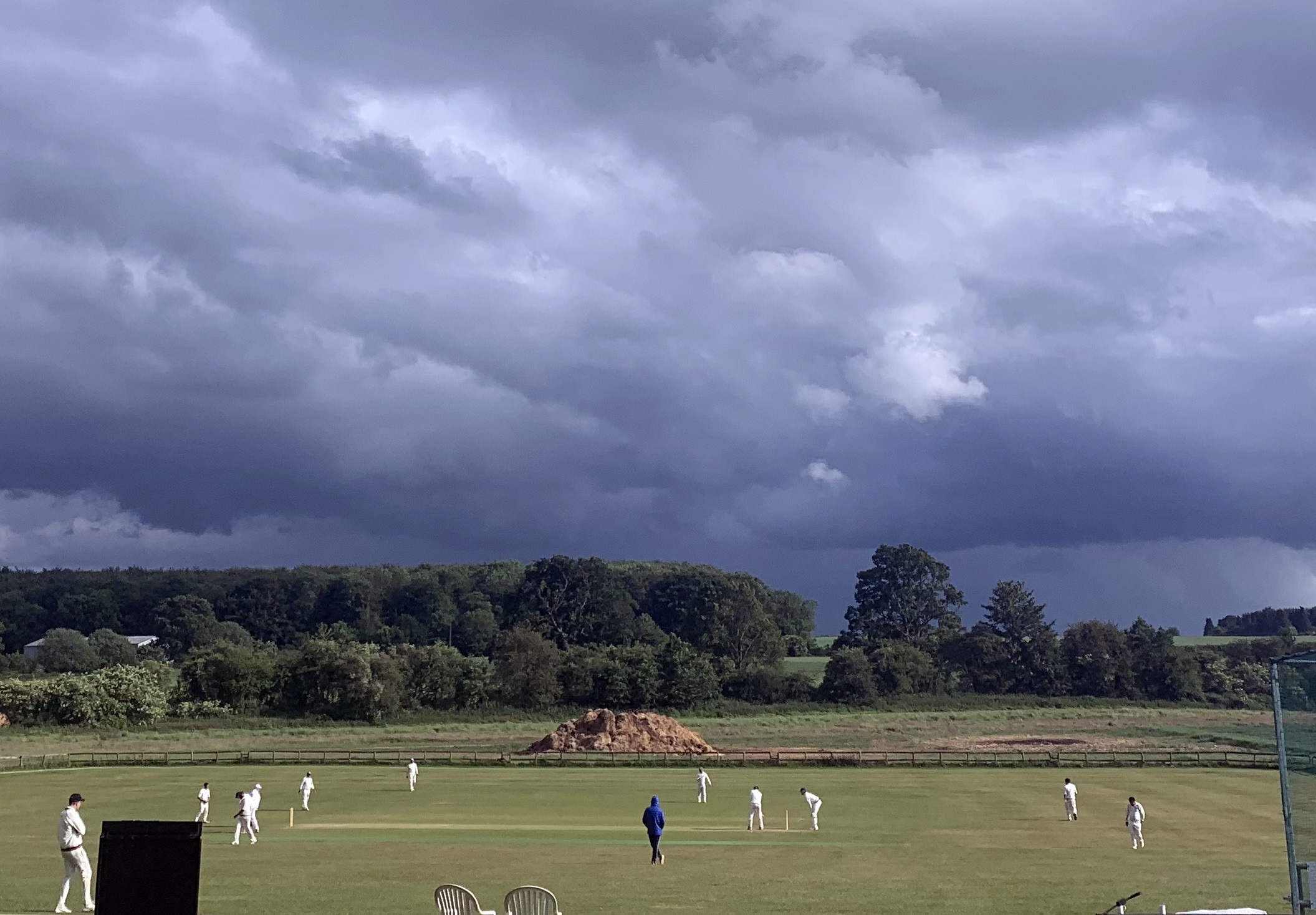 The First team's loss was the Second XI's gain as George Lethaby had to cope with the late withdrawal of Rob Wood (travel delays) and his own father, Bob, who has an ongoing baby finger issue he doesn't like talking about. This allowed George to bolster the Two's by including Dan Sumner and Ian Bennett in what was, after two straight defeats, a must win game.
The opposition, Old Basing III, batted first in cold and windy conditions and were soon struggling for runs against a much improved Oaks fielding and bowling display. The father and son pairing of Ronnie and Taner McCewan proved an excellent opening partnership, with dad doing all the pressing at one end whilst his son picked up 3 wickets at the other end. The things we do for our kids eh!
Other wickets went to Ollie Rabley, George Lethaby, Dan Sumner and Jeff King with George also involved in a memorable run-out with a sensational direct hit from the deep. Old Basing finished 8 down with 143 on the board. The only disappointment was 43 Extras in a much improved fielding performance.
On paper, the result seemed a formality but the weather was awful and batting wasn't easy. Steve Savage made a gutsy 13 but Jack Brundle and Nellie Warner went cheaply as they struggled with the conditions. It was suddenly game on at 25-3. Partnerships between Sumner/Lethaby (39) and Sumner/Nathan Rabley (43) steadied the ship and after Nathan departed, Ian Bennett (18 no) and Dan Sumner (53 no) guided The Oaks home with six wickets down.
This was a big win for The Oaks as it keeps them on the tails of the sides who have started the season with a sprint. Getting momentum back (as well as some players) can now provide a springboard to push on in what is going to be a really competitive league.
MOM: Dan Sumner: Showed class on a tricky wicket in bad conditions to score a vital 50.
Weather: Awful. 15 centigrade and very windy with an ongoing threat of storms
Sunday XI Win Again as Bob Stars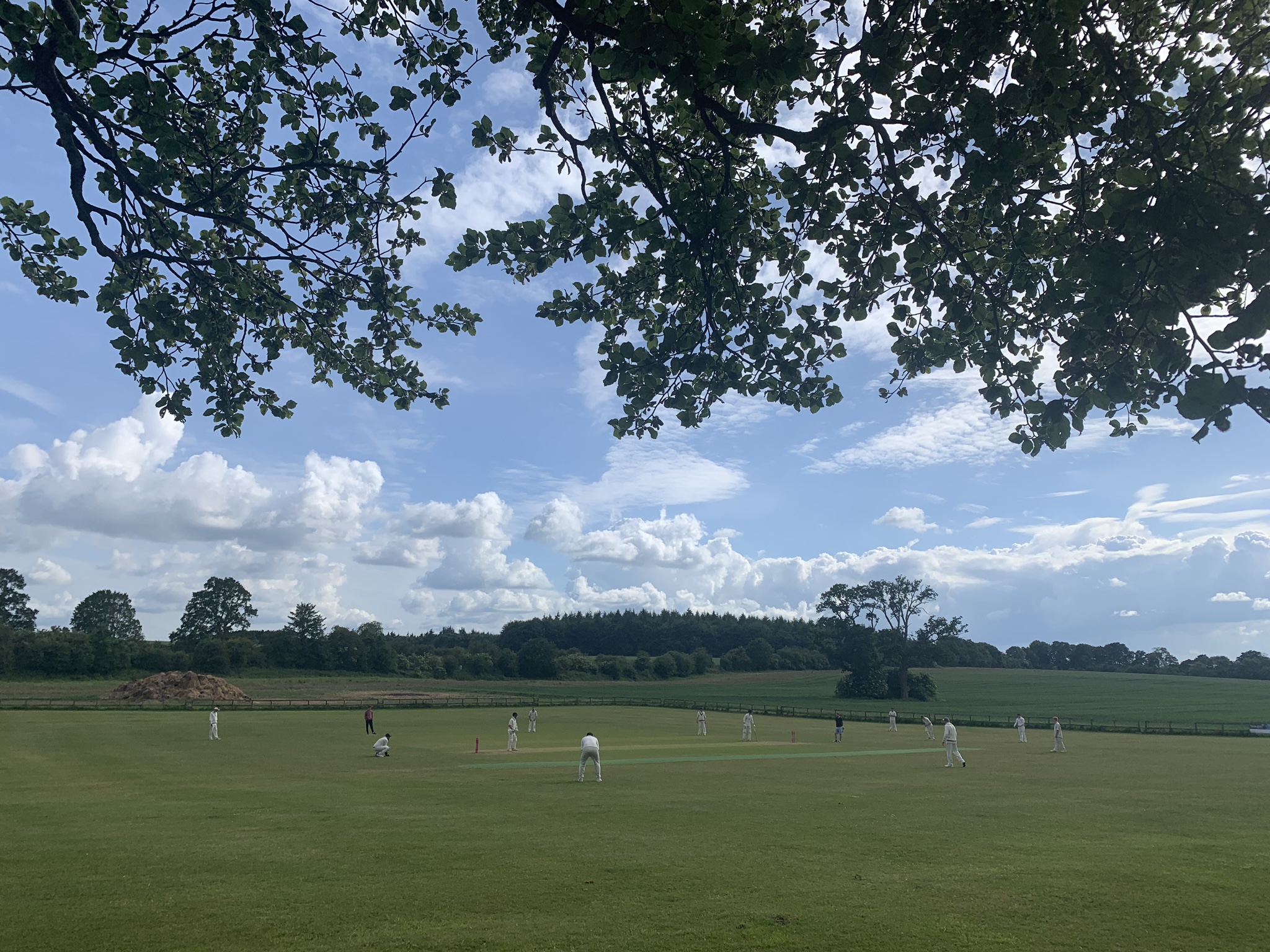 The Sunday XI made light work of a small total on a cool but at least sunny Sunday at Oakley Park. Bowling first the The Oaks came up against a class opening bat for Droxford who tucked into anything short or wide in a fine innings of 70.
Him apart, The Oaks took regular wickets with Matt Clift bowling in good areas in an opening pairing with Tom Barnes. Tom also bowled well, taking two wickets despite completing two of the worst 'slower balls' since Oakley formed in 1849. They couldn't have been disguised any worse if Tom had run in with a placard saying 'SLOWER BALL' whilst shouting, 'THIS IS MY SLOWER BALL'.
Brett King also bowled well but took a bit of tap early in his spell, meaning someone had to come in and slow the run rate down.
But who? I hear you cry.
Why, the chairman of course! Turn, zip, spin, craft and deception are all the attributes of a great slower bowler. Bob has none of these attributes but boy, does he know how to float the ball up to cross bat imbeciles with eyes lighting up like distant lighthouses. As a shit batsmen himself, Bob knows a cretin when he sees one, and this eclectic catalogue of utter pony did the trick once again.
Bob took three wickets for just 11 runs and was informed shortly after by his son that he had now passed 50 wickets for The Oaks. This milestone was confirmed by club geek, Steve Savage, and everyone present instantly regretted the news. However, with 51 Oakley wickets spanning 12 seasons, if there isn't a statue at the club entrance next season, questions need to be asked.
Droxford finished on 151 and in response a partnership of 50+ by Dan Beckell (38) and Dan Jones (18) set the boys on their way. This was backed up by 18 from the rapidly improving Ben Coulter with Perry King (5) Bob Lethaby (a cultured 7) and Ian Bennett (12) all contributing  before Tom Barnes (32 no) and Dan Sumner (10 no) sealed the win.
However, the day was all about the chairman reaching that 50 wicket milestone. He did so whilst still finding the time to work out, after five years, why Perry King is nicknamed Nando's (it's the Peri Peri sauce you see) as well as managing to getting his buttocks traumatised by stinging nettles whilst leaning on the boundary fence.
It really was the chairman's day.
MOM: Go on, have a guess.
Weather: Not great but not as shit as yesterday; 17c with sunny spells.
*Special thanks to all those who helped out with getting matches played this weekend as well as making the 70th party last night a success. Without the effort of a lot of Oakley players and supporters this weekend, we wouldn't have been open at all. Top stuff.
We push onwards!