The First XI said farewell to their long unbeaten run on Saturday, losing to promotion rivals in IBM Hursley in a fraught and tense affair at a sunny Oakley Park.
Batting first, The Oaks were soon all over the place as IBM claimed the prize wicket of Elliot Hennessey and Nellie Warner soon after.
However, ever reliant skipper, Dan Sumner, stood firm and started to build an innings with Will Montgomery. Will looked in good touch before going to what appeared to be 'glove before wicket' but these things happen.
James Bayliss and Mike Tiley both contributed well before getting out infuriatingly whilst well set. There was more controversy as Brad Compton-Bearne was also given out LBW just when The Oaks needed momentum. It's safe to say it was a decision Brad didn't like. This left Ian Bennett, Alex Brundle and Fawad Ahmed to aid the score to a paltry 166-8; not the sort of target to set arguably the best team in league. The batting highlight was once again Sumner, who made a classy 50.
What happened after was a situation where, in what was also going to be a pivotal contest, tempers frayed amongst a plethora of confusing umpiring decisions. Several turned down LBW appeals and a caught behind not given, left some players at boiling point, Notably Brad, who was now acting like a child who had just had his birthday party cancelled.
Whilst most of the lads dealt with it in good faith, some, perhaps understandably, lost their cool. In my experience, this won't endear an opposing umpire to your cause; it tends to make things worse, and so it proved as the man in white doubled down and gave nothing. Despite these distractions, The Oaks bowled well and worked hard to turn the game around, with Tom Barnes and Dan Sumner picking up two wickets apiece. However, the small target The Oaks set, never looked likely to do the job.
After everyone had calmed down, most of the players were philosophical about the defeat and the manner of it. IBM are a very good side and to beat them you need the rub of the green and we didn't get it on Saturday. We also didn't bat well enough when it mattered.
The test of character is how the lads bounce back; a good team forgets disappointment quickly and moves on to the next challenge. 27 matches unbeaten over two years is a record to be proud of, not disappointed with.
On we must travel.
MOM Dan Sumner: Another 50
Weather: Sunny 23c
The second XI went to Herriard looking to get back to winning ways and keep any feint hopes of a promotion challenge on track.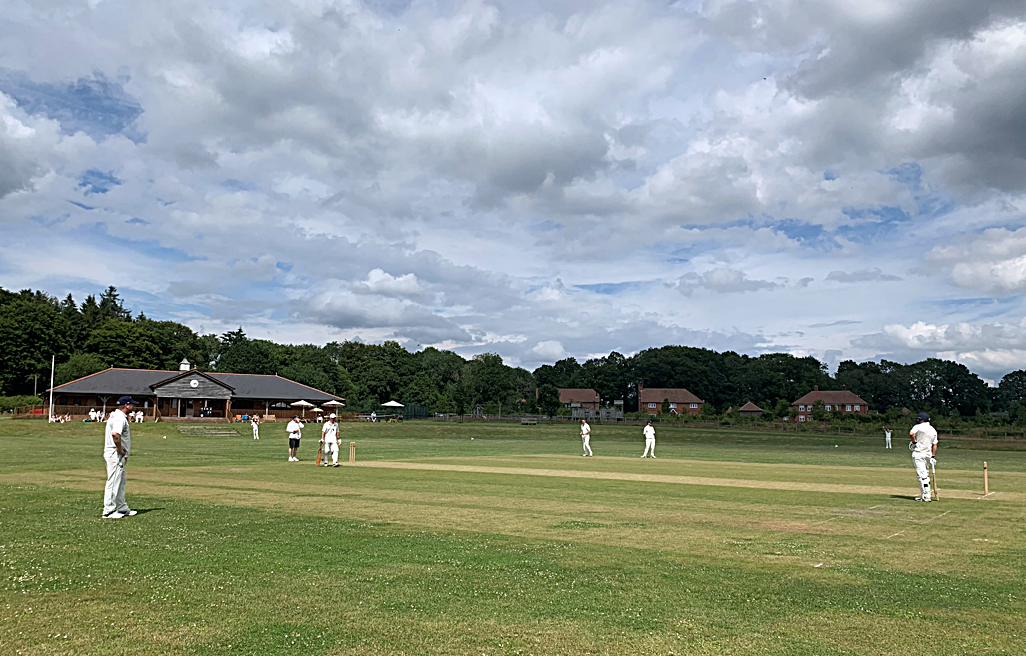 On a beautiful afternoon at the picturesque ground, The Oaks batted first and were soon reeling as Steve Savage and Rob Wood departed. However, Steve 'Bownie, 'Chinese, Bownster' Bown remained resolute and began a rebuilding job in a 50+ partnership the classy looking James Adams. Bownie, incandescent with himself, picked out a fielder on the boundary and departed for 27 but George Lethaby added further impetus with good knock of 35 as James kept going at the other end.
This swung the game the way Oaks and after getting tired and bogged down mid-innings, James regrouped and raced into the 90's. Sadly, James avoided buying a jug by getting out for 97 looking to complete his ton in the last over. It was, however, a fine knock and one that put The Oaks in a strong position (206-7) on a pitch that was doing all manner of things as it spat the ball out at varying heights.
After a tea that resembled a medieval banquet and left the elder Oakley statesmen waddling on to the pitch, The Oaks opened with Will Cheyney and George Lethaby. Both bowled well, with George getting the glory, picking up 3 wickets, two of them fortuitous, particularly a full toss to Andy Butler, who was looking in good touch.
Frustratingly, Will got none for his excellent efforts but his frustration was to be small beer compared to Ollie Rabley's. Ollie's 8 overs produced just 12 runs but not one wicket, demonstrating that cricket often offers little justice. At the other end, Rob Wood was in a stingy mood and picked up a useful wicket and caused a fine direct hit run-out by Perry 'Nando's King.
This frustrated the run rate to approaching 10 an Over, allowing George to bring on the class ridden Bob Lethaby (he got six wickets last week don't you know?) and Brett King, to search for wickets and bonus points. Bob's 'pies', 'worm burners' and 'what on earth was that's?' did the job again and he picked off Down (who was going well) going for just 11 off 4 Overs. Sadly (for Bob anyway) Brett King was to gain the pie chucker of the day award as he floated the ball up, resulting in a cataclysmic array of shots and three deserved wickets.
The Oaks nearly managed full bonus points but a top edge off Brett's bowling landed on the back of Nathan's neck and rolled down his back and onto the floor. It was a golden moment where there was one winner, and that was village cricket.
So, a tough early season fixture list for the Two's has resulted in five wins and three defeats. This has left them in 9th place but not too far off the pacemakers.
Can they make inroads and press for promotion?
I doubt it. However, this important victory against a team who were not as bad a their position suggests, keeps momentum going and with a bit of belief and good fortune, who knows? Special thanks to excellent umpire, Ian Butler, and the Herriard supporters who provided a warm welcome and an excellent calorie filled tea featuring lashing of cream and jam. There were also some token slices of watermelon thrown in to make it look healthy. It remained largely untouched.
MOM: James Adams: A Cultured 97
Weather: Sunny Spells, 23 c
The Third XI had another one of those days where some fine individual performances weren't quite matched by an overall team display.
There were wickets for Matt Clift (2) Noah Beckell and Taner McCewan as Cove made an impressive 212. An excellent 78 from Tall Jeff, 40 from Phil Carpenter and 27 from Dan Beckell gave The Oaks hope but they could never quite get the momentum to get them up to the target.
The Three's finished on 187, a commendable effort but not quite enough.
Never mind lads, keep going and that elusive win will come your way.
MOM: Tall Jeff, 78
Weather: Sunny Spells 22c