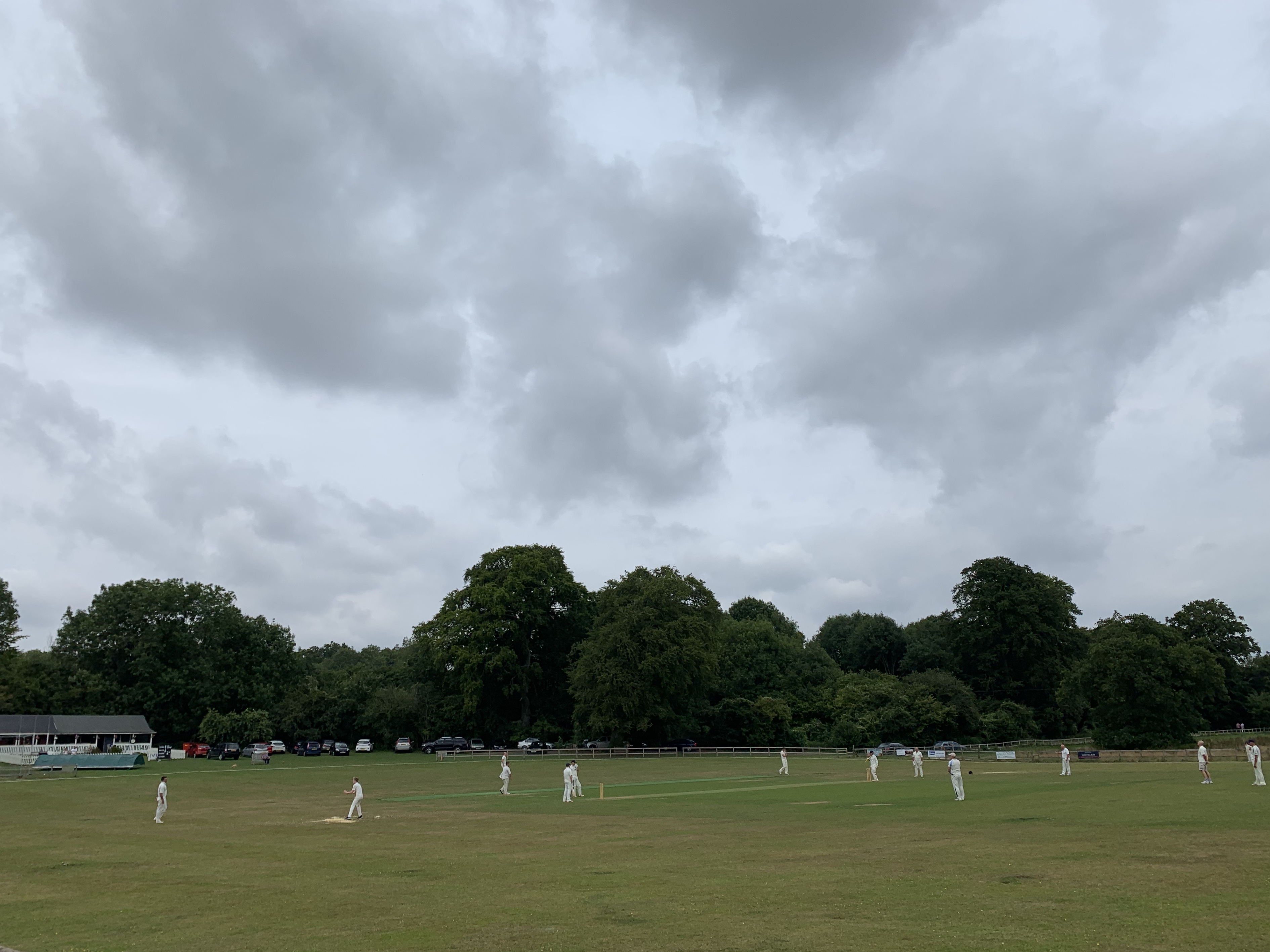 It was another 2 from 3 on Saturday as the second and third 11's registered good wins but the first string slipped up in a promotion denting defeat at Liss.
First XI Fall Short at Liss but Extend Lead on RAM
The First XI suffered a shock defeat at lowly Liss on Saturday, putting a substantial dent in their promotion hopes.
Batting first, Elliot Hennessey continued his excellent form but couldn't quite find the partnerships to get The Oaks motoring towards a big score.
No one batted particularly badly but with Dan Sumner back in the hutch early on for 7, we never quite got the impetus needed. Michael Wood (23) got unlucky with a deflected run-out and James Bayliss made 24. Thereafter, with Brad Compton- Bearne (6) not firing, it was just minor cameos from Mike Tiley (14) and Alex Brundle (11) that edged the score past 200 in 45 Overs.
The Oaks finished on 210. Not a great score but potentially defend-able.
The Oaks did steadily pick wickets but were surprised at the depth of the Liss batting, that went deep and lacked the lower order 'startled rabbits' The Oaks desired.
Liss were always ahead of the rate, happily taking advantage of any weak bowling. It was apparent Oakley missed that little bit of zest Ronnie McCewan can offer with ball in hand as well as the wily experience of Clive Welsman.
The Oaks never gave up though and with 7 needed they picked up two quick wickets to leave Liss 9 down. However, it was not to be, with a late outrageous catch attempt by Dan Sumner the last 'chance' to snatch victory from the jaws of defeat. Wickets went to Dan Sumner (4) Rob Wood (1) Elliot Hennessey (1) Brad Compton-Bearne (1) and Will Cheyney (2).
There were no complaints and there was even the consolation of ten bonus points. Remarkably we have stretched our lead over third place RAM courtesy of their heavy defeat v Sparsholt.
The maths is getting simpler. The title has probably gone now but 4 wins from the last 4 matches means promotion to the highest level in our history.
Come on boys, one last push.
Weather: Muggy 23c
MOM: Elliot Hennessey: 82 runs that keep him top of the HCL scoring charts
Deano Inspired Two's See off Overton
The Two's got back to winning ways with a straightforward win over Overton II's yesterday. On a muggy afternoon, The Oaks batted first but were quickly all over the place at 5 for 2.
With the normally reliable Nellie Warner and Steve Savage back in the hutch, Paddy Saines and James Adams needed to dig us out of trouble. They did so and slowly got The Oaks back into a respectable position.
When that 71-run partnership ended after James Adams was out on 36, George Lethaby came in to try to continue the upward curve of the innings. He did so with an excellent 53 but lost partners along the way with Jack Brundle (3) and Nick Green (3) going quickly.
George holed out and Brett King went for two, which left Bob Lethaby (12 no) and Josh Carpenter (13 no) to put on a handy late partnership to boost the score to 224 and maximum batting points. Bob has batted twice this season and has been 12 not out and 15 not out. The law of cricket maths means he is so good, he has not got an average yet.
Defending the score, The Oaks took control of the game. Well, in reality, it was Overton who took control of it by continually running each other out. The low point for them being the first and possibly last direct hit run-out in the often-cataclysmic career of Deano James.
There was some fine bowling as well. 13-year-old Josh Carpenter was excellent without getting reward and James Adams's 5 maidens in 6 Overs was the stuff of Oakley legends.
There were wickets from bowlers too, one each for the Lethaby father and son combination and one for Brett King. However, whilst we are still on the subject of legends, up stepped Deano James, the direct hit hero.
Lithe in body, with biceps pumping and the one hair on his head flowing in the wind, Deano steaming in on a three-inch run up is the last thing a tail ender and a 13-year-old colts player needs to see.
Like any decent postman, Deano delivered. First a rasping 4mph delivery foxing a tail ender into pushing the ball to Brett King, then a fizzing seamer straight through the gate of a beleaguered boy just into his teens.
Deano knew what it meant. With Overton needing just 60 off two Overs, this was big, and a celebration reminiscent of Alan Shearer racing to the Gallowgate End after a 30 yard volley, was fully justified, at least in Deano's head anyway. If anyone has young babies that won't sleep, get Deano round to tell them about his day. It will work and is safer than rubbing their gums with whiskey…just!
So, 24 points in a game played in a tremendous spirit with Overton, who, as usual, hung around for a few beers and a good old chinwag. It was good to be part of a day where two clubs similar in  stature enjoyed a good day of friendly banter and plenty of laughs along the way. The highlight was their perplexed batsman saying to Deano, "Oh, you're bowling from there?"
Wonderful stuff.
MOM: George Lethaby: A nice little confidence boosting knock of 53
Weather: Cloudy some sunny spells and muggy: 24c
Third XI Make it 2 from 2
Report from Dan Beckell
The 3rds made it two wins in a row away to Petersfield in a topsy turvy match.
Asked to bowl first, Oakley reduced Petersfield to 11-4 at one stage and then 39-5 with a superb opening spell of bowling from Dave and Noah, with Dave returning figures of 8-2-18-2 and Noah 8-4-19-2.  They worked together very well, Dave bowling a lot of off-cutters and Noah getting loads of swing and seam movement.  It was brilliant to see.
Avi and debutant Adam Nicholas from our under 13's then came on to bowl with Adam picking up his first senior wicket with a good caught and bowled.  At this stage the Petersfield batsmen started to dig in, playing sensibly and straight.  The score started to creep up and they began to accelerate.  When they got to well over 100 some inspiration was needed and we were wondering where the next wicket might come from.  Enter Seb, another of our colts making his debut, who picked up the ball at mid-wicket, took aim, and ran out their batsman with one stump to aim at.  Brilliant.
Petersfield got to 188 which was great considering where they were at 5 down.
A good opening stand was required and this is what we got with Jeff and Dan combining to put on 160.  Quick singles and boundaries came fast and the score rattled along.  Jeff was first to get to a well-deserved 50 before Dan joined him for his first 50 of the season after a few good starts which was a relief.
With the match all but won, it was left for Seb to come in and score some quick runs before getting out and Phil to join Dan for the final few runs.
It was really good performance and result against a really nice team.  There was a lovely touch from the opposition skipper who gave Noah the match ball "from Petersfield" as the best young bowler they'd played against all season.
We will look forward to hosting them next season.  In the meantime, the 3rds continue to improve and enjoy their cricket.

*It was a pleasure to see all the teams together at the club after yesterday's games. It is not unusual at some clubs for the First XI to be detached from 2nd and 3rd Teams, almost operating as separate entities. We have worked really hard at the 'One Club' mentality, and to see the First XI, who would have been bitterly disappointed yesterday, taking consolation from the other teams winning, was an absolute pleasure.
Any of you who can remember being young (a long time ago for me) will know how great 13 year-old Noah Beckell must have felt after getting handshakes and congratulations from senior players. If we can squeeze the First XI over the promotion line that will be the icing on the cake. If we don't, it will still be the first time in our history we have maintained County 3 status  after promotion. The Second XI are already the most successful Oakley has had and our first ever year with a third team has resulted in us getting 11 players on the pitch every week. 
I'd say that's a bloody good effort, wouldn't you? Well done everyone.
On we travel.