Both teams were in action again yesterday as hot and sultry weather continued across southern England in what is becoming a summer that will go down in the history books as something of a belter.
Five Star First's Throw Down the Gauntlet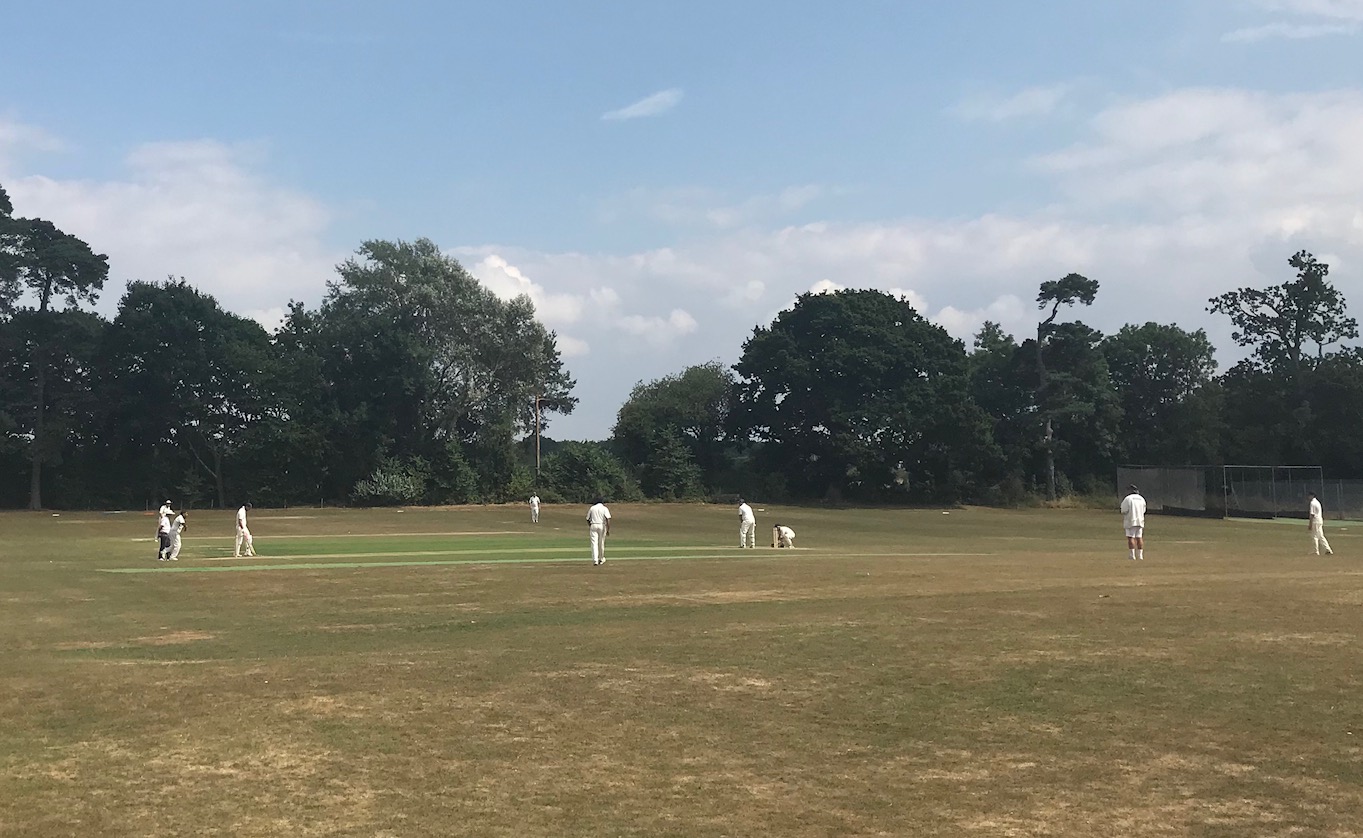 The First XI came up with one of their best performances of the season to dispatch Old Basing II on a sultry Saturday.
Batting first, the focus was once again based on getting the basics right and building partnerships. Nellie Warner and Gerry Dique worked through a tough opening period where bowlers found their rhythm and bowled a good line and length, but patience were rewarded with a 50 run partnership.
Unfortunately just when Nellie started to find some fluency, he was out LBW for 20. Gerry was then joined by Dan Sumner and seeing off the opening bowlers was the key to getting the big score that would be required on a decent pitch.
Dan and Gerry did that and started to unpick the change bowlers who bowled tight lines in stifling heat. Dan looked in great nick again after his ton last week, but got one on of the toe of the bat and departed for 22, caught at mid off but it was another important 50 plus partnership.
Clive Welsman made his way to the crease and at that stage of the innings looking like he needed to be somewhere in a hurry. Clive played beautifully, rotating the strike whilst banging fours and sixes as the opportunities came his way.
This spurred Gerry on to free up his arms and go expansive meaning run rate increased. A tired Gerry was unlucky to depart on 91 when looking to push for more runs but it was still an excellent knock that along with Clive, that more or less removed any chances of Old Basing winning. Brad joined Clive and played a great cameo, a guided 4 past point showing some lovely touch to go with the brute power of the towering 6 over long on.
Brad departed, unselfishly, for 18 and Clive for a blistering 71, trying to get the score past 300. Potter and Brundle wrapped the innings up with brief cameos and we looked well set on 293 off our allotted 45 overs.
In the field, Tom was digging deep after lack of sleep and jet lag travelling back from overseas as his dad watched on with matchsticks keeping his eyes open. Fortunately, any chance of Tom dozing off was halted by Mark Potter who was making the customers of Costa Coffee in Festival Place jump out of their skin every time he barked an instruction, which was every ball. Potts makes no friends in the opposition camp but he is the perfect partner to the more thoughtful Gerry and fielders respond to him well, probably out of fear.
Tom created some good pressure for Clive to ask various questions of the batsmen who were very stoical and keen to build a platform meaning The Oaks went to drinks wicketless. However, with the run rate climbing every over, the batsmen tried to play a few more shots and Clive got the first breakthrough.
Ronnie McEwan came on for Tom (who at this point was nearly dead from Jetlag and just wanted to see his dog) and continued the pressure building. He was rewarded for his patience and got the other opening bat caught at point by Brundle. He then got two in an over, one caught behind by James Bayliss and the other caught by Gerry in the slips.
At 4 wickets down, the Oaks were pushing to get the remaining wickets with the Overs very quickly running out. Rob Wood came on and got a breakthrough first ball after the second drinks break, caught by Gerry at cover point.
The Old Basing batsmen played very positively, but with the run rate getting higher, they also had to take some risks, resulting in one of them trying to put away a full toss off Rob Wood only to find Ronnie 'The Salmon' McEwan, leaping high into the air to take a breathtaking one handed catch which left the batsmen stunned and the Oakley team wildly celebrating his success. It has to be the catch of the season so far.
Brad then bowled 5 overs of good pace but without reward and was replaced by Alex Brundle to change things up a bit. Alex made the breakthrough getting the batsmen caught at long on by Brad. Rob continued to pick up wickets the other end and had their well set batsmen caught at mid on by Barnes, who was now so tired, he was hallucinating.
Dan Sumner came on to replace Brundle and picked up a wicket, the batsmen caught at slip by Potter, taking a good catch running backwards and letting the commuters at Waterloo Station know that it was his catch. Rob wrapped the Old Basing innings up when they were on 171, the batsmen beautifully caught again by Barnes at long off (he needs to go on holiday more often that boy).
It was a great performance on a hot day where the team fielded exceptionally well, built great partnerships, bowled patiently and rewarded for consistent pressure that was created. A great result but The Oaks must not get complacent and need to move onto the next challenge.
It is one that all the players are looking forward to.
Faltering Second XI Lose Again
In contrast to the First XI, the Two's lost further momentum yesterday against a decent but not formidable Easton team at a sultry and parched looking Oakley Park.
When you are scratching for form, what you don't need is a Hampshire Ladies bowler coming in at you with genuine pace, seam movement and unerring accuracy. However, that's what happened and it wasn't long before, Steve Savage, Brett King and George Lethaby were back in hutch, all reflecting on the shock of facing the best bowler they have seen for several seasons.
Will Montgomery and Nathan Rabley did manage to fend her and the other good opener off and were frustrated to get out when the hard work had been done, with Nathan particularly furious with himself. Ollie Rabley also hung around for a while but got out when looking to push on and thereafter, it was only a belligerent 49 not out (including six 6's) from Ian Bennett that got the Oaks to anything near a defendable total.
The Oaks finished on a paltry 140 and less said about what happened thereafter, the better, as the Easton batsmen went on the attack from the off, making the game effectively over as a contest within a few overs.
It's not through want of trying, but The Oaks look the shadow of themselves at the moment and need to stick together to get a result, no matter how scratchy, and rebuild confidence. Like winning, losing is a habit, and The Oaks need to break that habit soon.
Keep going fellas!