Dique's Ton Not Enough to Inspire Oaks!
Oaks Relish Long Hot Sumner
Batting Calamity Wrecks Oakley Victory Charge!
Sunday Oaks Master the Art of Batting Ineptitude!
Depleted Seconds Well Beaten!
First 11 Cruise to Victory
Weekend Results and Cyril Thompson Shield
Firsts Offer Little Resistance to Mottisfont
Big Brad Goes Mad!
Faultless Oaks Cruise to Final!
Two's Come Up Agonisingly Short!
Depleted First's Go Down Fighting!
Bob Lethaby XI Claim the Big Rich Cup
Second XI Back on Song!
First XI Lose Out in Thriller
Out of Sorts Seconds Suffer Another Title Setback!
Sumner and Dique Bat the Oaks to Victory!
Brundle Sends Stuttering Oaks Into Semi-Finals
Sunday XI Complete an Unwanted Weekend Hat-Trick!
Second XI Capitulate as Unbeaten Run Ends!
Dropped Catches Lose Matches as Firsts Fall to Wherwell!
Clive and Gordy are Veteran Bounty Hunters!
One's Make it Three on the Row!
Two's Cruise at Colden Common!
Strong Oaks XI Cruise Past Sherfield
Sunday XI Emerge Victors as Carnage Ensues!
Seconds Hold Nerve to Hit New Heights!
First XI Start to Find Consistency
Oakley Lose at Crondall Despite Lethaby's Epic Innings!
Wood Looking Good as Two's Maintain Top Spot
Bown Shines for Resurgent Firsts!
Sunday Oaks Prevail at Odiham!
Get On Up, Brad's a Six Machine!
Poor Batting Costs the First's Once More!
Lethaby Tames Whiteditch!
Unbeaten Two's March On
Firsts Lack the Power For a Chase
Seconds Cruise Past Liphook and Ripsley
Firsts Hit Top Form
Sunday XI in Fine Win at White Waltham
Second XI Rescue Victory From Jaws of Defeat!
Batting Collapse Costs First XI Dear
Oakley Edge Out Dummer in T20
Eclectic Oaks Lose to Waverley
Excellent First's Back on Song!
Seconds Administer Demolition Job!
Ton Up Bownie Gives the Oaks Some Consolation
Brundle Stars For Second's
Firsts Off to Bad Start at Bentworth!
Oaks Win Again Despite Late Wobble
The Oaks kept up their good start to the season with a reasonably comfortable win over Herriard, despite a late batting collapse on a chilly late April afternoon at Oakley Park.
As with the case on Saturday it was the bowlers doing the damage, with wickets once again for Alex Brundle (2) George Lethaby (2) Dan Sumner (2) with Gerry Dique (2) and Dan Jones also pitching in as Herriard were dismissed for a paltry 71.
Openers Gerry Dique and Dan Sumner set about the target with gusto until Gerry (28) and Dan (18) went in quick succession, sparking a calamitous batting collapse through the middle order that included the dismissal of the irrepressible Deano James, who showed his former club what he was made of with a stylish and destructive nought.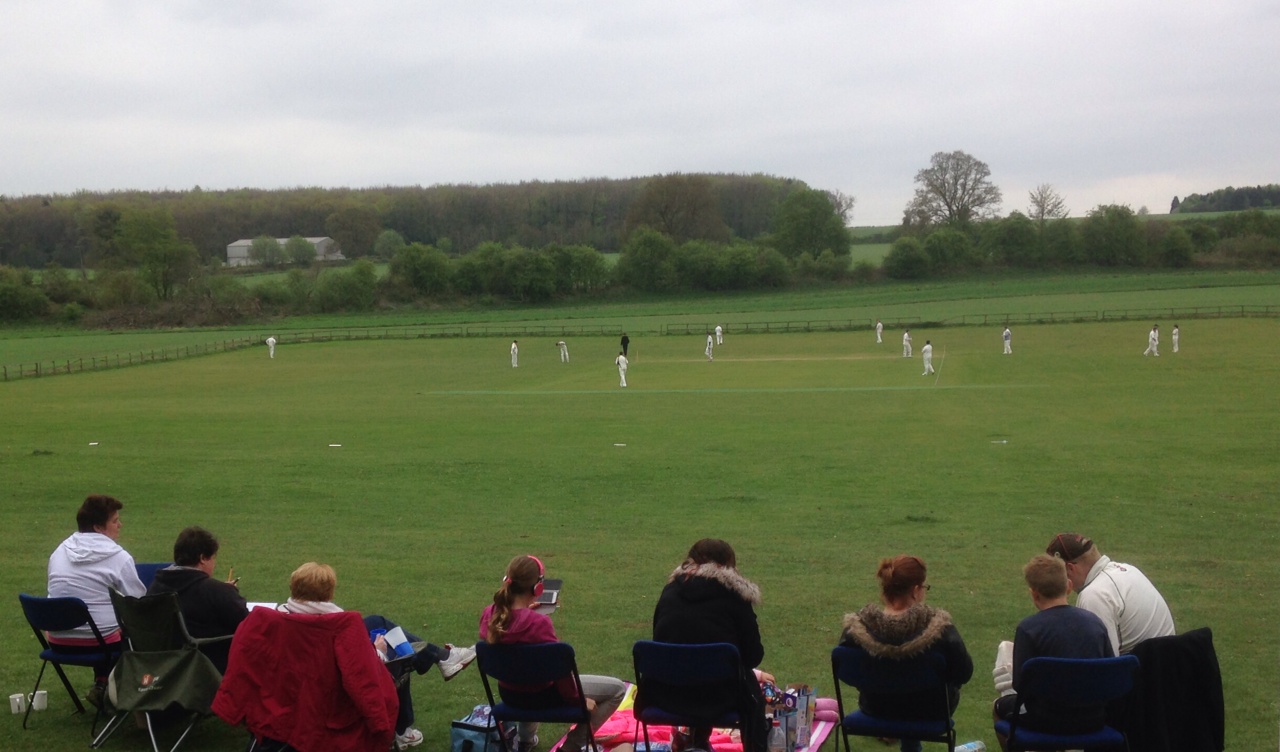 Herriard supporters brave the chilly conditions at Oakley Park
After what was rapidly becoming enough ducks to fill the village pond, Keith Cutmore scored what could now be regarded as an impressive 7 before Dan Jones aided his heroic captain, Michael Wood, over the line with seven wickets down.
Thanks to Deano for doing the teas and to Herriard for bringing support and using the bar on a weekend where the takings and profits coming in to the club have got us off to good financial start as well as the boys having a positive weekend on the pitch, despite the chilly conditions.
Well done to all associated to the club.
See you all on Wednesday and if anyone wishes to assist with colts training on Monday or Tuesday, we will be there from 6:00pm.
Up the Oaks!
Oaks Start the Season With a Saturday Friendly Win
Oaks had their first outdoor game of the pre-season today in what turned out to be a resounding win over St Mary's at Oakley Park.
Batting first, the Oaks made 188, with main contributions with the bat coming from Dan Sumner (40) Brad Compton-Bearne (25) and a blistering 50 from newcomer Ben Peart that included five sixes.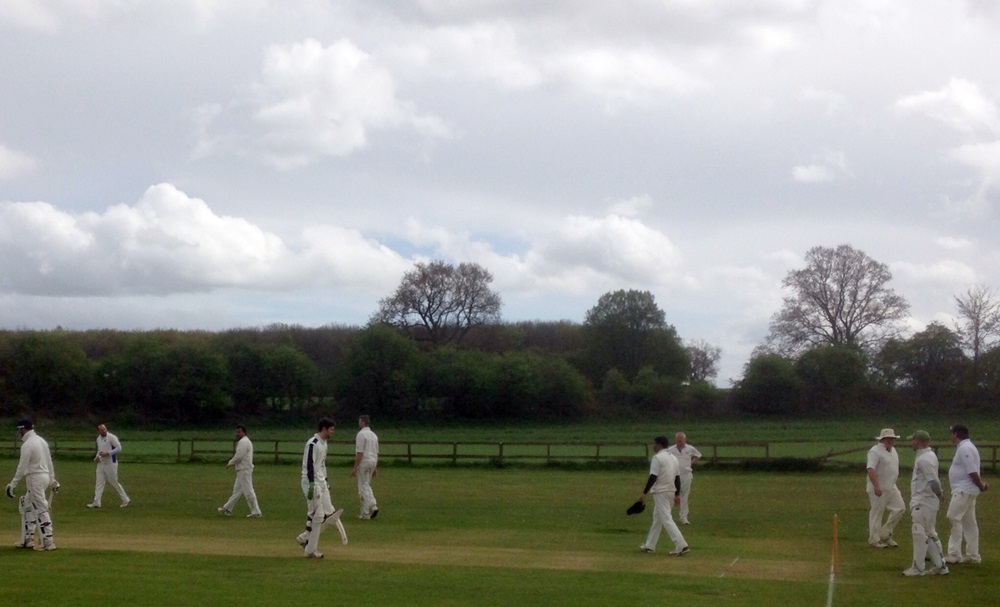 The Oaks Enjoyed a Comfortable Win V St Mary's Today
The Oaks made short work of defending the total dismantling St Mary's for 44 with wickets for Alex Brundle (3) George Lethaby (2) Dan Sumner (2) Clive Welsman, James Bright and Ben Peart just before the rain set in.
The second game of the weekend is tomorrow at Oakley Park versus Herriard at 2:00 pm.
Up the Oaks
Oaks Finish the Season With a Sunday Win
PenningTON Slays Hungover Oaks!
Oaks Celebrate Historic Treble Success!
Oaks Win the Guy Jewell Plate
Oaks at the Double!
Oaks Into Final of the Guy Jewell Plate!
Firsts Blow it in Title Decider
Firsts Blow it in Title Decider
Brad the Lad Overcomes Timsbury!
Brad the Lad Overcomes Timsbury!
Oaks Trounce Farley!
Sunday Oaks Complete a Weekend Hat-Trick
Seconds Ease Past AWE Tadley
First's Have an Easy Day
Sam's the Man as Oaks Bash East Woodhay
Oaks Edge Out Bounty in a Thriller
Adam and Jules Dominate Wallop
Drunken Oaks Lose to Crondall
Oaks Keep Run Going With Victory Over Winterbourne
Two's Cruise at Ashford Hill
Hungover Sunday Boys Overcome Odiham!
Captain Clive Settles it For Oaks
Sumner Puts Whiteditch to the Sword
Oaks Romp Old Basing
Oakley Oust Dummer in 20/20 Thriller
Robinson Cruise(o)
Oaks Edge Past White Waltham in Low Scoring Thriller!
Rain Halts Oakley Charge
Hapless Oaks lose Sunday Record!
Oaks Firsts Ease Past Shrewton II
Oakley Enjoy a Sumner Day
Captain Courageous Sees Oakley Home!
Sunday Boys off to a Flying Start
Sunday 4th May 2014
Second String Off and Running!
Saturday 3rd May
Michael Wood enjoyed his maiden outing as second team captain today as the Oaks won a hard fought contest against a young and spirited Longparish III's.
Batting first, the Oaks stuttered badly, with early season nerves leading to Dan Sumner being run out in the first over and fellow opener, Steve Savage, dismissed for a disappointing 3.
Wood steadied things before getting out when looking well set on 18, however, it was Darrel Dimond (58) and Scott Bright (46) who led the fightback and wrested control from Longparish.
This was backed by 33 from Tommy Holbrook and 29 for débutante, Mark Potter, aiding the score to a competitive total of 226.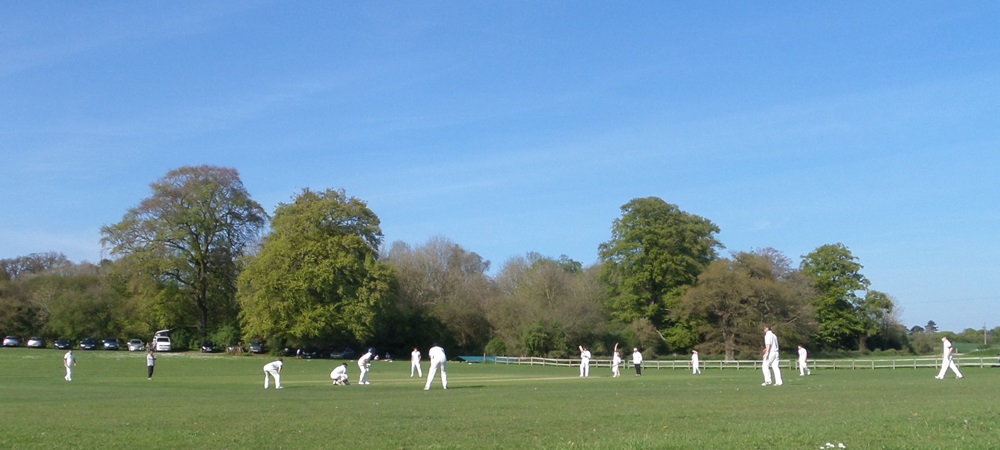 Winning start: The Seconds in Action at Oakley Park Today
Defending, Oakley set about the Longparish attack with gusto, Tommy Holbrook taking three early wickets including two in two balls and Callum Van Dyk unlucky to claim just the one in a fine spell.
Any chance of an early finish was diminished when Longparish first team batsman, Justin Jackman, arrived at the crease, steadying  the ship, before threatening to swing the game back in their favour.
However, wickets continued to fall, with Alex Brundle and Dan Sumner taking one apiece before Wood introduced Mark Potter to crush any chances of a realistic Longparish fightback.
Mark took three late wickets, with Tommy, finally and deservedly, ending Jackman's fine innings of 86.
So in the end, a reasonably comfortable day for the seconds, who should have ambitions of a successful season ahead.
Finally, special thanks to all the ground-staff who made it possible to play today's game after Thursday's downpour, the lads were grateful to get a game at last!
Up the Oaks!!
SEASON 2013
Missed Catches Lose Matches as the Firsts Go Down at Sherfield
Another disappointing day in the field cost Oakley victory on Saturday as they lost in the last Over away to Sherfield.
Oakley batted first with Scott Bright and Adam Robinson quickly moving the scoreboard on, picking the bad balls against some good, lively Sherfield bowling, before Robinson got done by a cracking delivery whilst looking set for a big score.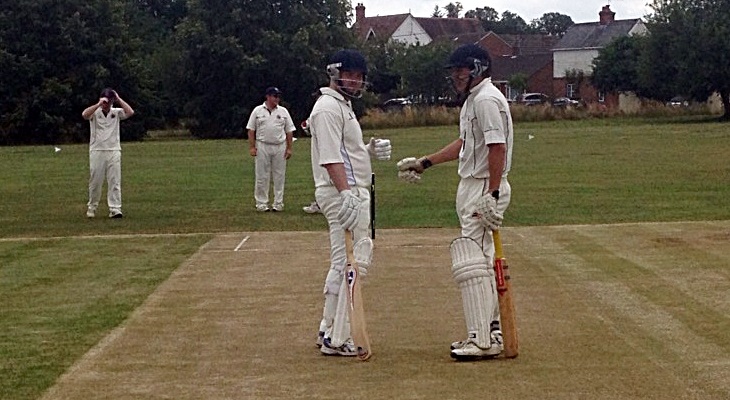 Scott Bright and Adam Robinson got Oakley off to a good start at Sherfield
This started the wickets tumbling as batsmen got themselves in and out trying to support Bright who was furious with himself for getting out on 45 to buffet bowling when he had worked so hard to set himself up for a big knock.
Even so, a decent knock of 41 for Tom Holbrook backed by an obligatory late flurry of sixes from Alex Brundle got the score up to a respectable total of 188 that captain Clive Welsman was relatively happy with, though a further 20-30 runs would have put Sherfield out of the contest.
Defending, Oakley bowled well enough, but not for the first time this season, chances came and went and proved costly, with a fine catch in the deep by George Lethaby being one of the few chances that stuck as other catches went begging.
The wickets were shared around between Clive Welsman, Tom Holbrook and pick of the bunch, Neil Robinson who was really tight, but ultimately, it was not enough to make up for basic fielding errors that have been annoyingly infectious for much of the season.
Oakley are a better side than their league position might suggest and though it is too late now, next year needs some major pre-season work on the basics of taking catches that ultimately, win matches.
Up the Oaks
Constantine Triggers Oaks Fightback!
Oakley two's produced a remarkable comeback yesterday to gain an excellent victory over high flying Petersfield in what was a thrilling contest.
Asked to bat first Oakley were blitzed by the excellent Petersfield attack and were reduced to 68-8 with only George Rutt making double figures. However, Michael Constantine remained firm and was aided by some wonderful stoical defence by Peter Holcroft in a stand of 64.
After Peter went, youngster Lofty Worth carried on his good work with a further stand of 24 with Michael who was smashing the ball all around the park before he was eventually dismissed for a brilliant 83.
This inspired Oakley in the field and a brilliant performance all round saw the Petersfield batting line up disintegrate, with Steve Bown the pick of the bunch with 4 wickets.
Further wickets came from Constantine (3) Ravi Kancharla (2) and Julian Worthington (1) as the Oaks bowled out Petersfield for 118 resulting in the most unlikely of victories.
Of course, all the plaudits go to Michael Constantine, but without the gutsy performances from Holcroft and Worth his innings would have not been possible and it has to remembered the Petersfield target was still a low one, so huge cricket to Oakley in the field for keeping the belief and winning the game.
Dan Beckall was rightly a proud captain yesterday evening.
Up the Oaks
Bat & Ball Edge Out Oakley in Thriller
An Oakley team featuring seven veterans between the ages of 13 and 17 was narrowly beaten in a thrilling contest against Bat and Ball yesterday.
Batting first youngster, Steve Savage, scored 22 whilst being superbly supported at the other end by the mercurial talent of Alex Brundle, who top edged his way to a memorable innings of six before allowing Bob "Mr Cricket" Lethaby to the crease.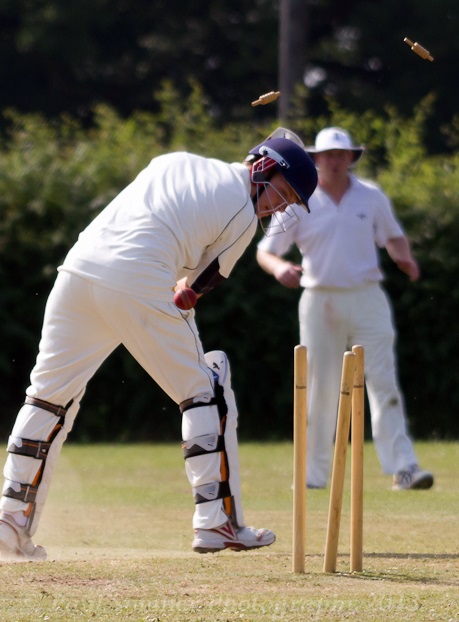 Brundle: Top edged his way to an excellent innings of six
Lethaby, always the showman, went on to make a dashing eight, displaying his vast array of bottom edges, air shots and across the line haymakers that featured an exquisite four top edged over the wicket keepers head to the boundary. A maiden 50 is surely just a formality now for this burgeoning talent who is rapidly causing the ECB major selection dilemmas.
Sadly for the bumper crowd that featured three spectators and a couple of passing horse riders, Lethaby was controversially given out LBW whilst executing a trademark across the line carve, when replays (had there been any) would have clearly shown that the ball would have hit middle stump halfway up.
This brought Dan Compton to the crease and he looked in blistering form until he was out for a second ball duck, leaving Julian Worthington and Callum Van Dyk to hold the fort before they were done by the explosive pace of a twelve year old who had mastered the art of making the ball "stay low."
The Oaks were eventually all out for a daunting total of 118, offering little hope to the beleaguered opposition.
In the field, the Oaks went about the task of defending their total with great skill and dilligence, reducing the opposition to fours and sixes as they got bogged down in what was becoming a turgid affair.
As the pressure intensified, Oakley needed experience and who better to turn to than their captain with no idea of field placings, Bob Lethaby, a fine leader of men (and teenagers) if there ever was one.
What followed was an eclectic mix of bowling beauty, featuring full tosses, half trackers and wides that the opposition, riding their luck, splattered to all areas of the ground. One six, a lucky straight hit back over Lethaby's head, resulted in the ball eventually being found this morning by a bemused West Dorset potato farmer.
Cricket is a game of fine margins and had Lethaby been six foot taller, it could have been an easy caught and bowled but instead, his solitary Over went for a very respectable 17 meaning that Bat & Ball edged their way two the narrowest of victories with just 25 Overs to spare.
What a day, what a game, where the real winner was the game of cricket!
Up the Oaks!
Oakley Eclectics in Heroic Victory
With holidays and injuries depleting the second team, it would have been easy to pull the fixture and take a points deduction. However, a plethora of begging phone calls and text messages resulted in the two's fielding a team that featured young colts, late volunteers and semi-crippled parents making the 90 mile round trip to Midhurst.
In more hope than expectation, Oakley bowled first and Naveen Chandru proceeded to rip through the beleaguered Midhurst top order on his way to a sensational five wicket haul. Lance Van Dyk and Alex Ogden joined in the action as Midhurst were eventually all out for a paltry 99.
Alex Ogden opened the bat with Gordon Scott and scored an excellent 33 that was backed up by a similar knock by Tim Parry as Oakley coasted to their target without too much alarm. Their were also contributions from Billy Turner and Chandru.
It goes to show that it is always good to get a team out at any cost, because rather than a 20 point deduction, the seconds walked away with a win and a great tally of batting and bowling points that will ensure their survival against relegation.
Well done everyone, that was a big effort.
Up the Oaks!!
Oaks Miss Out Against Titchborne
Oakley missed out on what should have been a reasonably comfortable victory on Saturday, courtesy of some below par fielding, plenty of bad luck and finally, a good old bit of old fashioned controversy.
Titchborne batted first and somehow managed to conjure up a score of 171 after offering a series of chances that either just cleared fielders or were dropped.
All the bowlers did well enough to create openings and pick of the bunch was Sam Holbrook with three wickets whilst the others were shared between Clive Welsman, Tom Holbrook and George Lethaby.
Chasing the Titchborne target, Oaks lost a couple of early wickets but the excellent Chris Morris steadied the ship on his way to a quality 50. However batsman came and went with minor flurries of four and sixes, but no-one was able to hang around to see the Oaks home.
Ultimately it was left to Alex Brundle and Bob Lethaby to score 30 off the last few overs and they both offered some hope of heroics with a couple of boundaries each and good running between the wickets. However, the game was to end in controversial and cataclysmic circumstances that were well suited to Bob's chaotic personality.
Facing the final ball of the the penultimate Over, Bob played and missed before proceeding to walk up the wicket to talk to Alex Brundle at the other end. Upon seeing that the umpire had not called the end of the Over, the Titchborne keeper stumped Lethaby and claimed the wicket, much to the bemusement of several players and the umpires.
It was seen by many players as an unsporting act but the fact is that technically, it was the correct decision and though 14 off the last over was unlikely, it would have been a better end to the game to see two tail-ender's giving it a go.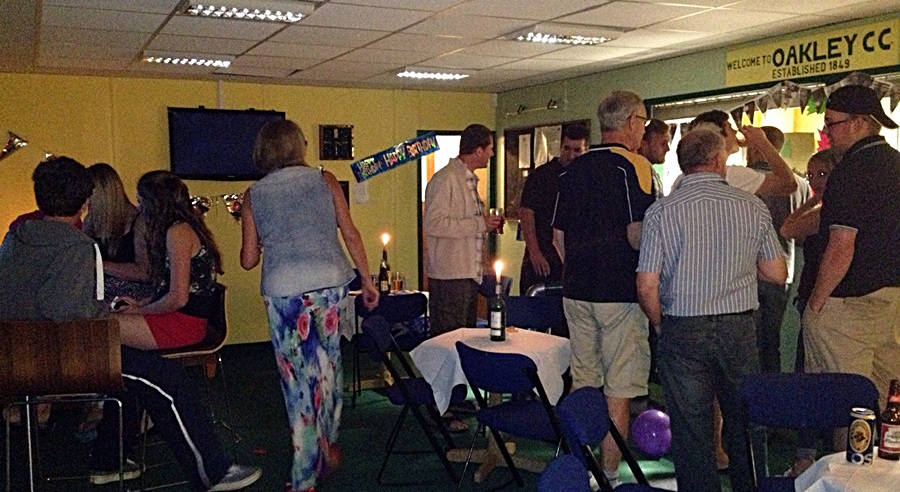 Club members and guests came along to help Clive celebrate his birthday.
However, defeat didn't stop the members hanging around to have a great evening celebrating captain, Clive Welsman's birthday.
Up the Oaks!!
Gerry is the Pacemaker as Oaks Lose Out to Dummer!
A superb century by Dummer number three Gerry Dique, was the difference between Oakley and Dummer yesterday as the rain stayed away and allowed for a competitive local derby.
Dummer were put in to bat, but after a steady start they lost two wickets in one over off the bowling of Oakley under 13 player, Alex Ogden, who went on to have an eventful afternoon with both bat and ball.
Dique came in at three and quickly set about any wayward Oakley bowling as he was stoically supported by Matt "the corpse with pads on" Vickery who defended well whilst watching a fine innings from the other end. If a catch been held by the young Oakley wicket keeper when Dique was on 50 odd, things might have been different but there are not many chance-less 100?s, so it was deserved century. A few cameo roles from the  lower order edged Dummer up to 180.
Batting second, the Oakley top order made plenty of starts, but Tom Holbrook, Dan Sumner, Alex Ogden, Bob Lethaby and Rav Kancharla all got out when well set, leaving the excellent Lance Van Dyk to carry the younger inexperienced players in the lower order, remaining unbeaten on 44 as Oakley fell shy of the target. Sadly, Lance now has to wait for another day to make his first Oakley 50.
All in all it was a good day out and there aren't many games where a 74 year old is playing in the same match as eight lads aged between the ages of 13 and 17. Oakley have made a big push at bringing the young lads into the Sunday sides to gain experience that will be invaluable to their development and it was great to see them giving it their all both with bat and ball.
Alex Ogden, Brad Welsman, John Gorrard, Dan Jones and Lofty Worth, will soon be ready to follow the likes of other former Colts players such as Tommy Holbrook, Steve Bown, Michael Wood, George Lethaby, Dan Sumner, Jack Green, Callum Van Dyk and Julian Worthington into regular competitive Saturday League cricket and that can only be good for the club.
Well done Dummer, it is always nice to see Andrew Ferguson and other familiar faces from local village cricket, both young and old.
Up the Oaks!
Parker Hits Form to Guide Oaks to Victory
magnificent 86 from Charlie Parker aided Oakley to victory in deteriorating conditions at lowly Rotherwick yesterday.
Batting first Adam Robinson made a good 50 and Darrell Dimond also batted well with a well constructed 40 which gave the Oaks a very competitive total of 260.
Charlie Parker returned to form with an excellent 86
As the periodic rain set in, Oakley looked like they would denied as they came on and off and the opposition target was reduced in circumstances that favoured them.
Oakley stayed in control though and worked very hard in fading light, with the Rotherwick run rate checked by wickets shared between Tommy Holbrook, George Lethaby, Dan Sumner and captain Clive Welsman.
There was a few missed chances and dropped catches along the way but Oakley kept their nerve to post their second successive win and move them away from any remaining threat of relegation.
Up the Oaks
Wood Comes Good to Rescue the Oaks
Oakley got back to winning ways yesterday with a thrilling victory against Bentworth on another sun baked day at Oakley Park.
Bowling first Oakley bowled and fielded really well with captain Clive Welsman starring, taking 4 wickets whilst Tommy Holbrook and George Lethaby kept the run rate down, reducing Bentworth to 160 for five of their 42 overs.
Going into bat Oakley started really well with the returning Adam Robinson picking the bad balls and accumulating at really good rate. However, the wickets soon started to tumble as many of the Oaks batsmen made decent starts before getting out to some tidy and effective Bentworth bowling.
Both Darrell Dimond and Tom Holbrook made good contributions but after Robinson departed for 41, Oakley's plight became desperate with Michael Wood the only recognised batsmen left at the crease.
Michael Wood kept his cool to guide Oakley to victory
After Bown and Lethaby went in successive overs the Oaks were on the brink of defeat with Alex Brundle coming in at 11 with 15 still required for victory. Under the guidance of the excellence Wood, who was keeping his cool under pressure, Alex steadied himself, stood his ground and aided the Oaks to a welcome victory.
After the game, all the players stayed behind for a barbecue and with a win behind them, the beer tasted that much sweeter on a lively and fun evening for everyone at the club.
As the chairman, I would like to thank the club members for the warm and touching reception they gave me and Justine on our engagement weekend. I t was much appreciated by both of us.
Up the Oaks
Firsts Go Down Fighting at Ashford Hill
A weakened first team lost a close encounter at Ashford Hill yesterday after falling 20-30 runs short of a defendable target.
Batting first, Oakley got of to the worst possible start with both Tommy Holbrook and Clive Welsman going early. Dan Beckell then came to the crease and was going along nicely before unluckily being given out LBW, leaving Darrell Dimond and Steve Savage to steady the ship. Steve completed his second half century of the summer and Darrell went for 46, however, the middle order and tail end never really got going as the Oaks finished their innings on 178.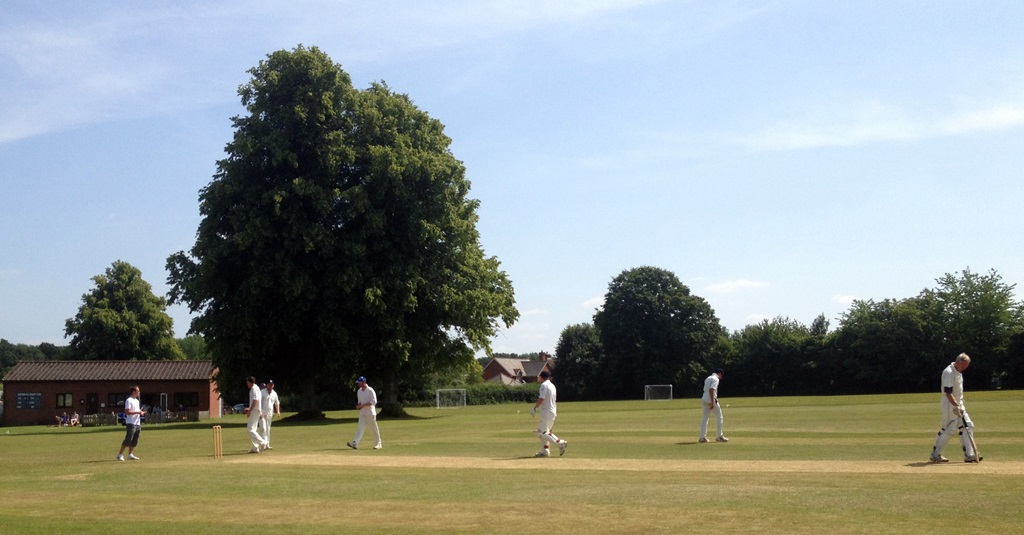 Oakley were narrowly beaten in hot sunshine at Ashford Hill
Ashford Hill started well but a flurry of wickets from Tommy Holbrook, Dan Sumner and Clive Welsman along with a brilliant direct hit by Darrell Dimond had them rattled during the middle part of their innings. However, they steadied themselves and were aided by bowling that was decent but not great, gifting wides and byes that made the task a lot easier.
On the whole, the Oaks fielded brilliantly and tried to keep themselves in the game right until the end, but ultimately, being a couple of batsmen short was their undoing. Oakley have several returning batsmen next week and with these additions, the narrow defeats will turn into wins.
On a personal note, I really enjoyed the little job that Clive gave me to help stem the runs, it kept me busy all afternoon. I have never fielded at Short Backward Square before, though I have been called one a few times!
Great effort lads.
Up the Oaks!
Hoss is the Boss as the Seconds Win Again!
Oakley two's won again on Saturday largely thanks to a brilliant 95 from incoming Colts general manager, Gordon Hossick. After losing Jack Green and Julian Worthington early on, Oakley were soon stabilised by veteran Gordon Scott and Gordon Hossick, who was playing in his first game of the season.
Further wickets fell, including the comedic two ball retirement of the enthusiastic but largely useless Andrew Ogden. However, Andy felt he had done his bit as his retirement allowed youngster John Gorrard to support Hossick with an excellent 44 that aided Oakley to 199.
Oakley successfully defended the total with Naveen Chandru the star turn with figures of 4-18 that was assisted by further wickets from Julian Worthington, Alex Ogden and Gordon Hossick.
As the chairman of the club, it is my duty to offer Gordon my congratulations for his fine knock, however, after attempting to reach a target that is half his score for the last five years, my heartfelt congratulations were laced with just a tinge of bitter jealously and general nausea.
Well done lads
Up the Oaks!!!
Batting Collapse Costly For the Firsts
Sunday 11 Back to Winning Ways
Seconds See off Odiham
Oakley Well Beaten by Leaders
Sunday 11 Defeated by Crondall
Off Key Firsts Lose at Old Alresford
Oaks Fight Back in Thriller!
Sunday 11 Ease Oakley to a Weekend Hat-Trick
First Eleven Hit Form to Record Third Win.
Seconds Trounce Herriard
Oakley go Down to Waverley
Bad Day for Oakley at Wallop
Oakley at the Double
The Young and the Old(ish) Slay Littleton
Excellent Win For the Sunday 11
Firsts Suffer Defeat at Four Marks
Oakley Sunday 11 Lose at Farleigh
Firsts off to a Winning Start as the Seconds get Washed Out!
Another Win For the Tuesday Six
The Tuesday night team continued their upturn in form on at Dummer with an easy victory over Longparish the other night. Batting first, Oakley put on a par score of 125 with contributions all round backing up a fine start from Jai Solankis and Tom Holbrook and an unbeaten 25 from Julian.
A much improved bowling performance with a reduction in wides and no balls ensured that Longparish didn't ever challenge the total, especially as their side featured a batsman who's painful and turgid innings resembled that of a corpse with pads during the fifth day of a dead rubber test match. Imagine Geoff Boycott being made to look like Chris Gayle in a flamboyant mood and you will get the picture.
Anyway, well done lads, as the newly crowned chairman of the club, I had tears of pride running down my cheeks after this inspired performance as we race up the league table!
A Win at Last for The Tuesday Boys
Congratulations to the Tuesday men's team, winning the first game of the season versus local rivals Overton. Oakley bowled (particularly Tommy Holbrook) and fielded well to keep Overton down to an about par score of 130 before losing Jai Solanki early on. However, Tommy H and Julian Worthington both played intelligently placing shots rather than trying to hammer them and with both retired, Sam Holbrook and George Rutt saw Oakley comfortably to victory with 2 overs to spare. Well done lads!!!
Another Defeat for Thursday Side- 1st November 2012
The Oakley Thursday side slumped to yet another defeat against the Happy Hookers last week. A poor all round batting display left George Lethaby stranded on 18 not out with two overs to spare with a meagtre total of 78 never likely to trouble the opposition with some ease.
Defeats for Tuesday and Thursday sides (23rd & 25th October 2012)
The poor start to the indoor season has continued this week with both the Tuesday and Thursday sides slumping to defeat after poor batting performances. On Tuesday the firsts only posted a virtually un-defendable score of 95 despite 30 not out from Jai Solankis and slumped to a comprehensive defeat.
On Thursday evening the seconds didn't fair much better posting 110 mainly thanks to 46 not out from George Lethaby who was brilliantly supported by 13 year old Lofty Worth for six overs to take Oakley to a score that was at least respectable. Oakley fielded and bowled really well with one dropped catch being the difference in the end.
Oakley need to start placing the ball rather than trying to obliterate the back walls if they are going to start winning, it is not talent, it is common sense.
Thursday 11th October 2012 v Portway Pirates-Indoor League
Portway won by 64 runs
Dermott Reeve reports from Dummer Cricket Centre
Calamitous fielding and poor bowling left Oakley two's with no chance of a victory against the Portway Pirates on Thursday evening despite an excellent 64 not out by Jai Solankis. Wickets were shared by the father and son combination of Bob and George Lethaby with Lethaby senior also running out two batsmen but that didn't stop a ridiculous Portway total of 174 courtesy of some shocking fielding  and bowling all round. Oakley need to improve quickly if they are not to become the Thursday night whipping boys!
Tuesday 2nd October 2012 v Sherfield-Indoor League
Sherfield won with 1 over to spare
Henry Blofeld reports from Dummer Cricket Centre

An average batting display by Oakley allowed Sherfield a straightforward victory at Dummer cricket centre last night. A score of 120 was never going to be enough and despite good contributions from Jai Solankis and Sam Hobrook, the other batsmen lost wickets by poor shots or decision making.
The bowling from Solankis and Lethaby was decent enough and Oakley briefly looked in the game but it was never in much doubt in the end. Oakley will need to improve quickly to get their first win on the board in a couple weeks time and there is nothing to suggest they can't do that.
Saturday 15th September 2012-Whiteditch at Home
Oakley won by 160 runs
Jonathan Agnew reports from Oakley Park
A youthful (except Bob and Clive) Oakley Sunday 11 finished the season in style yesterday with a convincing win over Whiteditch Wanderers. Oakley batted first with Julian Worthington (68 retired) Jack Green (31) Clive Welsman (44) James Lancaster (31) and Alex Brundle (17) helping to add a hefty total of 240 off 35 overs, leaving Whiteditch with a huge total to chase.
Oakley opened the bowling with under 13 players Sam Green and Lofty Worth who both bowled absolutely brilliantly and though it was Sam who took the wickets it was Lofty who applied the pressure with three maidens in his five over spell. The openers were followed by some great stuff by fellow colts Bradley Welsman and Alex Ogden meaning that Whiteditch were restricted to singles and dot balls that resulted in them never getting near the required target. All eleven Oakley players had at least a couple of overs meaning that in the spirit of friendly cricket everyone was involved.
Apart from Clive, Bob and Alex, the Oakley team was made up completely of existing colts or colts who have made the step up to senior cricket this year and that was without other regulars George Lethaby, Dan Sumner and Duncan Dyk playing. The future of Oakley Cricket Club is a bright one.
The highlight of the day came from James Lancaster who brutally smacked FOUR consecutive SIXES in one over, not bad for a fourteen year old.
Well done lads!
Sunday 9th September 2012- St Mary Bourne away.
Oakley won by six wickets
Christopher Martin-Jenkins reports from St Mary Bourne
The Oakley Sunday 11 comfortably won there penultimate fixture of the season at St Mary Bourne yesterday after being set a target of 183 in 35 overs. Wickets from George Lethaby and Tommy Holbrook removed both openers and with St Mary Bourne sat precariously at 30 for 4, Oakley generously took the main bowlers out of the attack to allow a weakened opposition side some respite. However this nearly backfired as the St Mary Bourne middle order enjoyed some crash, bang, wallop shots that started to pay off as the scored fizzed past 100 and then 150, with captain Bob Lethaby facing the prospect of seeing his generosity rewarded with a huge metaphorical custard pie in the face.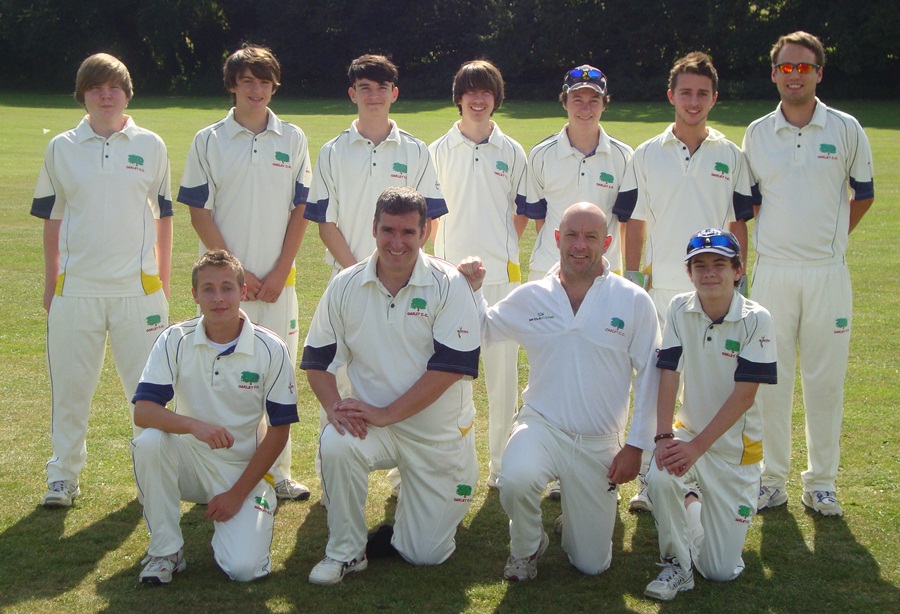 Back row: Dan Sumner, George Lethaby, Jack Green, Duncan Van Dyk, Julian Worthinton, Jack Brundle, Tommy Holbrook Front row: Alex Brundle, Clive Welsman, Bob Lethaby (capt) Michael Worth
However, former colts players Jack Green and Julian Worthington got Oakley off to a solid start with Worthington plundering three fours from the first over. Green was out LBW, perhaps unluckily, when on 15, but this only allowed the arrival of Clive Welsman to blaze a trail with a quick fire fifty that  featured shots of brutality and finesse in equal measure; to watch the dashing Welsman in this sort of form is a pleasure to behold, it was an innings of grace, athleticism and poise, one that us mere mortals can only dream off.
Welsman eventually fell for 58, leaving captain and talisman, Bob Lethaby, to come in to the fray with sixty still required for victory. In the face of extreme hostility from a ten year old girl at one end and a 30 mile an hour pace bowler at the other, Lethaby had to be at his best, it really was a case of cometh the hour cometh the man. After stoically defending the first five deliveries from the 10 year old flame haired female aggressor, Lethaby launched on to the sixth, hitting a maximum in to trees, a great shot from a great player, a shot that for some reason, was greeted with some booing from some supporters.
At the other end, Worthington was looking like he could bat all day and in the end the target was comfortably reached with Worthington (68) and Lethaby (27) both remaining unbeaten. It was a game played in the right spirit in beautiful sunshine in the idyllic surroundings of the Bourne Valley and another Sunday victory for a very young Oakley team (except Bob and Clive) suggests a bright future for the club, at least until they all get girlfriends or clear off to University.