The First XI don't like to do things the easy way and Saturday's match v Hook III was no exception. On a sunny late spring day, with a receding threat of showers, The Oaks batted first and got to work on the Hook top order.
Brad Compton-Bearne was bowling well once again and Tom Barnes showed signs of shaking off some early season rust with the wickets of the two Hook openers. However, The Oaks were still guilty of gifting the opposition too many extras. No one bowled badly but no one bowled especially great either, and it was up to captain, Dan Sumner, to do some damage and curtail the run rate with 4-25 of 8 Overs.
Other wickets went to Will 'The Handsome Farmer' Cheyney, Brad Compton-Bearne and Alex Brundle as Hook finished on 207 including 38 Extras.
Chasing the target, things all went a bit wrong quickly, with Elliot Hennessey, Dan Jones, Alan North and Will Montgomery all back in the hutch, leaving The Oaks on the ropes at 20-4. However, Dan Sumner once again stood firm as the pivotal man for Oakley, slowly rebuilding with Mike Tiley.
Mike has had a bit of a jumpy start to the season (think of a cat on hot tarmac) but he soon started finding his groove in a vital partnership with Dan. Just when the pendulum starting swinging back to The Oaks, Dan found himself smartly caught for 44 and at 94-5 the game was heading back to the jubilant Hook fielders. They knew Dan's wicket was a key one.
However, The Oaks have a habit of using their long batting depth and this week it was the turn of James Bayliss to demonstrate his gallant, balletic, dare I say, pompous batting style. It was great to watch (so I am told) and it wasn't long before James (57) and Mike (63) were putting Hook to the sword in a 105 run partnership to take Oakley to the cusp of victory.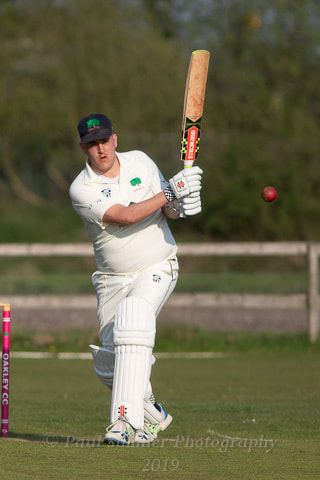 Tiley: A vital 63 (I haven't got a picture of Bayliss).
Of course, there was still time for Oakley to do an Oakley and nearly balls it up, with three wickets falling with just 8 needed for victory. When Will Cheyney was close to being caught and bowled by all accounts, Brad Compton-Bearne nearly had heart failure at the other end.
So, a third win on the trot was sealed by a Brad Compton-Bearne boundary and The Oaks must push on. It was not a vintage performance but one that once again demonstrated there is huge team spirit and character to get through testing times. This was a highly competitive but good spirited test.
The journey goes on.
Weather: Warm & sunny 21c
MOM: Mike Tiley/James Bayliss