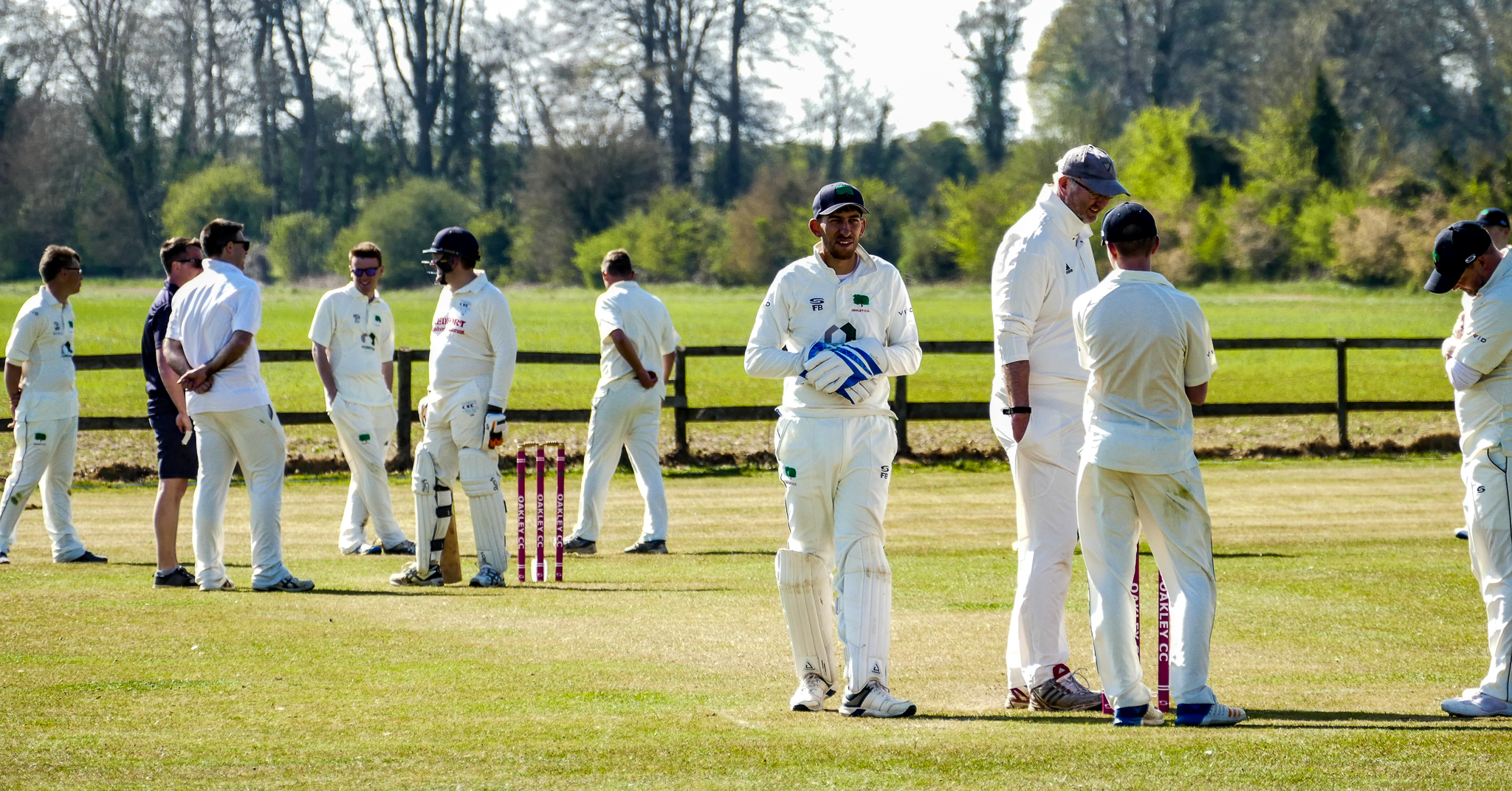 The Oaks had three fixtures at the weekend in beautiful, slightly chilly conditions at the weekend. They all ended in defeat but there was plenty of experimenting going on and results really don't matter at this stage.
Ashford Hill
On Saturday, Jack Brundle took a makeshift Second XI to Ashford Hill and ended up well beaten. However, there were plenty of plus points with Josh Carpenter standing out with bat and ball. There were also good knocks for Gayan Liyanage (28) and youngster, Savinda Sapumanage (16).
Sadly, there weren't many other batting contributions, with only Steve Savage making double figures. This made 110 not much to bowl at and it proved to be the case. However, everyone gave it a go and it is worth noting that 4 out of the 5 bowlers were Colts. Hill cruised to victory and the only Oaks wicket went to Josh Carpenter, who finished with a credible 1 for 16 off 5, featuring 3 maidens.
All in all it was a decent run out but another 50 plus Oakley runs batting would have been better for both sides looking for game time. Never mind.
Oakley Park
Over at Oakley Park, an eclectic Oaks XI played an eclectic Overton XI. It was a high scoring game featuring plenty of entertainment and some big innings.
Overton batted first and got off to something of a flier. This was despite some great opening bowling from colts' players, Noah Beckell and Harry Tucknott. At 13 years old Harry looks like a real star of the future and Noah continues to get stronger and quicker. Harry picked up three wickets and Noah one (and deserved better).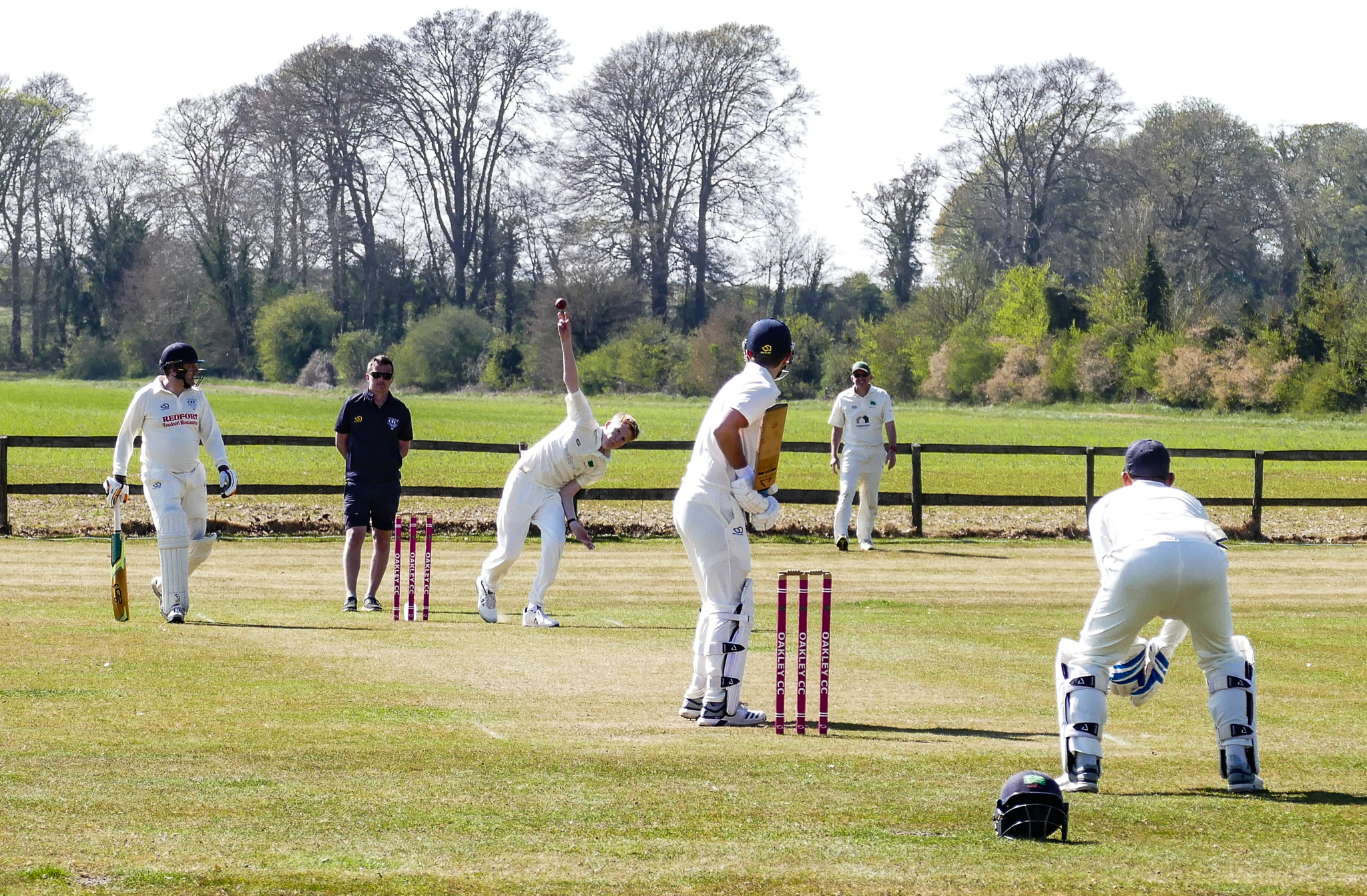 One for the future: Thirteen year old Harry Tucknott picked up 3 wickets
Dave Bowers and Mike De Vos also got amongst the wickets. However, Overton were proving good at piling into anything loose as the scoreboard rattled along (or should I say flickered along?). The Oaks needed someone to put the brakes on the Overton innings.
Could Bob Lethaby be the man? You bet Jesus, Mary, Joseph, and the wee donkey, he could. Steaming in with all the grace of an octopus falling out of a tree, Bob bamboozled the Overton batsmen. His slow ball, slower ball, and reverse quick ball deserved more than the one for 19 off five overs.
Alex Brundle came on late to pick up a couple of wickets and Rueben Hamilton was a little unlucky to not get at least one. The Overton score (268) may have been a few less if Oakley had held a couple of the seven catches that went down. Best to get them out of the way now. There were some shockers.
Chasing the target, Kris Tucknott (19) and Dan Jones went off like a train and were tearing ahead of the target, tucking into anything loose. However, when Dan departed for an excellent 87 and Alex Brundle for a decent 27, a lot rested on Ian Bennett, who couldn't deliver this time after departing LBW.
This left Dan Beckell (29) and Dave Bowers (18 not out) to have good knocks as the total became more distant. Bob Lethaby came on late and hit a couple of shots that almost resembled something a cricketer does. However, he was caught and bowled by opposing chairman, Ian Clarke. Fittingly, it was the last ball of the innings.
The Oaks finished 44 runs short in what was a game contested in a great spirit by both teams
Village Cup
On Sunday, The Oaks travelled to Paultons CC for their obligatory Village Cup defeat against a team from a higher league.
Alex put out a decent side in what would be a great test of character for the lads. It turned into a good work out for all the players, despite the result.
Batting first, in-form Dan Jones went early, but Will Cheyney held firm. After last week's super golden, Will must have been as nervous as a chicken when Mr Fox is in the vicinity. He didn't show it though. Backed up by a gritty Matt Burrell, then Clive Welsman, Will hit a lovely 50 that will do him the world of good.
Thereafter, cameos by Clive (25) Ian Bennett (17) Will Montgomery (21) James Bayliss (9) and AB (20) aided the score along to 165. A moderate target but a good effort all the same.
Defending the total, young Josh Carpenter was awesome once again and was so unlucky not to get an early wicket. In fact, everyone bowled well, and Clive Welsman even gave the Oaks some hope with three quick wickets. Two of them were courtesy of a couple of smart stumpings from James Bayliss.
In the end, Paultons won with reasonable comfort but Alex was chuffed with the spirit throughout the team ahead of the new season. Dealing with the loss of several key players is going to make it a tough season after years of success. With that in mind, it is great to hear of players stepping up and ready to step up further. There is a feeling off opportunity amongst formerly peripheral players and that is a good thing.
Well done to everyone who played at the weekend. We move onwards and upwards as the real season nears.