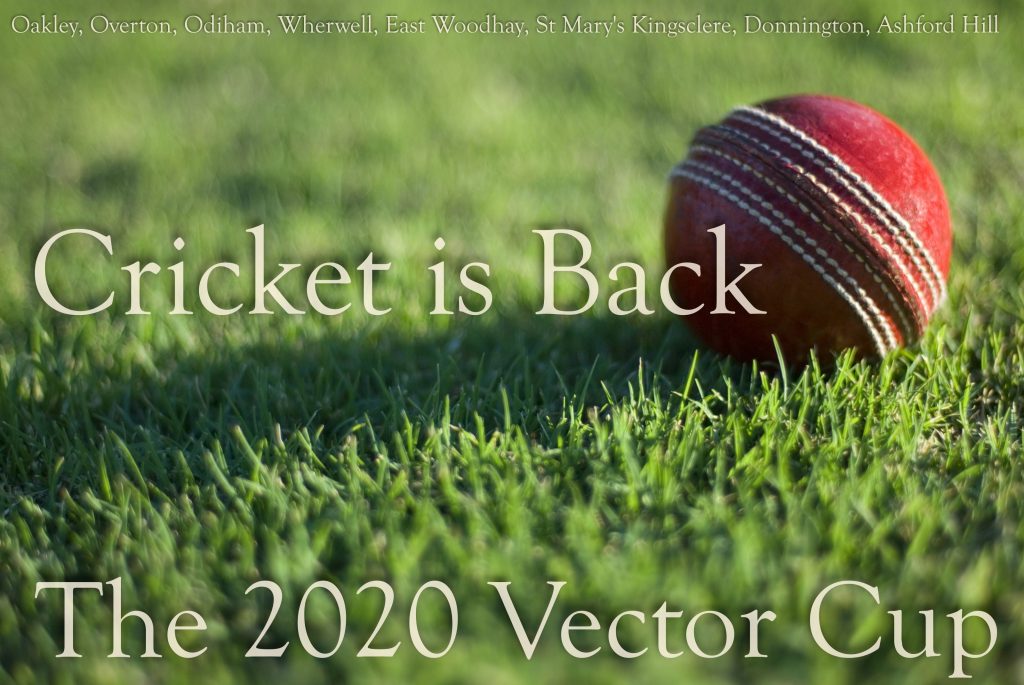 The sun shone on the righteous as the Vector Cup got under way at the weekend, with all games completed.
Division 1
Oakley had a reasonably straightforward victory at Ashford Hill, chasing Hill's 195.
Hill put on a reasonable tally courtesy of a decent showing from the middle order, with Raki Perera (42) Jeral Cooper (19) Matt Pedley (62) and Pete Ballard (22) all batting well. Oaks wickets went to Sumner (3) Cheyney (3) and 1 apiece from Elliot Hennessey, Ian Bennet and Brad Compton Bearne.
An Elliott Hennessey ton and an unbeaten 82 from Dan Sumner took Oakley to victory in 27.5 overs but there were two late consolation wickets for Axel Du Plessis.
The favourites of many, East Woodhay gave Wherwell an arduous afternoon with Tom Flack (118) and Joe Lawrence (121) in blistering form on a great track. George Walters also made 27. Ollie Emslie, Matt Cutts and Harry Trebert took the wickets for an exhausted Wherwell.
Matt Cutts (79) provided resistance but 301 was always going to be a tall order and Wherwell were all out for 196. Wickets were shared throughout the Woodhay bowling, with Johnson (2) N Teague (2) Elliot Teague (2) Cameron Flack, Rob Prince and Henry Chapman in on the action.
There was a much tighter and low scoring affair at Overton, where the home side were narrowly beaten by Odiham & Greywell in a good spirited game. As is often the case, Overton's star man with the bat was Sam Miller, who made a classy 64.
However, Damien Smith (21) was the only other batsman to get into double figures as Becky Hartnett (5 for 11 off 6) had a day to remember leaving Overton all out for 143.
Odiham scrambled to victory largely due to George Acheson-Gray (24) and Dan Walker (37) with Phil Thomas (16) finishing unbeaten. Nick Tomlin (2) Sam Miller (2) Damien Smith (2) and Charlie Grey picked up the Overton wickets.
Division Two
In Division Two East Woodhay II overcame Donnington in a decent match up. Woodhay put on 207 with Ben Swingler (41) top scoring. Adrian Waters was the pick of the Dons bowlers with 3-46. Unfortunately, Play Cricket is not yet showing the Donnington scorecard but they finished on 180.
Oakley II beat Kingsclere who never really got going, with 33 from Roger Jones and 28 from Steve Hanney being the only scores of note. Rav Kancharla and Jeff Triner picked up 3 wickets apiece for The Oaks with youngsters Nathan Rabley (2) George Fox and Josh Carpenter also in on the action as Kingsclere stumbled to 129.
Chris Morris lead the Oaks to victory with a jug avoiding 49 whilst Jeff Triner (18) Brad Welsman (18 NO) and Michael Wood (16) also contributed. Edward Browning (3-17) was the pick of the Kingsclere bowlers.
Bruce Applin (41) and Roger Wiltshire (31) aided Odiham II's to 172 versus Overton II's with Henry Deacon (5-21) the star of the Overton bowling, whilst Andy Gould picked up a couple.
Overton look well on course for victory with Toby Deacon (40) and Andy Pett (23) aiding them 98-4 before a collapse left Alex Britten (15 NO) stranded. Bruce Applin (4-48) completed a fine all round showing with Sean Merriman also picking up a couple of wickets as Overton fell short by 32.
Division Two favourites, Whitchurch, made short work of their game against St Mary's, rattling out the churchmen for just 138. St Mary's runs came from Tom Lee (36) Russell Hawkins (20) Mike Richardson (25) and Lakky Vankata (21). Zain Fredricks (4-17) and J Dancer (2-19) shone with the ball in hand for Whitchurch.
Steve Williams (72) and J Dancer (55) completed the job in just 24.3 Overs.
So, that sums up week one in the Vector Cup. We can already see who will be the teams to beat, but as is always the case in village cricket, a few players missing here and there, or a loss of form. can spring plenty of surprises along the way. Hopefully we will see a few tighter games as the season goes on.
The most important thing is that everyone gets some decent cricket and enjoys being out there again. Well done to everyone for taking part and let's hope the sun keeps shining.
Cheers!