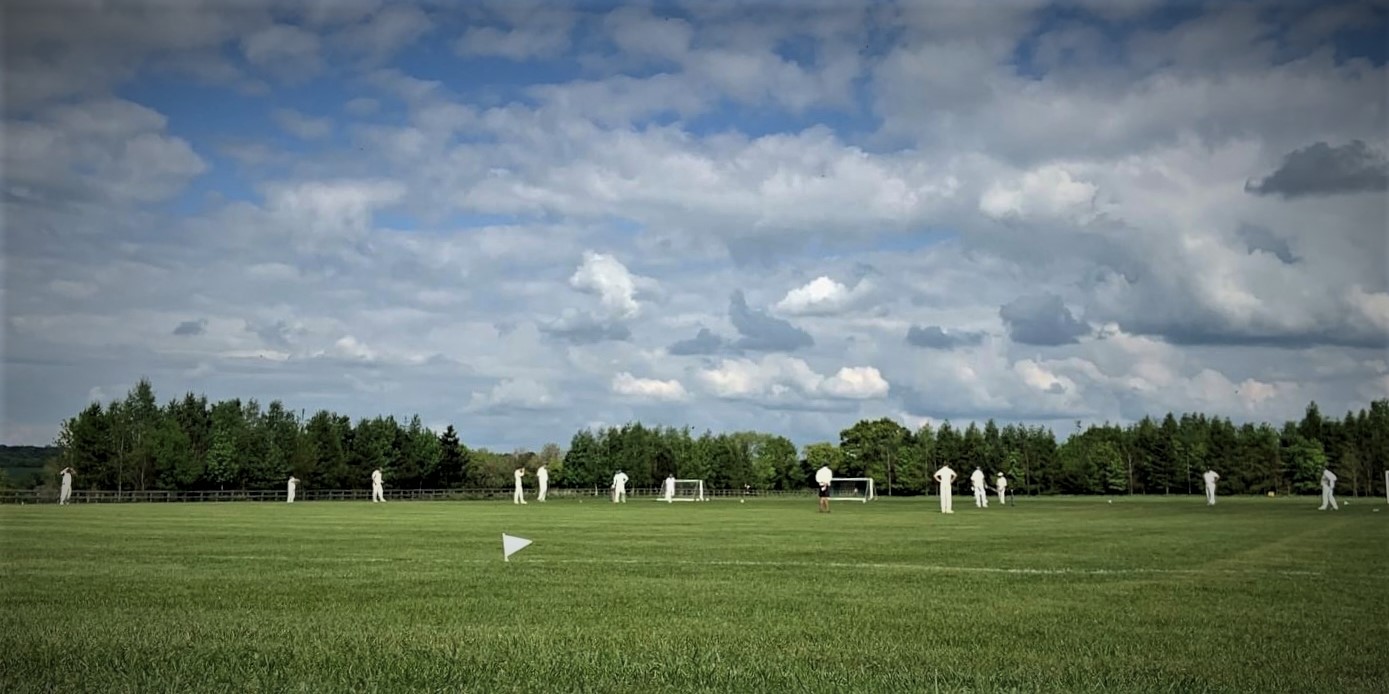 Report from Third XI correspondent, Oliver Rabley
The 3s came out on top in a low-scoring and good-natured friendly at Overton between two evenly matched sides.  It won't ever go down in the record books as a feast of cricket, but it turned out to be a good workout for most.
Winning the toss on a greenish-looking Berrydown special, skipper Kris "Big Kris" Tucknott invited the hosts to have a bat. Going with a traditional Old 'Un / Young 'Un combination of Alan Howarth and Logan Barter looked like a good call.  Alan hit a consistent line and length and picked up an early wicket. Logan found some life in the pitch and was unlucky not to find an edge anywhere.
Ball of the Century
The first bowling change brought on James "ball of the century" Middleton.  Leg spinners are always looking for that ripper that bowls a batsman around his legs. James showed he has that in his locker on his way to a 4 wicket haul.  At the other end, Adam Triner was also keeping things tight and picking up wickets. For a while, the prospect of a 5 wicket jug was interesting to the rest of the Oaks team. But both James and Adam declined the opportunity that was on offer. Clearly, the highlight of Adam's wickets was the salmon-like leaping catch that Ollie took at point.  (* Editor's note: some poetic license taken by the author here).
The Diamond Lights boys came on to wrap up the innings with a wicket each for Avi and Ravi.
A Daunting Target?
A score of 53 did not look too daunting.  But the adage of not judging a pitch until both teams have batted came to the fore here.  Deano was sent out to open with Savindhu Sapumanage.  Deano was soon back in the hutch, as a result of what some might say was a controversial LBW decision.  Unfortunately, DRS has not yet found its way to the lofty heights of Hampshire Division 6 grounds and was unavailable to confirm whether there was an edge or whether the ball might have been drifting down the leg side.  So the umpire's decision stood.  Some might say that should always be the case.
Savindhu the set about trting to heave every other ball onto the B3400.  He raced along to 23 while Ollie and Logan decided not to hang around too long at the other end. Ravi and Adam looked to rebuild the innings as it became clear that that 54-run target could be a challenge. Overton's bowling was tight, including a run of 6 consecutive maidens. Ravi was getting bat to ball with a regularity that kept the onlooking Oaks supporters believing.  If only enough wickets could be kept intact….
With James, Alan, and Kris falling, it was left to Avi to come in, block out one ball, and then watch as Ravi expertly drove the winning boundary through the slips. I'm struggling to remember if Hoddle and Waddle had another hit. So it could be said that those Oaks heroes have more success on this one day than the mullet-headed footballing icons turned pop superstars.
On we travel.