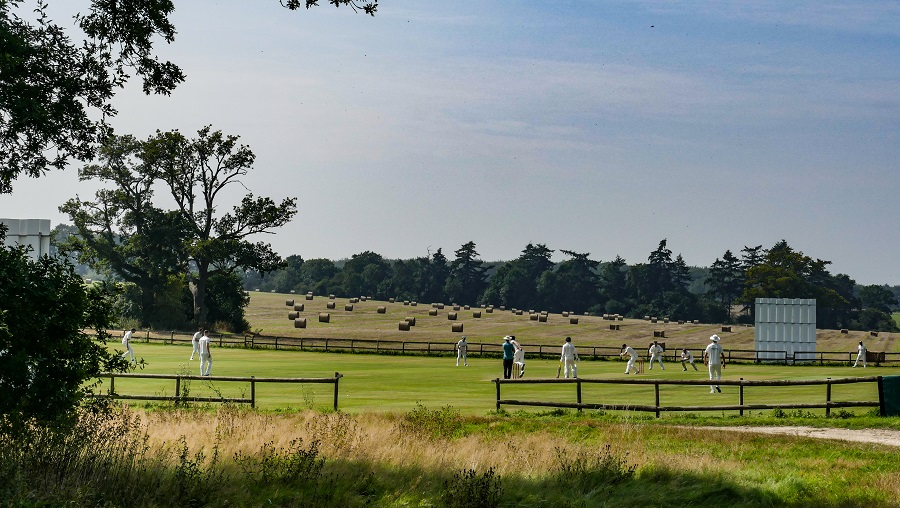 The Oaks entertained the Tabard Pilgrims yesterday at a spectacular and picturesque Oakley Park. It was one of the days where one could imagine what the cricket days of summer 2021 were supposed to be like.
Oaks Bat First
The Oaks batted first and had to face up to some decent bowling early on. This made it quite a competitive affair, with Ian Bennet in particular, struggling to get runs. A big cheer went up when he finally creamed a trademark 4. Ian loved it.
However, Ian departed for 12, along with Dan Sumner (23) and rookie, Noah Beckell (11) who showed encouraging signs for the future. At 71-3 for 3, the game was in the balance but an aggressive partnership from George Lethaby (42) and Will Cheyney (31) turned the tide.
When Will departed, chair, Bob Lethaby, got to bat with his son for the first time this summer. He played 3 good defensive shots and a push for one run that resembled something you do when playing cricket. That was as good as it got though, and Bob got bowled by the easiest ball he faced. This resulted in him walking back to the pavilion whilst biting his bat handle. He did this to avoid swearing in front of regular Oakley donors, Mark and Janis Crickett.
Cameo Roles
George, visibly distressed at the loss of his dad, departed soon after, and we were heading down the route of small cameo roles. Alex Brundle made 9 and Steve Savage 4, before some inexplicable entertainment in the face of someone bowling for what appeared to be, the first time.
This resulted in Jeff King getting done by a high full toss that nearly hit a passing plane before landing behind a caveman heave and rolling onto the wicket. Not to be outdone, Nick Green, a one-off kind of character, piled into another looping full toss and let go of his bat. Bob, now the square leg umpire, was just a foot or so away from a trip to A&E with injuries that he would struggle to explain to bemused nurses.
In between the chaos, James Bayliss was having none of this nonsense and sensibly batted himself to 32 not out. More importantly, this aided Oakley to a reasonable total of 218. If there are free runs to be had, James will take them like taking sweets off a toddler. He is that brutal.
Tabard Response
When The Tabards started batting, it was clear they had some quality top order players. On several occasions, they gained the upper hand in what was becoming quite a competitive, even slightly feisty affair. This was a good thing, as it kept everyone interested, rather than wilting in the heat.
As a unit, The Oaks bowled very well to stay in the game. Remarkably, it was Nick Green who made important breakthroughs, removing both openers, whilst Jeff King and Ian Bennet, fought hard during the tough early overs. The other key wickets were that of a tidy batsman run out by Will Cheyney and a very useful, busy and fiery chap, caught smartly in the deep by Dan Sumner off the bowling of AB. AB took two more wickets in a great little spell.
James Bayliss also picked up a couple, whilst Bob Lethaby was at his brilliant best, stifling the run-rate and unselfishly allowing his team-mates to grab the wickets that were rightfully his. His maiden that created the run-out for the senior Tabard's batsman, was death bowling at its brutal best.
This effectively put The Oaks in command with Will Cheyney and Dan Sumner picking up the wickets that wrapped up a 35-run victory. It looks like a straightforward win, but it was in fact, a good little contest enjoyed by both teams in a very good spirit.
Hanging Around for Beer and Food
After the game, everyone hung around for beers and a barbecue as a balmy summer evening went from sunshine, to dusk, to autumn darkness. In what has been a wet and cool season, it was a bittersweet reminder of what summer should be like and how enjoyable recreational cricket is, even if the result is not that important. The Tabards are always good visitors and the pleasure they gain from playing at Oakley, reminds us not to take our little corner of north Hampshire for granted.
It really is a beautiful place to play cricket and socialise afterwards.
Up The Oaks