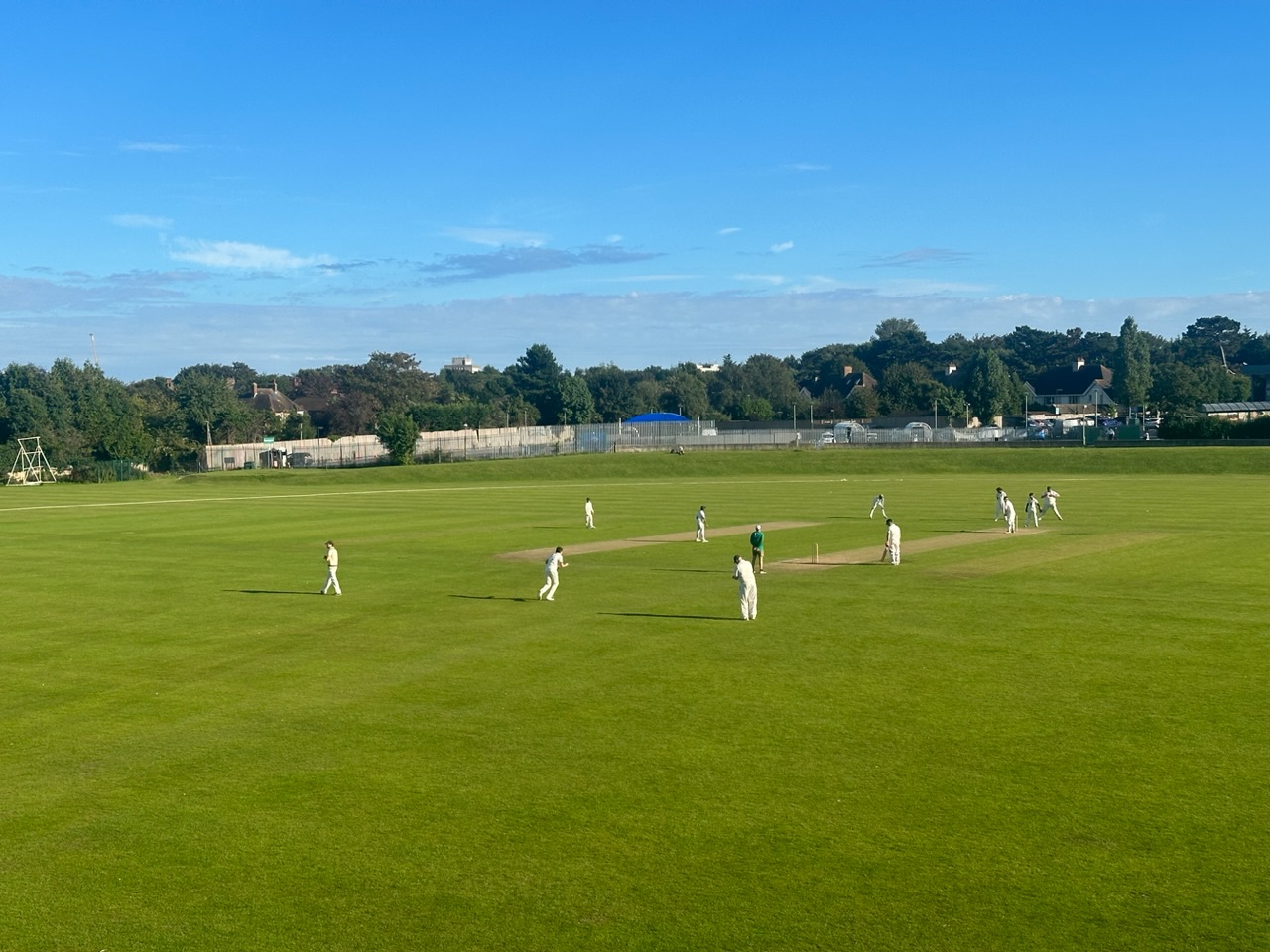 Oakley CC rocked up at sunny Folkestone today, low on numbers but high in confidence. Depleted numbers meant that out of retirement came Gordon Scott and Paul Sumner. Sumner had remained determined not to play until his third pint last night.
Folkestone batted first and were met with some tight bowling from George and Oaks debutant, Ved. However, some classy batting, in particular from Malik (he was bloody good, that lad) ticked the score along. It took a smart run out by Ved to take the first wicket (Hunt) with the Folkestone umpire delighted to give it. Some history there, one thinks.
Malik went on to retire on 50 soon after Dan Sumner had removed Wheeler, and further cameos pushed the score along. AB and DJ followed with some surprisingly tight stuff restricting the score to a sensible level. Further wickets came for Ved and Nigel (beat his) Bishop, whilst veterans, Bob Lethaby and Gordon Scott put on a death bowling masterclass, going for just 11 off 3 overs late on.  Folkestone finished on 157. Gettable?
The Chase
The Oaks opened with the Sumner father and son partnership, hoping to make a good start. As a classy athletic batsman, who runs well between the wickets, it was hoped Sumner would get The Oaks scoreboard racing along. However, he was using a runner, so had to rely on his son, Dan.
Paul departed for a cultured 2 and when Dan was cleaned up for 8, victory seemed a long way away. Billy put on 3 more runs than expected whilst our other ringer, Stan, contributed 6. It was a nice six mind. In the meantime Brad had arrived at the crease and was in nuthouse mode, smacking the ball to all parts.
Brad Better than Kohli?
One such shot came off the bowling of a chap who is a practice bowler for when India tour England. Brad discovered that this chap had not been whacked for a six all season and had once cleaned up Indian superstar, Virat Kohli. After utilising the calculator in his head, Brad later concluded that this meant he was better than Kohli. It's an assessment Kohli couldn't argue against, mainly because he wasn't on our train.
However Brad needed support. It was vital that someone could set up the game for George and Nigel to take us to the brink of glory. Someone who could face 7 balls for no runs, whilst taking two clean hits to the bollocks. Enter the chairman. "You keep slapping it Brad, and I'll take a couple square in the bollocks", said the chair. It was a selfless masterclass played to perfection.
I'll Have a G&T
For purpose of a good sub title, I have pretended Nigel is called Terry and George is called George, because he is. However, it isn't really Terry. Nigel started his innings as second fiddle to Brad who raced to a fantastic 50. However, when Brad departed Nigel had to move up a gear if victory was going to to be achieved.
He was joined by George, who saw himself in with consecutive 4's. G&N moved along nicely, riding their luck a little whilst also playing some glorious expansive stuff. George even gave their overseas player some tap that looked great from the balcony. However, he later admitted that two 4's came using the tactic of "closing my eyes and running at the fucker". One for the cricketing textbook perhaps? 'The cover drive', 'the cut', 'the hook', 'the on drive', 'the ramp', 'the sweep', 'the down three pints, close your eyes and run at the fucker'. Sounds good, I'll get in touch with Wisden.
Scotty Takes us Home
Just as it seemed victory was ours, Nigel (25) then George (29) departed. AB followed followed for a well constructed duck, leaving it down to DJ and Scotty to see us home. With ten still to win it was a concern. DJ was on his way to being a wee bit tipsy and Gordon was well on his way to a night being assessed at Folkestone A&E. It wasn't ideal.
But do you know what, they only ruddy well took us home. With a couple of threes that their running turned into ones, these two heroes guided us home. As the final runs were scored, there were tears of laughter, poignancy and joy, on the balcony. As Gordon walked from the crease, he was greeted by everyone with hugs and handshakes. "You're the man Gordon, you're man!", bellowed the chairman, wiping tears from his sunburnt face. It was just like when Broad to the final wicket at The Oval. Sort of, anyway.
We move on to Nonnungton Cricket Club in good spirits.
WE DO NOT LET THIS SLIP!!