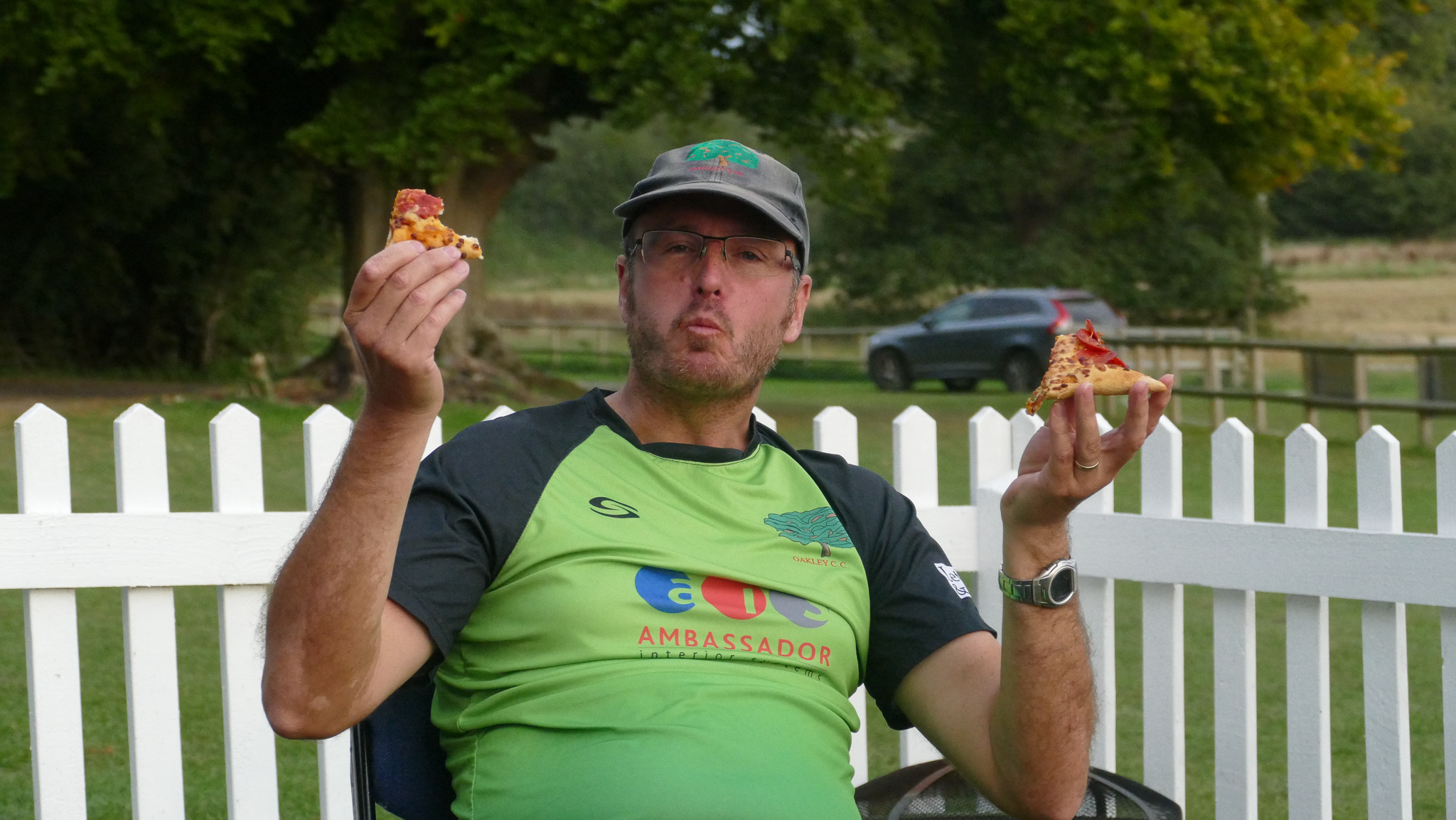 The Oakley first team picked up a win in their final game of the Vector cup as they won by 87 runs against Odiham on Saturday. I don't know what changes were made since last week but it looked like a usual first team selection, with Dan 'DJ' Jones returning to the team after a spell in the twos. Some laughed at his selection, but they would later be made to eat their words…
Having lost the toss, the Oaks were put in to bat, opening with Will Cheyney and captain Dan Sumner. The Oaks got off to a flier, scoring 48 off the first 5 overs of the game. A change in the bowling slowed the Oaks down as Will was out for 10 and Elliott Hennessey soon followed. James Bayliss joined Sumner at the crease as the Oaks looked to slowly rebuild. Sumner was dropped on 32, and he looked to cash in once again, soon bringing up another 50, this time off just 43 balls.
A solid partnership was eventually broken as Bayliss departed for a very well crafted 14, as Odiham bowler T. Wiltshire picked up his third wicket of the game. Michael 'Woody' Wood came to the crease at 5, looking to show that he belonged in the first team and boy did he show it. As the Oaks passed 100 at the 20 over mark, they looked to push on again as they had earlier in the innings in search of a big score. Unfortunately, it meant that Sumner's excellent innings would come to an end and he was sharply caught and bowled off P. Thomas for 68. Thomas then picked up Hugh Croft, batting at 6, with another great caught and bowled effort.
Sunday captain Ian Bennett joined Woody at the crease as the Ones looked to keep scoring despite being 138-5. Woody and Ian's blossoming partnership came to an end when Oakley reached 168, as Woody was caught behind for an excellent 45 and honestly deserved a 50. He was too busy complaining at scorer Billy Turner for not adding his runs up properly as he approached his 50, which might have caused him to lose focus. Why he doubted the scoring of Turner, who was only 5 Coronas deep at this point, we will never know, but it as a great innings nonetheless which helped set a platform for the Oaks and proved that Woody could certainly deliver in the Ones.
DJ joined Ian at the crease and looked in great knick, hitting a nice 4 through the covers. Ian looked in the mood to score some big runs, playing an incredible reverse sweep for 4, before he was eventually out for 17. Clive Welsman joined DJ with the Oaks 175-7 with 5 overs left. Before he went out to bat Cheyney betted DJ that he would not score more runs than him, which proved to be a rubbish bet as DJ motored past double figures. Cheyney still owes DJ 3 Jagerbombs as I write this. As the Oaks eyed 200, they lost Welsman for 11 with an over still to go.
DJ was joined by Alex Brundle who looked to make sure the last over was a good one. DJ was caught at Mid-On as he looked to get a boundary for the Ones, departing for a useful 13. Josh Carpenter came out at 11 and was soon out in the last over looking to score quick runs, leaving Brundle 4 not out as the Oaks posted 198 all out off 39.4 overs. We are fairly certain it was 198 as Billy confirmed with the Odiham scorer to ensure they got the same score because honestly he was starting to fall apart.
The Oaks went out to bowl feeling confident they could defend their score and end their Vector Cup campaign in style. Carpenter and Welsman opened the bowling and the Oaks were soon within the wickets. Carpenter in particular bowled spectacularly, picking up both openers and the Odiham No. 4 in his opening spell. He could have easily picked up more wickets as he found the edge of the Odiham batsman many times, with some going for 4 and others being well caught. Early catches went to Woody, who took a superb diving forward catch at gully, a sharp slip catch by Hennessey and a good grab by Wicket Keeper Bayliss. Every time Josh got a wicket, his father Phil came over and asked what his figures were, his smile growing each time he came over. By the end of the game, he was grinning like the Cheshire Cat.
Odiham found themselves 27-3 early on, leaving the Oaks fully in control at this point. Josh came off after his excellent opening spell and was replaced by Brundle who looked to continue the work of Josh. Clive remained on at the other end and picked up a deserved wicket, sneaking one through the defences of the batsman to bowl him, leaving him with figures of 1-26 off his 8 overs. Given the majority of the overs Odiham bowled were by spinners, Sumner looked to continue this trend and brought himself on. He bowled very tightly and was unlucky not to pick up a wicket, bowling 5 overs for just 12 runs and bowling 27 dot balls out of 30.
Meanwhile, Brundle continued to plug away at the other end. Odiham looked to counter attack, hitting his first 2 overs for 21 before he picked up the fifth wicket of the game. T. Wiltshire (yes him again) was looking good until he popped one up in the air which was caught by Croft at square leg, departing for 37. This seemed to signify the end of Odiham's resistance, as Brundle picked up another 2 wickets both were once again caught this time by Sumner and Croft respectively. This left Odiham 88-7 as their hopes of winning the Vector Cup looked gone. Brundle ended up only giving up 12 runs off his next 6 overs after being hit earlier, ending with figures of 3-33 off his 8 overs.
Looking to finish the game off, Sumner put on another spinner, DJ, and also returned to his opening bowler Carpenter. Josh soon had a fourth, finding yet another edge which was caught well (another catch!) by Ian. This left Odiham 110-8 and Josh had figures of 4-34 off his 7 overs. Not wanting to miss out on the wickets, DJ wrapped the game up in his second over taking the final two wickets with the first and third balls of the over. Sumner took his second catch of the game with a great effort on the boundary before Hennessey's second catch sealed the match. DJ ended with figures of 2-1 off 1.3 overs (Who's writing LOL in brackets now).
All this meant that the Oakley First team bowled Odiham out for 111 (Nelson), securing victory by a margin of 87 runs. All the players deserve credit for their excellent fielding, especially their catching as 9/10 of the Odiham wickets were out caught. Catches do win matches after all. A big mention should go to Josh Carpenter who got the wickets his bowling over the season has deserved this week, his perseverance finally paying off. Also well done to both Sumner and Woody, whose runs helped set the platform for Oakley success.
As for the Vector Cup campaign, the First XI finish with a strong record of Played 8, Won 5, Lost 3, with 2 matches being called off. It was not enough the win the cup though, so congratulations to the winners, East Woodhay, who managed to impressively win 8 out of their 9 matches this year. The Oaks can take a lot of confidence from the Vector Cup into next season, as they look for yet another promotion. As always, thanks to our visitors Odiham, who were more than happy to put money behind the bar and help Billy with the scoring (normally he wouldn't need it but this week he really did). In fact, thanks to all the teams who took part in the Vector Cup this year, it gave us all something to play for in what has been a drab year so far.
And with that, the Oakley First XI ended their season in style, a fitting end to what turned out to be a very enjoyable season. It was also fantastic to see players from the First, Second and Third teams have a drink after the match to celebrate the end of the season. We truly have an amazing club full of equally amazing individuals. Some members continued the celebrations way into the night by heading to Winchester for drinks. From what I remember, social distancing was in place but to tell you the truth I remember hardly anything. The off season will surely be a positive one with the recent news of a clubhouse extension and refurbishment being granted, which will help set the stage for what will undoubtedly be another excellent season in 2021.
In the meantime, as always; Up The Oaks!