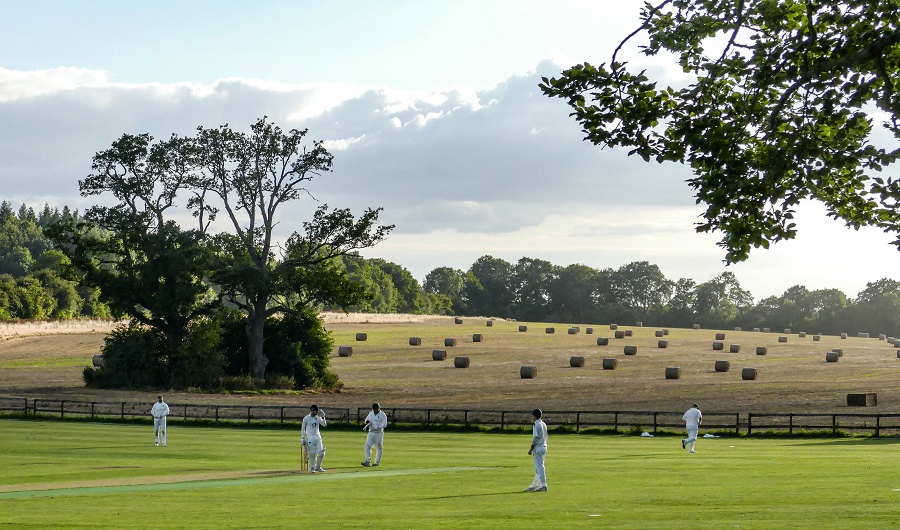 The First XI failed in their bid to exit County 2 on a high yesterday, after a narrow defeat to promotion chasing Ferndown.
On a day when late August struggled to decide if it was summer or autumn, Ferndown batted first, looking to pile on the runs for vital bonus points. However, The Oaks got off to a flier with an early wicket for Stefan Kaltner.
The game then swung back and forth without any control taken by either side. Further wickets for Clive Welsman and Neil Robinson and a direct hit run-out from George Lethaby, left Ferndown 11-4 at drinks. It seemed like parity and was a fair reflection of some decent cricket all round.
Pressing the Accelerator
In the second session, Ferndown began to press the accelerator. The Oaks ground fielding was excellent but once again, a couple of catches were dropped. Ferndown took advantage and got to 200-4.
A flurry of run outs and another wicket for Stef, pulled the last two Overs back, with Ferndown ending on 206. A decent but not frightening total.
Much depended on Brad Compton-Bearne getting The Oaks off to a flier. Brad took quite a lot of stick from the Ferndown fielders who, presumably, knew he was a key wicket. What they didn't know, is that you can't sledge Brad, because he doesn't give a toss.
A Chaotic 43 From Brad
Will Cheyney went for 7 and Brad went shortly after (caught on the boundary amongst ecstatic scenes) for a typically chaotic 43 off 30 balls. Another three or four overs from Brad and The Oaks would have been in the driving seat. It was not to be, and Matt Burrell and Dan Jones set about rebuilding.
It was a good partnership too, with the pair putting on 115. However, after the departure of Brad, Ferndown had done well to get on top of the run rate that was slowly increasing. Both Dan and Matt departed on 46 with only one added between their wickets. This left the middle-order to have a go at the returning openers.
Quite frankly, the bowlers were too good. Neil Robinson, Alex Brundle, Josh Carpenter and George Lethaby struggled to get bat on ball. It was excellent bowling, and it left The Oaks 12 short of the target. Ferndown celebrated but not as wildly as they would have hoped. Other results meant another promotion push had fallen short. They were arguably the best bowling outfit we had seen this year.
Heading Down but Moving On
So, for The Oaks, it is back down to County 3 after the briefest of stints in the second tier. We can point to not playing rain affected games against relegation rivals and losing key players to Covid, just when we didn't need it. Things may also have been different had Stef and Neil been available from the start of the season.
It sometimes seems that when you are down, you get kicked. However, if we bowled less wides and took relatively simple catches at key moments, we would not be going down. These are basics of the game that we have not needed to be great at in the past. This is because mistakes get lost in the more shambolic games at a lower level. Drop a batsman in County 2 and it is likely he will punish you for it.
If we learn from the errors and tidy up the basics, we will bounce back strongly next year. Everyone stopped for a beer afterwards and all the talk was about coming back as a better drilled team. All the players want to return next season and with a couple of new additions and emerging colts, we look in great shape for the future.
On we must travel.
Up the Oaks