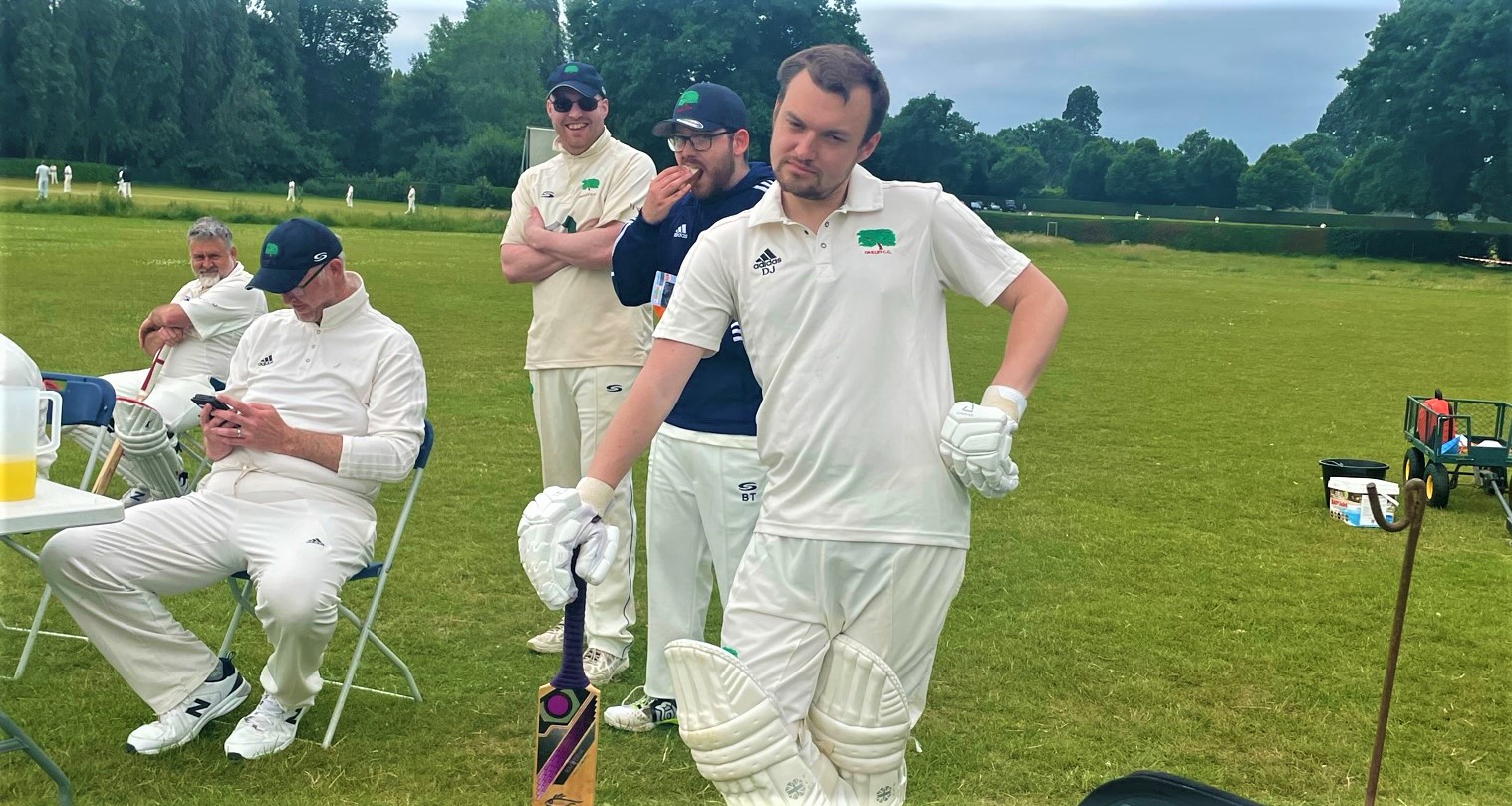 Quite how the Third XI got a team out yesterday, is anyone's guess. With social media, parental persuasion, and the classic 'Dad filling in' situation, we somehow got there.
Enter Fuller the Turgid
On an odd day, where the temperature fluctuated between that of Mumbai and Greenland in the space of a couple of hours, The Oaks batted first. Skip, Kris Tucknott, had been advised by wily old chair, Bob Lethaby, to open with Stephen Fuller. Fuller, claimed the chair, was the type of turgid, miserly, and tedious batsman needed for…well, a batting line-up without many batsmen in it.
Steve didn't disappoint, digging in, stoutly refusing to give up his wicket on a pitch that was offering enough spite to shatter your ankle with one delivery and remove your front teeth with the next. Steve lost Ryan Parry as his partner early on, bringing Jeff Williams to the crease. This would be interesting.
Trigger Time
Jeff, a volunteering parent, had given us some encouragement before the game. It appeared he knew what cricket is, which is always a bonus. After telling us of his successful career at Whitchurch and Andover, Jeff strode to the crease. He had an organised looking swagger that told us we could be in business. Then, the unthinkable…Jeff got triggered. For those of you who don't know, 'triggered' means given out LBW when there were countless reasons not to be given out LBW. Jeff was livid, but not as livid as Billy Turner, who was close to getting sedated, then straightjacketed.
It was a big blow, as the Oakley tail, if we are to be true to ourselves, started at number 5. If we were to be even truer to ourselves, we had three batsmen in the team. Jeff was one of them. However, we still had skipper, Kris Tucknott. Kris proceeded to build a steady partnership with Steve, who was battling on with no little obduracy.
Kris and Steve put on 40 odd and The Oaks looked like they might get a defendable score. However, when Kris departed for 25, Aldershot were, albeit unwittingly, into the tail. Sav Sapumanage and Bob Lethaby hung around gamely as Steve continued in his role as a flamboyance antichrist as watching birds fell out of the trees. Steve eventually went for the most valuable 28 runs from 30 overs ever witnessed in the history of cricket. It was a job nearly done and Bob felt oddly proud of Steve, as it was the innings, he (Bob) had predicted with, it turns out, unnerving accuracy.
A Late Flurry and a Harry Entrance
As the innings drew to a close, Billy Turner, Alan Howarth, and Deano James scrambled a few runs and extras to add to the score. The Oaks somehow passed a hundred, a milestone for the club and indeed, Deano, who avoided his fifth successive golden duck. Watching Deano acting like a seasoned pro when guiding Oakley's most reluctant ever debutant, Harry Lethaby, to the crease, was a sight to behold. "Come on Harry, it's an easy game is cricket. Look at me, I've just avoided a fifth consecutive golden duck".
Incredibly, after getting a bit of a peppering from the nasty bounce, Harry survived to start and end his Oakley career unbeaten. He was asked if he enjoyed it and gave an expression fitting of a young man who would have rather placed his testicles in a food blender. However, his little stand with his tutor, Deano, yielded 5 runs, taking the final score to 118.
Time to Bowl
Bowling, Kris opened with Rav Kancharla and Sav Sapumanage. Rav, still a bit exhausted after a bout of Covid bowled well but didn't get reward. Sav bowled some jaffers, taking an excellent wicket to make a breakthrough. However, he didn't quite have the control to defend a low target on a pitch with an uneven bounce. This was demonstrated, when Harry Lethaby, stopped one on the boundary with his chin. He hadn't had so much fun in years.
Bob Lethaby came on to slow things down and succeeded. He pulled The Oaks back into the contest with two wickets and with Alan Howarth now bowling a similar length, Aldershot were struggling for a while. However, a couple of standard catches went down and with some lusty blows coming amongst the near misses, it wasn't to be The Oaks's day. A late consolation wicket for Kris Tucknott got Aldershot 5 down. Aldershot completed victory as the clouds gathered and the temperature plummeted. It was time to retreat to the bar to hear some of Deano's tales of the day, several times over.
So, the Oaks lost, but they played the game against the odds. To get from seven players to a full side is testimony to the spirit of the people associated with the club, closely or tenuously. We would like to thank Harry, Jeff, and Steve for responding to our call to arms. For that reason alone, it was a good day for Oakley Cricket Club.
We move on.