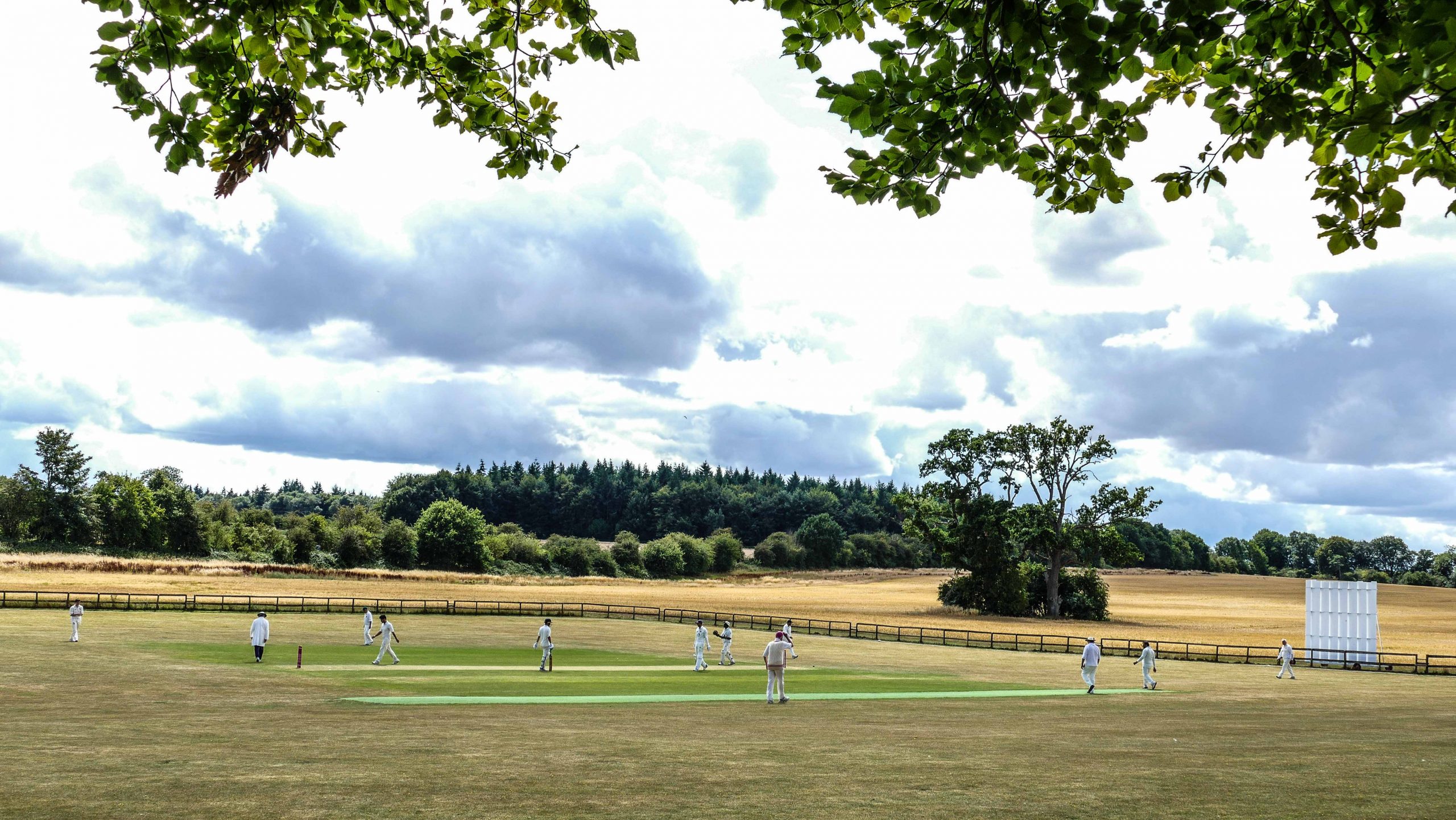 The BBC Bushmen were the guests at Oakley park yesterday and what a cracking game it turned out to be.
On a cool day with only fleeting glimpses of summer, The Oaks batted first. George Lethaby and Alex Brundle made a steady if not slow start against some decent bowling, before a minor collapse. George went to a quicker ball, followed by Ben Coulter who played an in swinger onto his own stumps. The stage was set for Bob Lethaby, a non-specialist number 4, to steady the damaged Oakley ship.
Could he repair the damage and get the mighty Oakley ship buoyant once more? The simple answer is, no, he couldn't. An in swinger he had been prewarned about, went through a gap between bat and pad that Pavarotti could have walked through and that, ladies, and gentlemen, was that. With vomit rising up his throat at an alarming rate, Bob departed and in came Ian Bennett. Big, proud, and always good value for a crap joke with the wicketkeeper, Ian was soon pumping the ball all over Oakley Park and beyond, as AB also went through the gears.
A 90-run partnership ensued but when AB was out for an excellent 57, The Bushmen got back in it with the quick wickets of Simon Dutton and Will Montgomery. Dan Sumner steadied the ship, allowing Ian to move into the 90's, where inexplicably, he went to pot. Rather than playing as he had done, the nervous 90's overwhelmed Ian and he suddenly started batting like a one armed man trying to kill a wasp with a sword, whilst falling out of a tree. The inevitable cross batt LBW came, putting everyone, including Ian, out of their misery. 96 was still a great knock by the lad.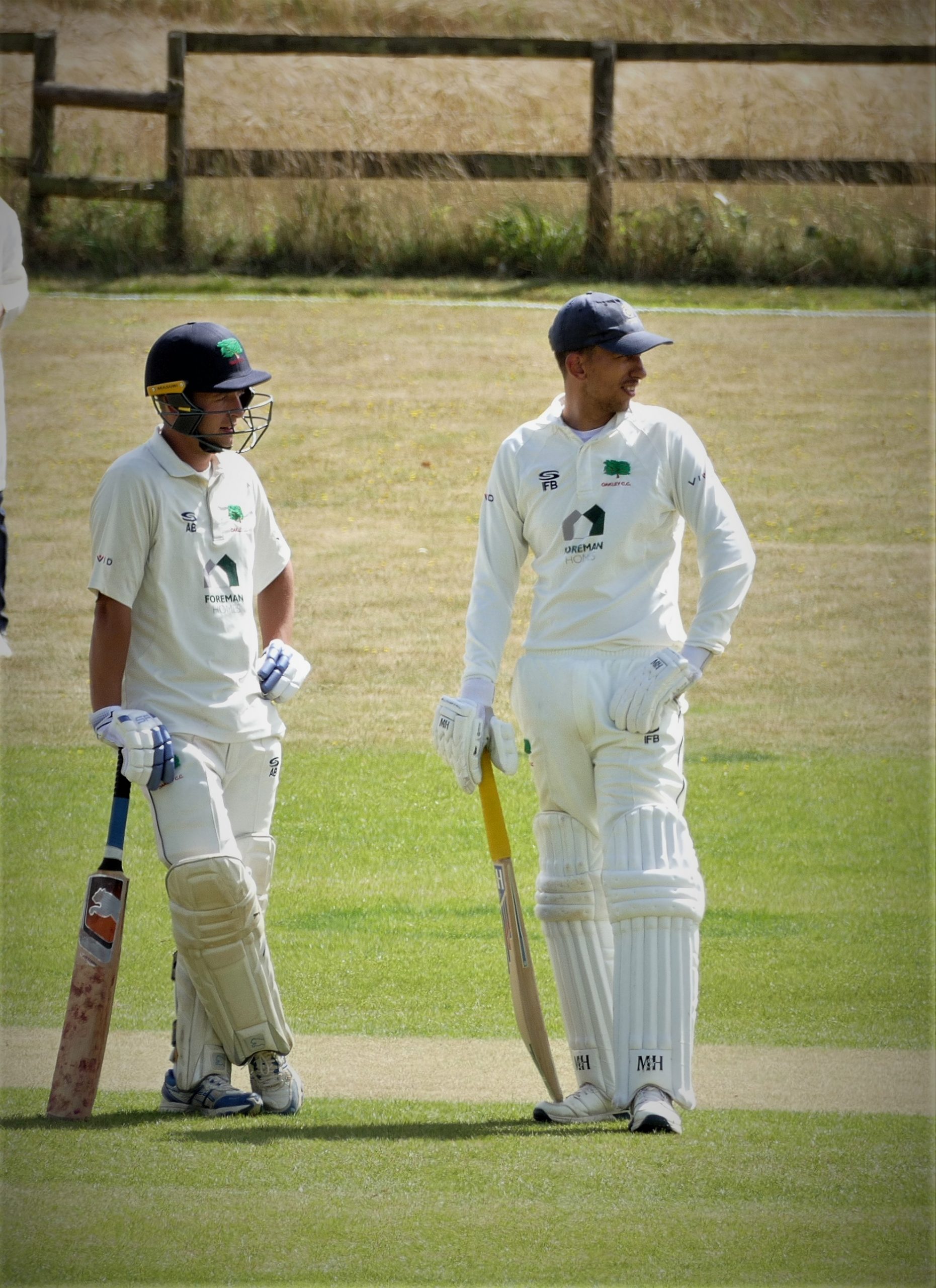 Ian and Alex put on 90 for the 5th Wicket
Dan Sumner, like a true man of the people, showed class by walking off with Ian, unbeaten on 27. This allowed a little cameo from the tail end, including Alan Howarth, who is madder than a box of frogs on amphetamines attending a mad hatters tea party. He is what makes village cricket so wonderful. The Oaks finished on 235. Commanding, or so they thought.
What they didn't realise was that The Bushmen had Sachin Tendulkar opening the bat. The Bushmen called him Kash Changlani, but I'm not having that; it was Tendulkar. After a cultured forward defensive, his second ball landed in Glastonbury and the scene was set for Matt Clift to spend the next half hour wishing he had taken up golf. At least Matt was rewarded for his misery by picking up the wicket of the other opener.
Tendulkar raced to 89 in about five minutes, but as is the way in cricket, after clobbering all the good deliveries from Simon 'On the Button' Dutton, to all parts, he mistimed a pitiful looking full toss and George Lethaby took a smart catch in the deep. Simon claimed he planned it. Simon is a terrible liar.
With the prize wicket of Tendulkar taken, The Oaks were still in trouble as The Bushmen were ahead of the run rate. Ian scoured the ground for heroes. He couldn't find any, so he decided to utilise Mad Alan and Bob Lethaby, instead. What he got in return was one of the best pie chucking partnerships in Oakley's long and proud history of cricket balls reaching the batsmen 10 minutes after leaving the bowlers arm. Bob and Alan proceeded to cut through the Bushmen batsmen like a plastic picnic knife through frozen butter.
Bob picked up four wickets and Alan two, the second of which smashed the world record for 'longest ever finger wagging appeal'. By the time the umpire gave it out, some of the lads had already left to do their Christmas shopping. Matt Clift also picked up another deserved wicket and Taner McEwan also deserves praise for bowling well without reward; he needs to learn that good deliveries don't get wickets on Sunday's. With experience, the lad will realise that bad is good.
In the end, The Oaks ran out winners by 35 runs in what was a cracking game played in an excellent spirit throughout. It was great to see The Bushmen so gushing in the praise of our fine old ground; we kind of get used to how beautiful it is, so a reminder every now and then is good for all of us.
We look forward to welcoming them back next year, hopefully in less restrictive times with a BBQ on the go.