As many of you know, Steve Savage has been working tirelessly in 2015 – 16 to update our club history.
An incredible man of statistics, if you asked Steve his top score in 1977, he would know the exact match details, the weather conditions, how many boundaries were hit and the bowling figures of the dismayed men he had gracefully dismantled with that famous left hand batting technique that is, to this day, reminiscent of a magician and his wand.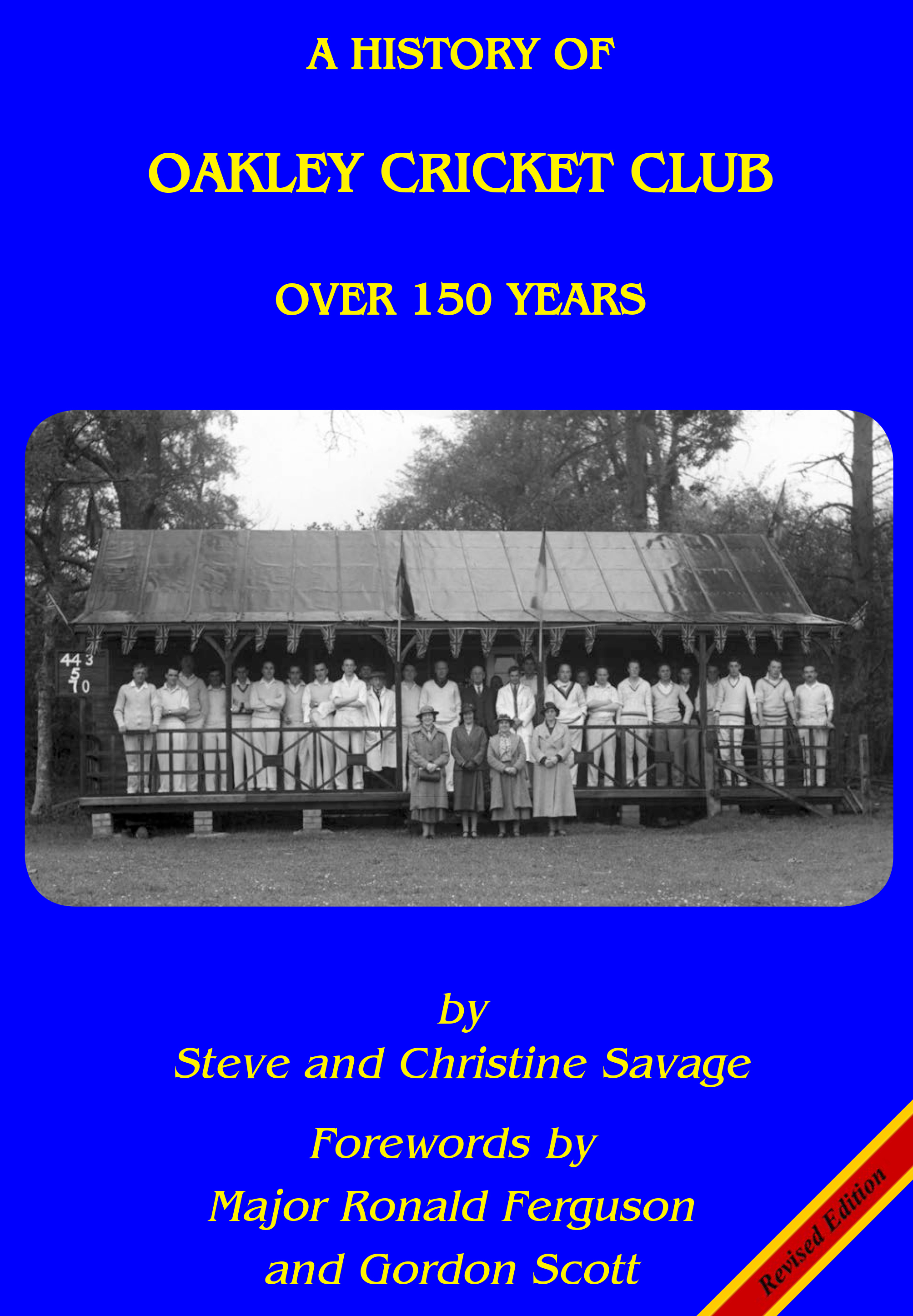 So, as you would expect, the history Steve and his long-suffering wife (Christine) have managed to compile, is set out in wonderful detail, where no stone has been left unturned and every available statistic is there for all to witness.
To view the book on-line, simply click on the link below and it will send you to a drop box account to download it onto your desktop or tablet. You never know, your name may even be in there.
In fact, if you have ever played for Oakley, it will be in there.
A Note from Steve
'A History of Oakley Cricket Club Over 150 Years' was written by Steve and Christine Savage. When the original book when published in 1999 cost was the
limiting factor. E-publishing was not available and book had to be limited to 96 pages.
This revised addition of the book will only be available as an e-book and will be free! This will be the first of many revisions.
Christine and I collected a vast amount of information and could only use a small fraction of it in the original book. With the advent of e-publishing
I no longer have any limitations on the size of the book. Rather than waiting several more years to process all this information, I decided to release
a revised edition as soon as possible and then release further updates in the future. I decided to keep the original chapters more or less as they first
appeared. This is the essential story of the Club and I didn't want the feel of the story to be changed. All the extra information has been added in the
back of the book as "extras". This will allow the reader to delve into more detail if they so wish.
Please download the book (but be aware it is a monster!), read and share freely. If you have any new material I will be happy to consider including it in a
future edition. Please send any material to the email address below. If you are unable to send the material electonically then I will be willing to scan
it myself. Please also let me know if you find any typos or mistakes. Also, I would be grateful if you know any of the missing people in any of the photos.
The book is an interactive pdf. It can be viewed on a pc or a tablet. The video clips that are included should be easily viewed on a pc. The ability to view
them on a tablet is limited – the only app that I've found to date that can play video is 'ezpdf reader' but you do have to pay a small fee for it. Even the
Adobe pdf app doesn't play video! If anyone finds an Android or Apple app that can play these video clips then please let me know and I will update this link.
The viewing flexibility for the book is dependant on three factors; playing video, 'table of contents' navigation, and button navigation. The limitations that
I have found are listed below:
playing video TOC navigation Button navigation
Windows PC
Playing video – OK  –
TOC navigation – OK
Button navigation -OK
Android apps:
Adobe Acrobat
Playing Video – No
TOC Navigation – OK
Button Navigation – OK
OKezPDF reader lite
Playing Video – OK *
TOC Navigation – OK
Button Navigation – NO
* works after a fashion on Samsung Galaxy S4 & Tab 2 (switching to VLC) but not on Nexus 7
Steve Savage
stephenjohnsavage@gmail.com
NB There is a problem with the Dave Richardson video & it won't play at the moment.
Happy reading!
Club Book Revised 2016 Edition