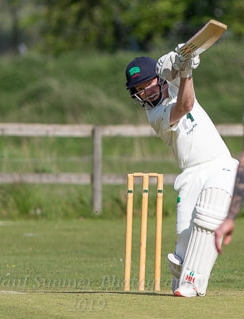 A topsy turvy affair unfolded at Romsey on Saturday as excellent performances from Dan Sumner and Brad Compton-Bearne insured Oakley's unbeaten start to the season continued. The First XI are stuttering rather than purring just yet, but 2 from 2 is a great start.
In an unusual twist, prolific Oakley Number 4, Michael 'Woodstock, Woody, Woodman, Iron' Wood, has requested that his sports journalism career can commence right here on this page. So, on this one occasion, I have allowed him to create a full report that will have the Radio 5 TMS team queuing up for his services.
Okay folks, corsets and seatbelts on, don't leave this car until the ride stops!
In jubilant mood after a great first win at home to Overton. Oakley did the usual pre match warm up but thought they would up it this week and do some bowling practice, this was cut short when Alex Brundle decided to bowl a full toss at Bayliss which left him 4 teeth short. Bayliss being the solder stuck his teeth back in and informed the skipper he was okay to play.
Oakley lost the toss and were put in to bat, which meant Elliot had to stop talking about how he's played in the Birmingham league once and concentrate on opening the bat for Oakley. Elliot was looking like he was going to carry on like he did in the last game was unexpectedly caught and bowled. With DJ also going cheaply it was left for woody to do the dirty work (again) unfortunately he was caught and bowled in an unplayable delivery. Will also was out with out troubling the scorers which meant the war hero Bayliss come into the crease, Bayliss was battling well until he decided to hit the ball onto his stumps which meant Bown was in. Bown hasn't played cricket since 2003 and creamed one into the covers before he got bowled. I missed his wicket as I was changing the scoreboard but i imagine it was a terrible shot. While Oakley were getting them selfs out, Sumner was going along nicely and keeping the score ticking over. Brad was in next and to be fair was absolutely awesome. The game changed at this point with both playing some lovey shots. Sumner reached 100 without any drama in what was a brilliant knock. Brad also getting a 50 Oakley reached 250 odd which didn't look possible when there best batsman Woody got out for 2.
 After polishing off a superb tea Oakley wondered out and started off with with two quick wickets. Just when the team from near Romsey started to whack Oakley all over the place, Oakley got the wicket with a good catch from bown after a great spell from Brad. The game was pretty much over at this point and it was just a matter of time with Oakley chasing the wickets. With Oakley dropping every catch that come there way, with DJ winning the award of the best drop it was left to Woody to show everyone how it's done with an outstanding sharp catch. What a hero! Sumner rapped up most of the tail with Brad finishing it off with a fine Yorker.
 2 in 2 for the firsts and man of the match Sumner was awesome.
Thanks Woody, I think I need a stiffy whisky after that and it's only 10:00 AM.