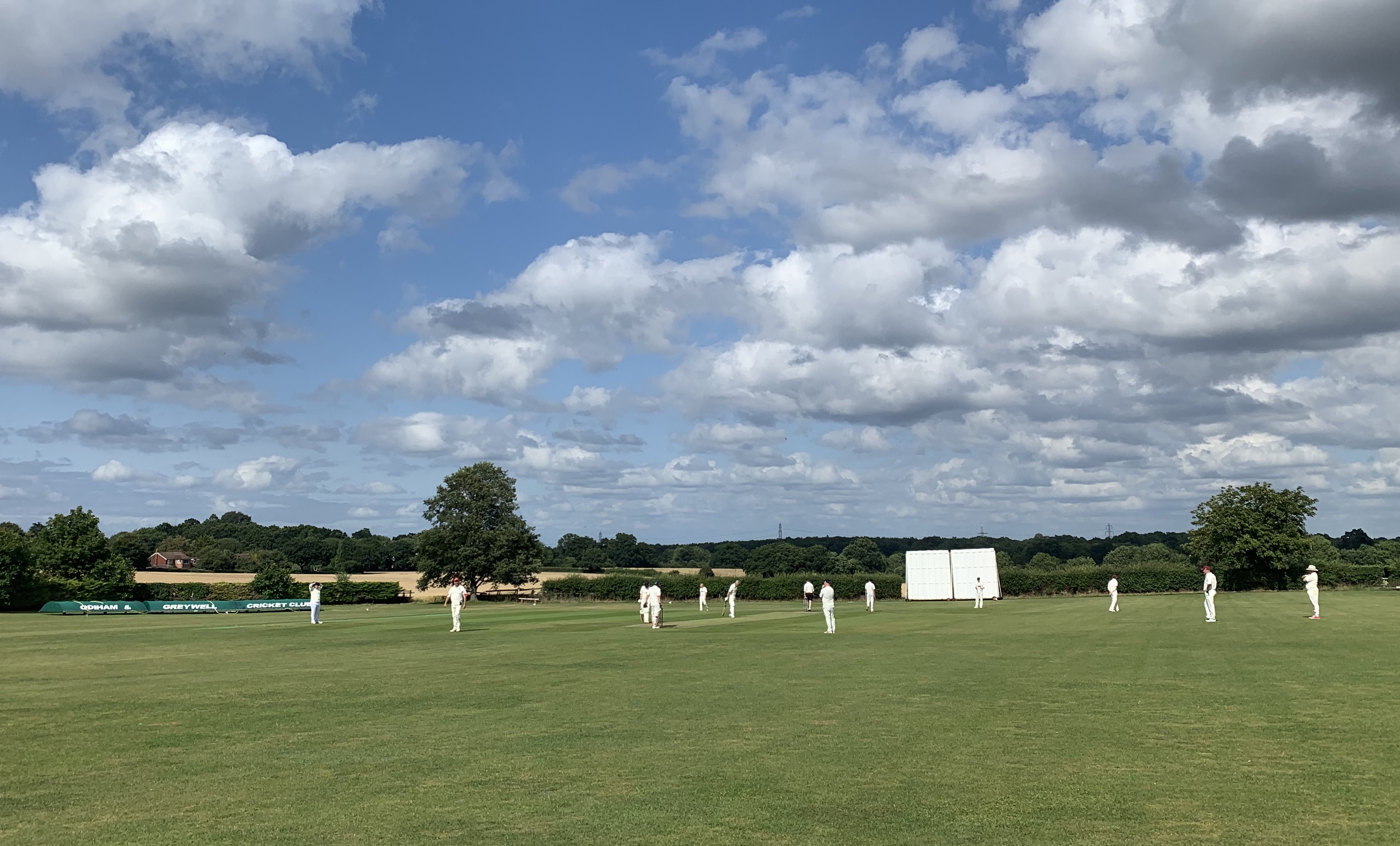 It was so nearly a 'Super Saturday' for the Oaks with the One's and Three's both winning. However, the ten-man Two's suffered that New Zealand feeling as they missed out in a dramatic climax at Odiham.
First XI Back in Business and Back to Second
The One's, shaken, but not stirred, were looking for a return to form after two successive defeats. They did so in style, picking up maximum points to keep the pressure on the leading pack.
Batting first, Elliott Hennessey lead the way with an excellent 82. This was bolstered by several more than useful cameo roles from other batsmen including Brad (47) Will Monty (34 NO) and an obligatory 24 from Mike 'get in then get out' Tiley.
Job done with the bat; full batting points gained. The only personal tragedy was for James Bayliss, who did some major damage to his average. Don't take a week off again James you clown.
Chasing a target of 234, Liphook went for it with gusto and soon had seven runs on the board after just 8 Overs. I am joking of course and the only person that would have enjoyed this turgid start would have been Geoff Boycott.
Liphook did gradually turn up the heat and at least have a bit of a go. However, The Oaks stayed well in charge with wickets for Clive (4) Sumner (4) and Alex (2) ensured maximum points. With the Ram v Petersfield game abandoned, this allowed The Oaks to leapfrog them back into 2nd place.
Ram play IBM Hursley next week, so regardless of the result, with a win at home, The Oaks can strengthen their position as promotion contenders. It's all rather exciting.
MOM: Elliot again (Yawn) with 82
Weather: Sunny and Warm 23: Made a mockery of Apps of Doom
Two's on the Wrong End of a Thriller
The Two's travelled to Odiham for what turned out to be a great match but a vomit inducing defeat by one run.
The Oaks bowled first and got off to a shocking start when Ollie Rabley inexplicably tried to take a catch in his mouth. This left him spitting out what resembled claret and broken polos resulting in an early exit, spending the afternoon in A&E with Basingstoke's finest.
With ten men and very few bowlers to turn to, The Oaks needed to be accurate. So, what did they do? They bowled 54 extras of course. No one was innocent but George was in epic form, even managing to bowl a 13 ball over. The fact it only went for 8 is something of a miracle and demonstrated that if you bowl at the three wooden pegs, you've got half a chance.
Despite good fielding all round, including a sweeping masterclass by Bob Lethaby, losing a fielder meant poor bowling was made worse by the byes and extras going for fours. It was infuriating to watch because the good deliveries from George and in particular, Will, were often unplayable and went for next to nothing.
The Wood duo (no, they are not brothers) pulled it round with some more accurate stuff and both Nellie and Paddy did there best to restrict the Extras, who were having a great afternoon. They were the top scorer and quite frankly, that is inexcusable.
I think the wickets were shared between Will, Rob and Michael Wood but if anyone else got one, I am very sorry. Bob didn't get a wicket because he only bowled one over. It was awful but at least there were only six balls in it, something we must learn to do.
The highlight of the Odiham innings was a wicket for Woody, getting out a huge man, who, whilst not playing cricket, looks like he could well spend his day biting heads off live chickens. Presumably on a suicide mission, loan player, Nick Green, pissed himself laughing pointing at the chap who stood staring back at him. Temporarily, it looked like Ollie might have some company at A&E. If Nick thought anyone from Oakley would back him up after this bizarre act of stupidity, he was sorely mistaken.
Imagine the scene at Basingstoke A&E.
"I have to say young man, I have never removed a cricket bat from an anal passage before but here goes…nurse, pass me the monkey wrench".

Chasing 221, The Oaks started well with Savage and warner looking comfortable and going along nicely in a 50 partnership. Nellie went after a good 42 and Steve in thirties. This brought Woody and Paddy to the crease and they put on great partnership, both making 50's.
Paddy could have been out LBW early, but the delivery and subsequent shot were so bad, Bob got confused and didn't give it. A bit like Jimmy Savile, it just looked wrong. The wicket keeper, a grown man in his mid-50's, and a vintage village cricket wind up all day long, threw his gloves down like a petulant baby and just stopped short of crying. Suffice to say, he wasn't happy.
As the run rate went up, the wickets went down and when Paddy departed, the pressure to get bat on ball affected everyone except Woody, who was now looking to be a hero on his own. It was not to be as Nick got bowled, George slapped on down the throat of a boundary fielder and Nathan couldn't get bat on ball.
It was a shame as Woody, the poor bugger, was unbeaten and if a sumptuous 4 had travelled another foot, it would have been a six and the game would have been won.  However, it wasn't the desperate chase at the end that lost us the game.
It was losing a fielder and bowler who used his mouth rather than his hands, and delivery after delivery pitching in a different county. No one does it on purpose but that was a bit of joke. 54 Extras!
Otherwise, the game was played in a great spirit by two good local clubs. It was a tremendous finish and the only difference between the England V NZ World Cup Final was that this was a mid-table clash in Hampshire Regional North East 1.
Cricket can be a cruel mistress and on Saturday it was cruel to The Oaks!
MOM: Woody, an excellent effort to win the game
Weather: Made a mockery of weather Apps.
Third XI Win…Get in There!!
Oakley 3rds finally put together the allround performance they have been threatening for a while with a terrific display of bowling away at Aldershot.
It's been a tale of "if only" for the last month, always seeming to come up 30 runs short.  However, with a team made up of colts and those who haven't played too much cricket in the last few years, coming up just short bodes well for next season when I think we will have a good shout at promotion.
Dan won the toss and chose to bat first on a damp-ish wicket which had been left open to the elements.  His judgement that batting would be tricky was proved correct as Aldershot were simply unable to get anything away.  Taner continued his fine form with 5 overs, 1 wicket for 8 runs.  Dave bowled by far his best so far this season with 8 overs, 1 wicket for 16 runs.
Avi and noah then took over with avi bowling beautifully and picking up 2 wickets.  Noah continued his fine improvement in men's cricket with 6 overs, 2 maidens, 1 for 6.  Not bad for a 13 year old.
Pick of the bowlers was Ravi who deserved his 3 wickets.  Ravi seems to be getting back to his best of late, which just shows was regular bowling can do for confidence.
Mike and George finished things up with more tight bowling and Aldershot were bowled out for just 79.
Dan changed the batting order around so that the youngsters could do their best to win the game between them and so that Deano could get some time in the middle.  Will and George opened the batting and, despite losing George early, Will took the bowlers to task with a breezy 37.  Brad Welsman, batting 3, also played some lovely shots before skying a full toss and getting caught.  Unfortunately yours truly should have called it a no ball as it was certainly high – what a tosser, sorry Brad.
Noah then came in and dropped anchor, scoring 6 in as many overs as the score kept gradually increasing.
Though we did make hard work of it, the result was never really in doubt.  Plus, it was the right thing to do to change the batting order around.
Aldershot were a great bunch of guys and played the game in a good spirit – they also had the same approach as we do regarding playing colts.  Plus they do the best teas.
It felt like a deserved victory after plenty of opportunities to win which weren't taken.  A couple more wins and we'll be mid table which will represent a great achievement.  The colts will only get better and stronger and, who knows, the old buggers in the team might also improve…..