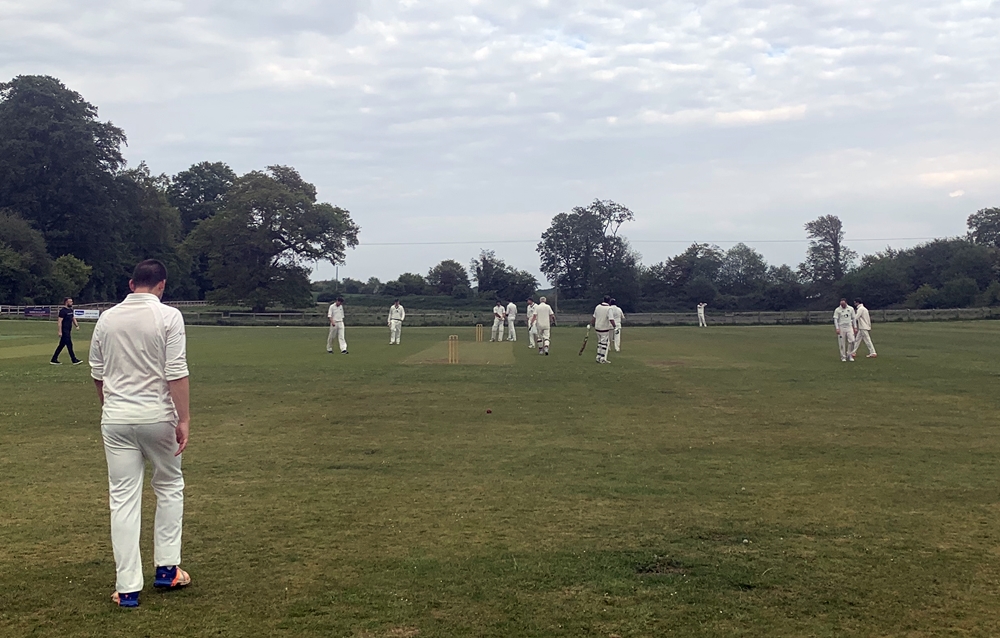 The Second XI made it two from two in a close fought local derby with rivals St Mary's on Saturday. If you check the Chairman's weekend preview, he predicted a close game and as usual, he was right.
Batting first, Nellie Warner proved that lack of practice doesn't make perfect and got out for a duck. With a plan to see off the openers and then make hay, this was not an ideal start but Steve Savage (57) and Jack Brundle(33) rebuilt with an excellent 100 run partnership. That's two half centuries in two weeks for the 67 year old veteran known as 'Sausage' for reasons that no one can explain.
This partnership set up the middle order to go on the attack and although it was not to be Nathan Rabley's day, George Lethaby (18), Sam Stobart (17) and Ian Bennett (31) all provided useful, if not totally destructive cameos to keep the scoreboard heading in a respectable direction.
With a total of 205 on the board, there was still much for The Oaks to do. They took control of early proceedings with Ollie Rabley starring, returning figures of 3 wickets for just 18 off his allocated Overs. However, St Mary's regrouped and the mid innings belonged to them as Oaks lost their way and indiscipline took over. This reached its peak with captain, George Lethaby, leading the way by throwing his hat to the ground before booting it over the boundary fence in a vintage hissy fit. A dropped catch appeared to be the cause.
In fairness to George, he regrouped and along with the excellent Ian Bennett, created a bowling tandem that swung the pendulum back the way of The Oaks. Ian's return of 5-28 was pivotal and an example that getting the ball in right areas can be a much bigger threat than uncontrolled pace.
As the game reached its conclusion, with 30 required off 18 balls, St Mary's still had the combustible Nathan Field to come to the fore and cause damage. He is a big unit, capable of hitting huge sixes, which he did so off his first ball. However, George and Ian pegged him down and fortunately, as well a being capable of huge blows, he is also capable of losing the plot.
On an afternoon where he was perpetually getting involved in bickering matches, Field fell to sucker slower delivery from Ian and was stumped by a gleeful Steve Savage. Never one to pass up the opportunity of having the last word, Ian appeared to be enjoying himself immensely. A late six by Ali reduced the margin to 12 but Sam Stobart finished off the innings without further damage and The Oaks gratefully took the victory.
All the on field stuff was laughed off after the game and St Mary's, as usual, stuck around for a beer and a chat. That's the way it should be, as we all do this for a bit of fun. A good game this one and good test of mettle for a Two's side that continues to evolve.
I'm still not sure if George found his hat?
Weather: 16c Sunny spells and patchy rain.
MOM: Ian Bennet: 31 and 5 Wickets