The Third string were put to the sword a little on Saturday by a Ramsdell team who were just too strong with the bat for the boys and dads XI to cope.
Ramsdell batted first and Tanner McEwan got off to a good start by removing the normally stubborn John Munday, as well as the other opener.
However, from there on it became the day of the batters as The Oaks got a little overwhelmed by some powerful shot making. There was another wicket for Tanner, making his senior debut and others for Mike De Vos, Josh Carpenter and Tall Jeff.
However, a total of 320 that included 54 Extras was never going to be achievable.
After the departure of Dan Beckell and Tall Jeff  there were at least some decent cameos, with 7 batsmen getting into double figures. Top scorer was Phil Carpenter, who remained defiant on 30 not out and ensured that Oakley would have the pleasure of seeing their Overs out.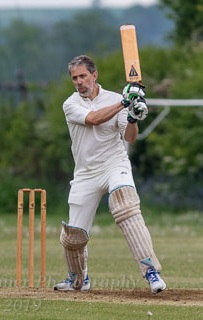 Stubborn: Phil Carpenter
The Oaks finished on 154-9.
The boys will play a lot worse teams than Ramsdell and although they may endure more big totals against them, the continued learning curve the young lads are on, is sharp. By all accounts everyone enjoyed themselves, except Dan when he was out LBW.
With a little more accuracy, confidence and experience, they will undoubtedly get better as the season wears on.
Weather: Sunny and warm 21
MOM: Phil Carpenter for batting out the overs