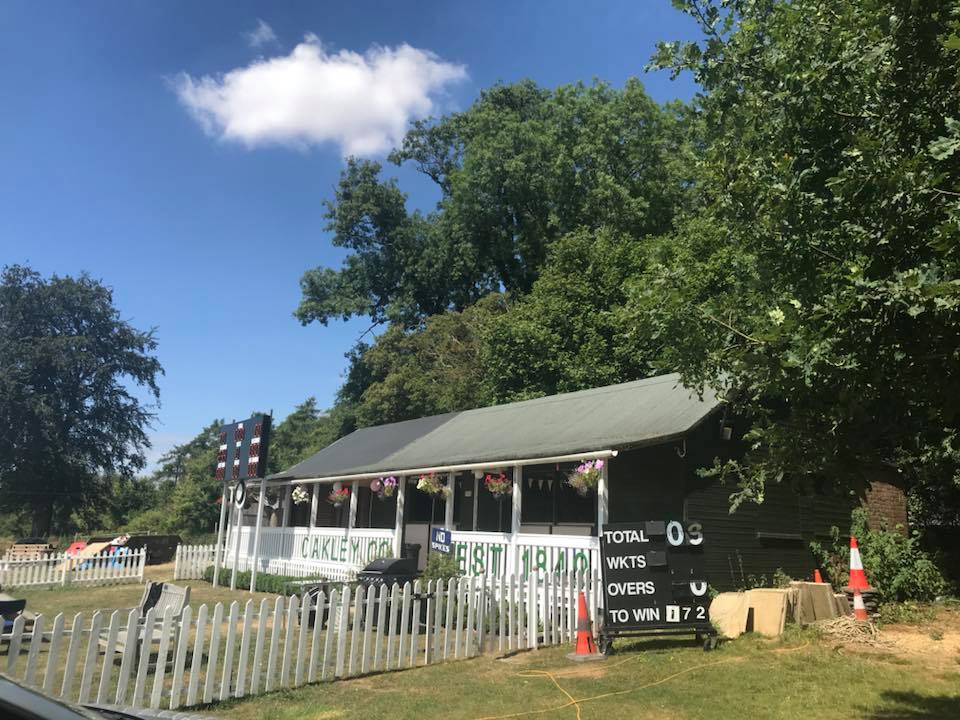 The Sunday Oaks entertained Burwash CC from East Sussex today in what was the battle of the hangovers.
Burwash arrived a little late after mistakenly handing over good money to The Barley Mow, who have never offered any support to Oakley CC. Burwash are well supported by their local, The Bear at Burwash, so they were not to know, but they do now.
Anyway, they turned up with some of their fine young (ish) men looking in better condition than others after a hefty night out in Bournemouth where bed times ranged from ridiculous to quite frankly, preposterous.
However, none of them looked worse than our very own Dan Sumner, who resembled someone who had seen a ghost that had proceeded to drag him through several privet hedges before draining all his blood and removing his kidneys. Otherwise he was well up for it.
The Oaks batted first, with Brad trying and nearly succeeding to send the ball back to Burwash in a belligerent cameo knock that ended somewhere in the 20's courtesy of a stereotypical pirouette shot and the clattering of stumps.
This was followed by a minor cameo from Will Rabley who was followed to the crease by ageing maverick, Bob Lethaby, who appeared to be salivating at the prospect of some eclectic Burwash bowling that might (whisper it very quietly) allow for a maiden 50.
Bob's innings was gradually turning into something akin to turgid misery, with an array of shots that shouldn't really be seen before the watershed. At other end, Alex Brundle, despite throbbing temples and the ongoing prospect of copious amounts of vomit rising up his throat, was bludgeoning his way to 50.
Upon making his 50 with a hefty six, Alex left the theatre to wild applause from fellow and opposition players. Another 50 on the long list that sits in Oakley folklore…well it would have been if there hadn't been a scoring error. Still, at least Alex became the first Oakley player to retire on 47.
Bob remained and was joined by his son, George, who was looking for runs after a couple of weeks of abject misery in the batting department. He got them too but being the emerging people's hero that he is, he was more concerned about getting pops on strike. This was because Bob had now moved into the thirties with some of the ugliest cricket shots witnessed since Motown legend, Stevie Wonder, played for The Oaks in 1978 and chose to bat with a stick of Rhubarb. For the record, Stevie was clean bowled by Benny from ABBA who sent him back to the pavillion singing "Thank you for the wicket…and giving it… to meeee!".
So, could Bob, at the age of 50, get a maiden 50?
The simple answer is no, he couldn't. He got out on 31 trying to play an inexplicable shot (to a worm burner) that resembled a one armed man trying to kill a wasp in a phone box.
After a late cameo from the King brothers, The Oaks finished on 230 from their allotted overs.
The Oaks then had a bit of an issue, as all players who didn't bat were good bowlers and had to do something to get their money's worth. This resulted in a flurry of early wickets but there was some reward with one Burwash player getting a deserved 50, which kept Dan in the field longer. It was funny seeing him out there drained of colour, the taste of toffee vodka still in his mouth.
Burwash ended about 100 short of the target but it was largely academic as this was a genuine friendly where the real winner was the ineptitude on display from both sides, with the Oakley  highlight being Brad offering to pay Perry's subs if he stopped bowling that instant. One delivery was so bad in it's execution it pitched about three inches from Perry's own toe.
The Burwash lads finished their weekend tour with a quick beer and left Oakley amid promises that we will visit them soon and stay in their local pub for the night where we can socialise with them all and pretend we have an iota of cricketing knowledge.
We then lit the barbecue and tucked into some high quality Birdseye burgers that went onto the grill at roughly the size of an olympic discus then (when cooked) onto the plate struggling to be larger than a fifty pence piece. Topped with a square of orange plastic claiming to be cheese, these were the genuine anti-Christ of a gourmet burger, fit for little apart from acute indigestion worthy of a panic stricken dash for the club defibrillator.
Otherwise it was a good day after another successful weekend at the club and we all went away hoping that Burwash enjoyed their day and the end of their weekend tour.
Back to the serious business tomorrow as we meet Whitchurch in the quarter-final of The Guy Jewell Plate at The Bounty. Please do come and support us, it starts at 6:00 PM.
Up the Oaks!