As many of you will be aware, there was a burglary at the club on Sunday night, with some damage and theft involved. The items that were taken included the following.
Television
Safe Containing around £500
Computer for the electronic scoreboard
Alcohol from the stock
The damage to club was not as extensive as I first feared and it was clear that this break in was an act of theft, not vandalism. However, we will have to replace the following with security doors and locks, which will be a substantial cost to the club.
Front door
Bar Door
Stock Room Door
First of all, we need to thank Clive and Gordy who have given up yet more of their time securing the building and tidying up the place in time for Colts training last night, as well as making it ready for the England v Colombia game tonight.
Also, thanks to Peter for going through the process of contacting our insurers to see if there is any viability in making a claim against the theft and damage. As you will all be aware, it is is often the case that when insurance excess and a hike in premiums are taken into account, it often barely worth making a claim.
When we posted the details of the break in on Facebook, it kind of went viral, with the news reaching over 7.5 thousand people in the area who are associated with Oakley CC or other local clubs of a similar stature. The kind messages we received were proof that the majority of folk are decent and it was nice to see such an expression of support.
Some people also kindly offered donations and suggested setting up a 'JustGiving' page to raise funds. Whilst these are all good ideas, we like to portray Oakley as a positive place to be for our members and our guests and wouldn't want such an event to affect that.
To express a 'Poor Oakley' attitude after having our naivety exposed by cretins, would be the wrong direction to take and would, in my opinion, not reflect how we want to be seen by other clubs. What we need to do is learn from our mistakes and crack on with the improvements and enhancing the overall image of Oakley that has impressed so many of our guests, Basingstoke being the most recent.
Having said all that, the reality is that we also need to pay for the damage. With that in mind, anyone who wishes to make a cash donation to our club, please do so, it will be gratefully accepted, whether it is £5.00 or £500.00 and you can be assured that every penny will be used on the repairs. To donate, you can email Peter Holcroft at peterh2105@btinternet.com  and he will give you the club bank details.
What we can also do is support events at Oakley CC and the one will be utilising as a fundraiser for the cost of the burglary is the Under 19's 20/20 game against Petersfield on Friday the 20th July 2018. This event should be great fun as it will be done with all the razzamataz of 20/20 cricket, including fireworks, a barbecue and live music. Please encourage friends and family to come along and join in.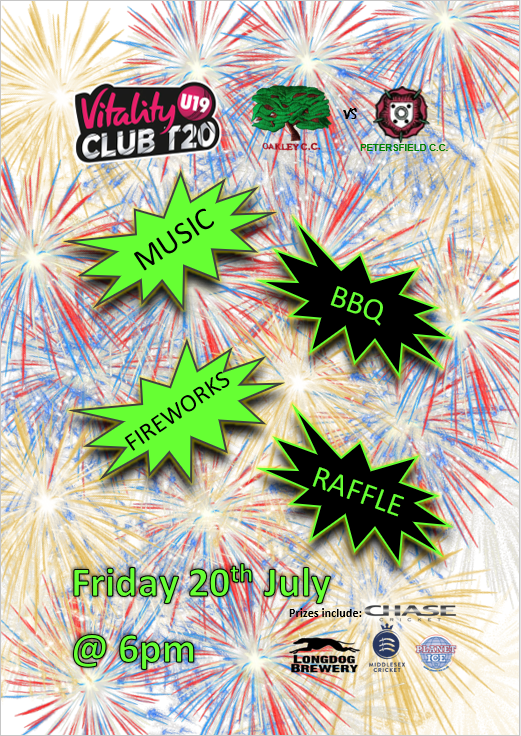 So, let's just muck in, get the repair jobs done, raise some cash to pay for it, then move on with some security lessons learnt. As for the grubby little thieves who broke in, they can carry on nicking off community projects until they get caught, whilst we carry on enjoying building a successful, welcoming, and attractive village cricket club where players, the public and other local clubs can enjoy their long hot summer days!
Cheers all
Bob Lethaby
Chairman
Up the Oaks!